This week, we continue to use Sentieo's transcript Smart Summary™ to highlight selected reporting companies. We apply machine learning and natural language processing to create a more efficient and a more repeatable process. On Tuesday, we highlighted Beyond Meat (Nasdaq:BYND), and on Wednesday, we looked at Merck. (While Keytruda continues to power through, we picked up pricing pressure warnings for 2020.)
In today's highlight, we are looking YUM! Brands (NYSE:YUM), the parent of global restaurant chains KFC, Taco Bell, and Pizza Hut. The company reports many metrics about its business: domestic (US) and international unit growth, comparable store ("like for like") sales growth, and "systemwide" sales growth (reflective of the health of the franchisee system).
Additionally, the company has a minority investment in order aggregator/delivery company Grubhub, which further complicates the financial reporting, as YUM reports mark-to-market adjustments on top of the operating earnings.
In this post, we will share our highlights from the Smart Summary™ PDF that we received in our email inbox a few minutes after the original transcript came through. (The Sentieo platform is much larger and more interactive that what you see in this post, so we encourage you to check it out.)
With Smart Summary™, the transcripts are parsed by a ML tool which classifies and scores sentences based on broad classifications, such as Guidance or Legal. (See below). Smart Summary™ runs a layer of NLP processing on top of that, classifying sentiment (positive/negative/neutral), looking for "deflection" statements, and surfacing keywords.
Looking at the YUM Q3 call Guidance section, we immediately spot the big delta between the GAAP and non-GAAP earnings. We also see the red (negative) outlook for Pizza Hut US, a unit that has been weak for a while.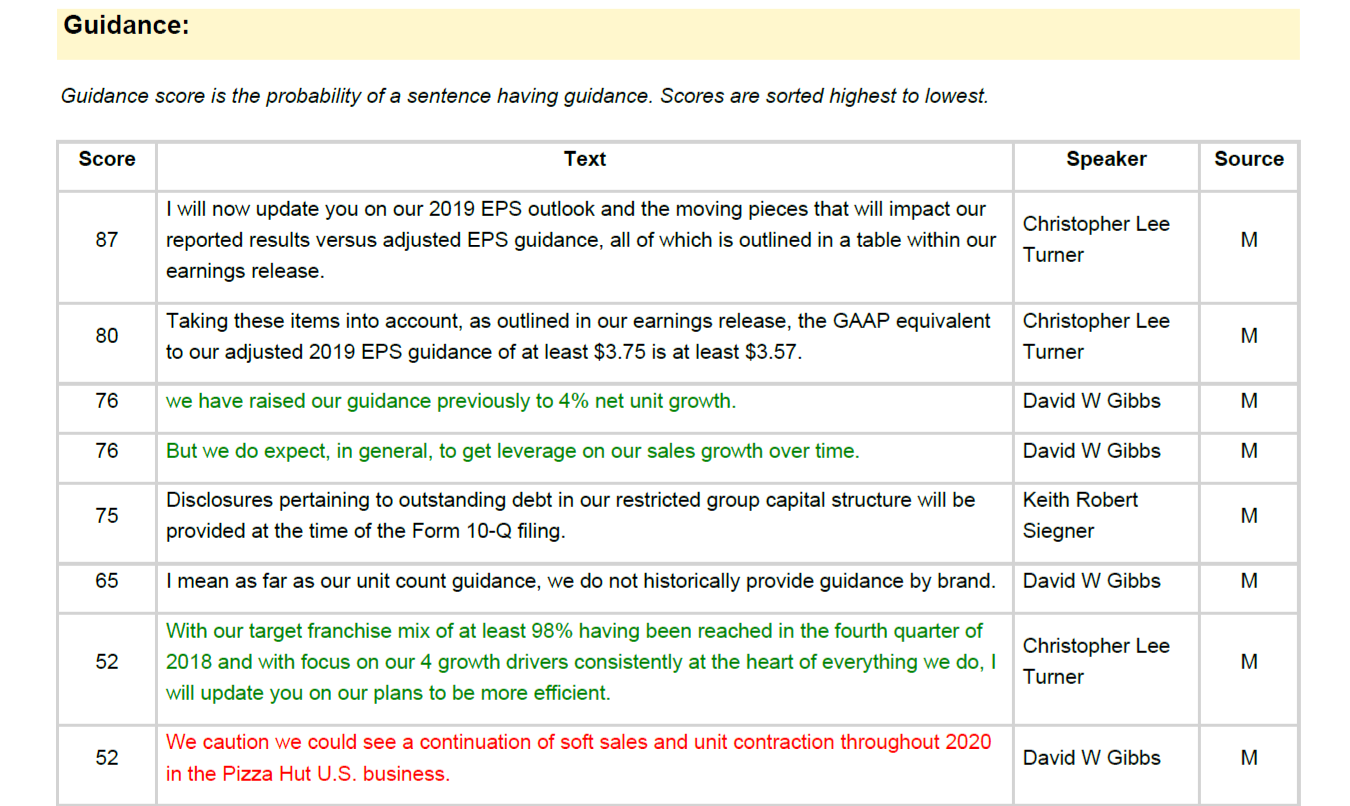 As we mentioned earlier, the transcript (as well as the press release) are very KPI-heavy. The convenient sentence extraction and classification helps you get the full picture faster.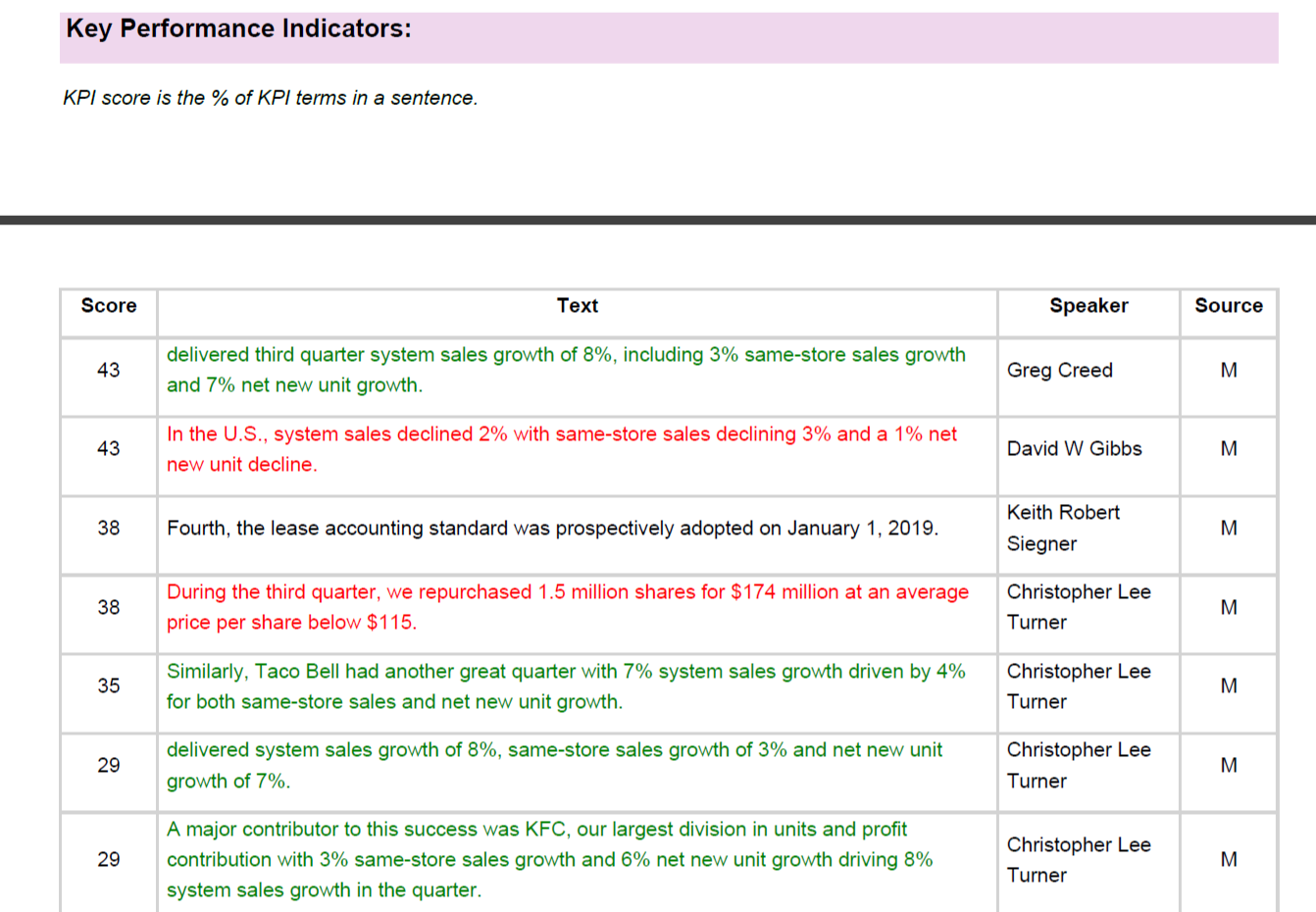 We also note a number of negative sentiment questions from the analysts on the call, with the most "negative" analyst question being about system-wide margin pressures.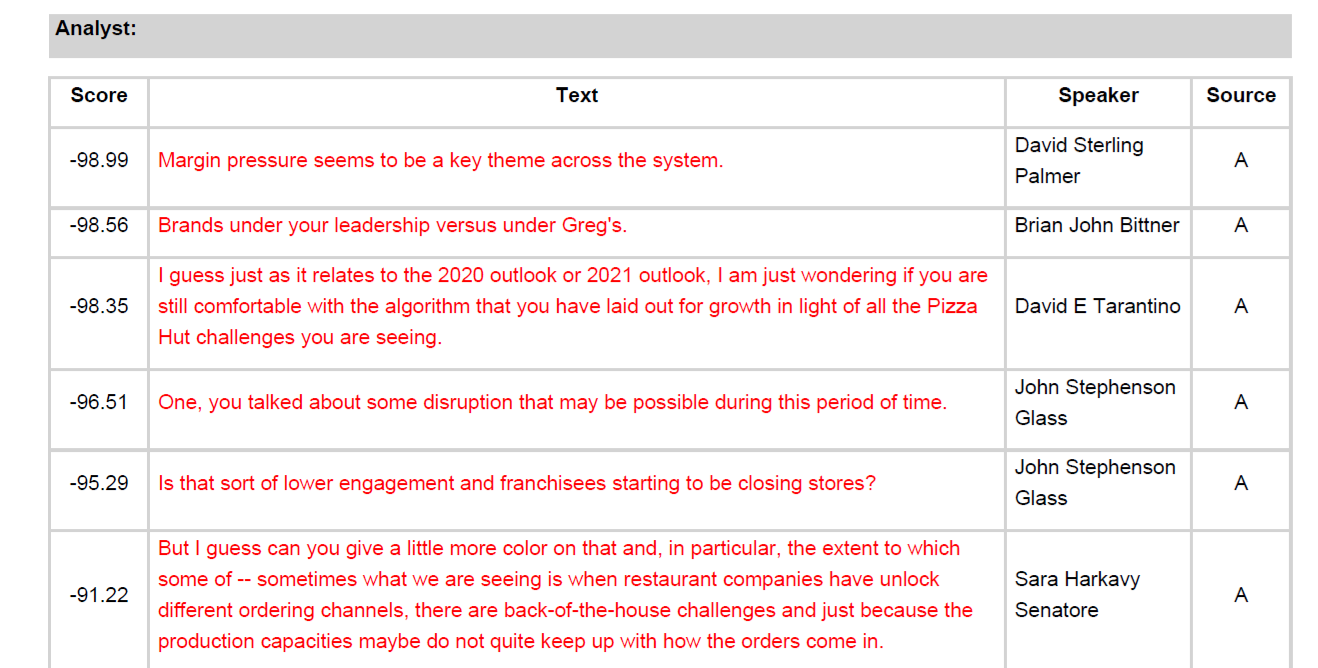 The keyword surfacing logically picked up Same Store Sales, Net New Units, and System Sales. We are highlighting just one of these here; unit growth keeps up, so the sentiment overlay is green.

Watch our short video walk-through:
To find out more about the Smart Summary™ and all of Sentieo's other AI-powered features, please get in touch.