Last week, $YELP CEO Jeremy Stoppelman was literally "yelping" for help:
Google monopolist not satisfied with above the fold they've now claimed "page 2" cc @kaufer #byeorganic pic.twitter.com/qGXmt2Z5K5

— Jeremy Stoppelman (@jeremys) August 5, 2016
Google systematically downranking sites is not a new phenomenon; SEO-centric companies like RetailMeNot ($SALE) have been suffering this for two years now. However, downranking competing services and promoting your own is much more of a legal and moral grey area, as Microsoft ($MSFT) found out in Europe. The stock market will rule before the courts do – and we think this is going to be extremely material for the quarter as we have been tracking a sustained deceleration in organic search engine interest on our Mosaic product: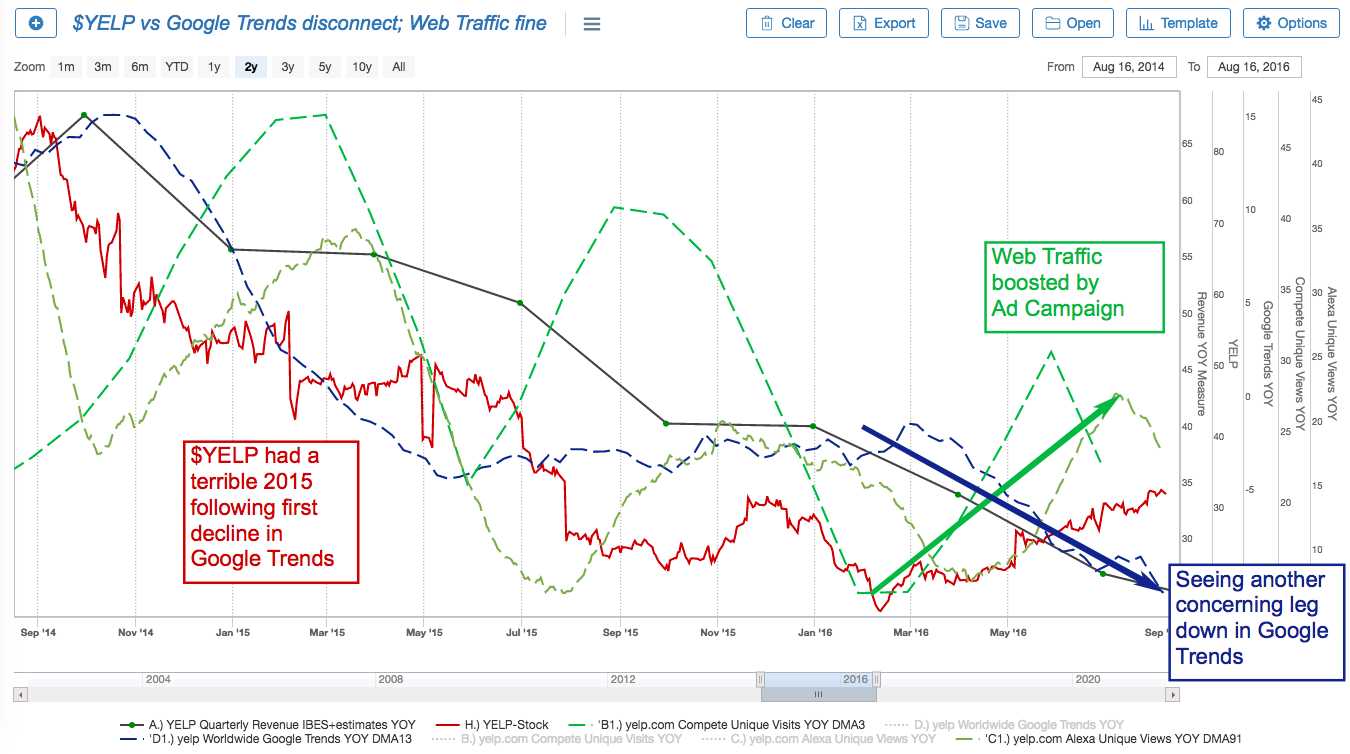 In other words, if my search for "Gary Danko" isn't going to bring up a Yelp review link anymore, then it really, really matters that my search for "yelp Gary Danko", which is true organic search intent to pull up a Yelp page, pulls up a Yelp page.  The fact that organic interest for Yelp has broken multiyear lows is the real reason Jeremy Stoppelman is very, very worried. Just today he followed up with an actual such example:
.@kaufer Crooked @Google at it again user asks for @Yelp gets Google's own faux-Yelp! pic.twitter.com/WvZS0b1cs6

— Jeremy Stoppelman (@jeremys) August 8, 2016
You just can't make this up. With earnings due on Tuesday (tomorrow as of this writing), one can't help but wonder what it means for confidence in guidance if the CEO is so publicly making noise about competitive threats.
Why this really matters, of course, all comes down to the true end customer of Yelp, small businesses.
The economics of advertising on Yelp has been debated for years – but this is the first time Google is truly invading Yelp's turf so aggressively with its own product, freed of the shackles of Google Plus. What does a small business advertiser do to his Yelp ad budget when he realizes that just buying Google Adwords does way more for his rankings than spending money on Yelp does?
This is the real reason $YELP this year decided to spend $50m on a national ad campaign, amid a pivot to mobile, and eliminate display advertising, a business which, as tracked by our friends at Pathmatics, had been doing fine up until that point: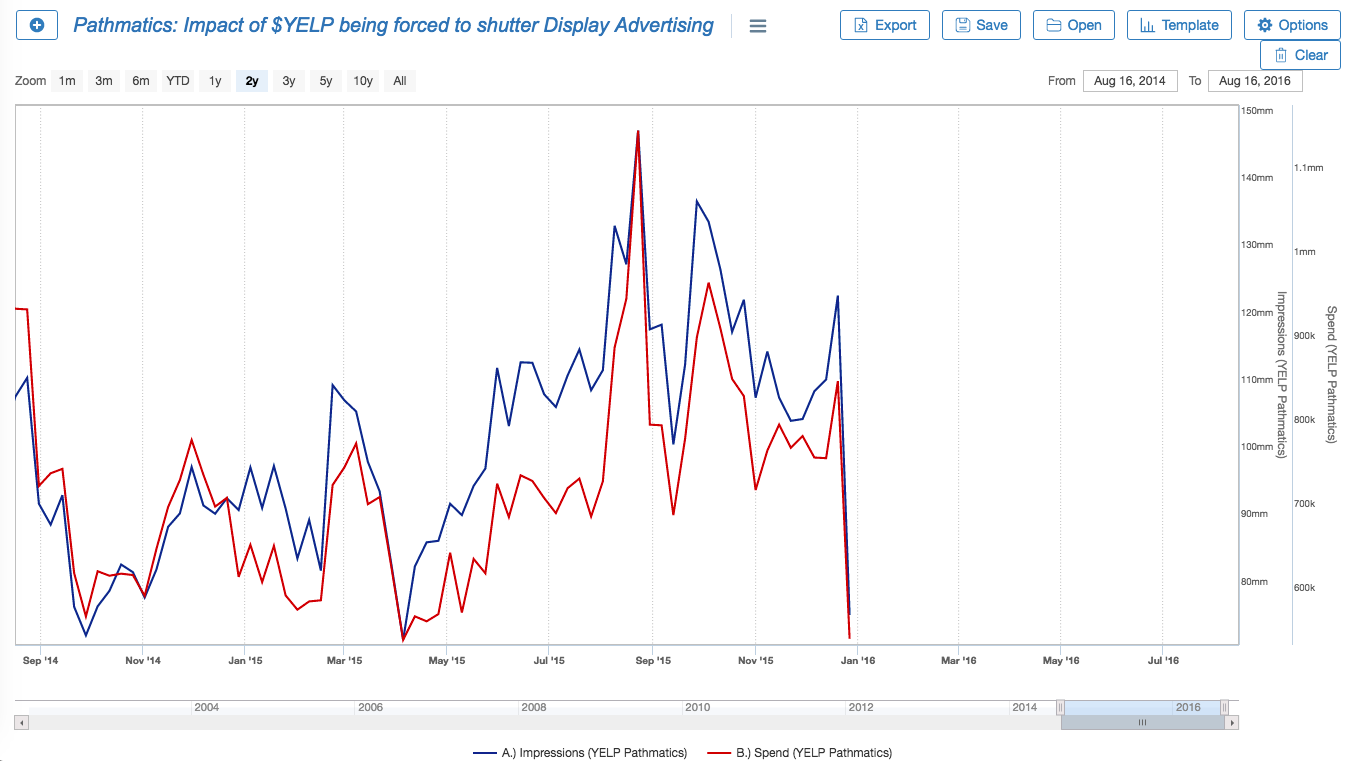 Just as a reminder, Pathmatics provides analytics products to the online display advertising industry. Utilizing its patent-pending technology, the company manages to analyze digital advertising activity and deliver real-time actionable digital and mobile  intelligence to advertisers, agencies, publishers, and adtech providers. The numbers above represent estimates of historical advertising spend and impressions on Yelp's site as an advertising property with impressive weekly granularity (other frequency of data also available).
Stock at Highs, Pokemon Augmenting Yelp's Reality?
$YELP used to ride high near $100 in 2014, driven by exceptional new user and customer growth rates and the seemingly unlimited size of its potential market. Much has changed since then. Even after clearing its name in an FTC investigation into its business practices, Yelp has struggled to lower its churn rates, salesforce hiring and margin issues hit, and analysts began to realize that Yelp's high pricing packages alienated an estimated 75% of American businesses.
After a tumultuous 2015 culminating in a depressing FY15 report in Feb 2016, $YELP is back at YTD highs. Yelp bulls have been excited about the Company's prospects in an emerging era of augmented and virtual reality. Specifically, with the hit release of Pokemon Go, Yelp's Monocle product appears well positioned, which allows users to use their smartphone camera to look at reviews when you point your camera at a business.  Yelp has been offering local businesses advice on how to drive traffic from Pokemon Go.  They also launched a filter to make it easier for users to find Pokemon stops near local restaurants. While all this capitalization on a global phenomenon is nice, we don't think it will have a material impact on Yelp's results. Mobile usage was growing at 32% a year, and we don't see Pokemon Go players downloading Yelp more than the inverse.
Incidentally (because we always get asked), global interest in Pokemon Go is hovering at 60% of peak and is toeing the line between recovery and stalling. This broadly jibes with Slice's reports of a 32% decline in paying users: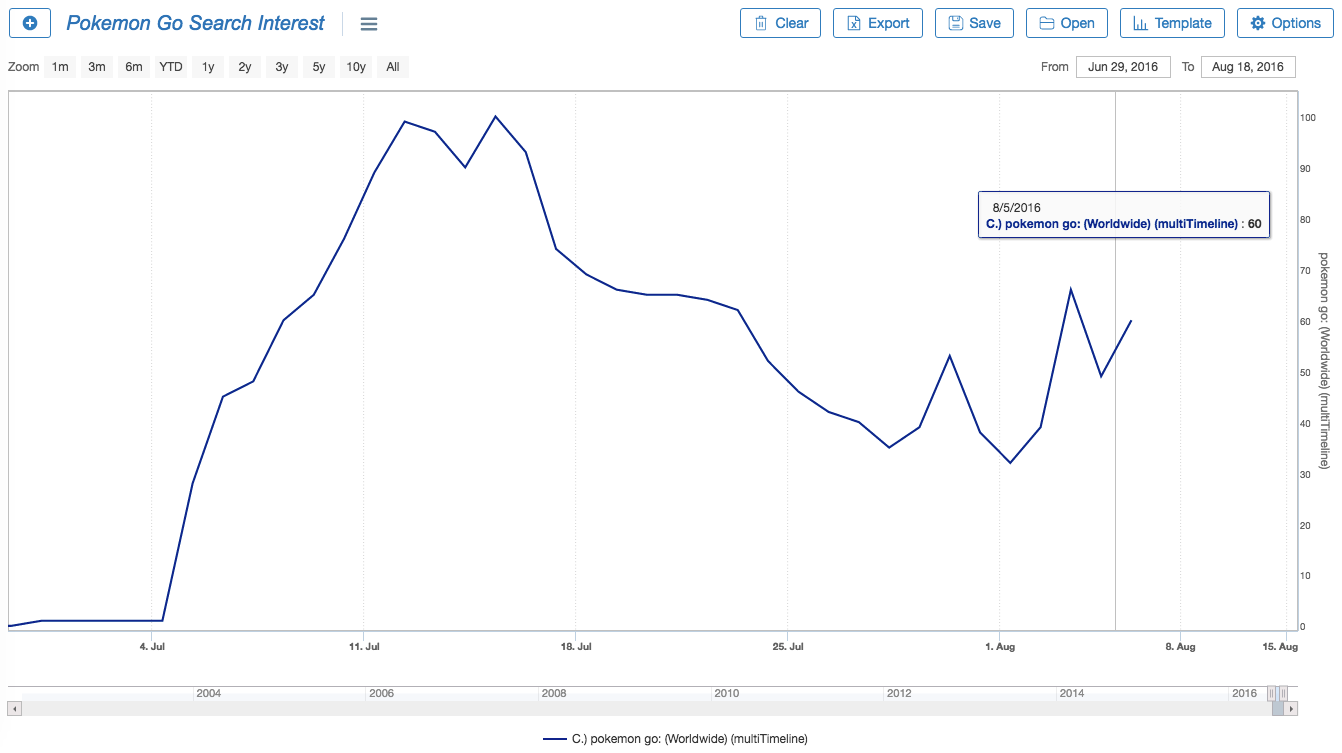 Search Engine Ostracization, or, #byeorganic
We think that when you combine a macro perspective of digital ad budget exhaustion as well as Google wizening up to its downstream potential, an era of reckoning is coming from all companies whose primary business model involves being high up in Google search rankings. Since "SEOmageddon" is a clunky word, we are terming this Search Engine Ostracization. Investors in these types of businesses be warned (hint: Tripadvisor $TRIP). We agree that a pivot to a mobile strategy to retain users is a good approach as native app users are far less likely to churn, but with monetization rates as low as 20% of desktop, keeping those eyeballs is only part of the equation.