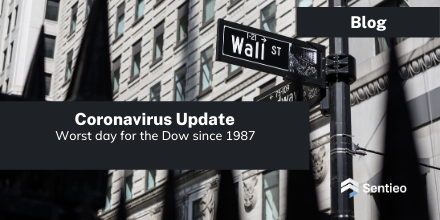 Quarantine fears crush retailers, what is on the other side? STAY GPS XRT, finding conservatively financed FCF generators
The selloff in the markets continues unabated: President Trump's address last night and the Fed liquidity actions today did little to reassure the markets as Thursday ended as the worst day for the Dow since 1987.
Event cancellations continued en masse throughout the day Thursday after the NBA canceled the season late Wednesday. And with A-list celebrities and athletes testing positive, as Ann Curry tweeted Wednesday night: "now we all have someone we love diagnosed with #coronavirus."
While quarantine fears crush retailers we start to look at what is on the other side and find conservatively financed FCF generators.
---
Twitter mentions up; Retail ETF down
We are seeing a major jump in search trends and Twitter mentions of quarantine. Perhaps unsurprisingly, the XRT Retail ETF dropped more than 12% and is now down around 25% YTD (about double the SPY YTD decline).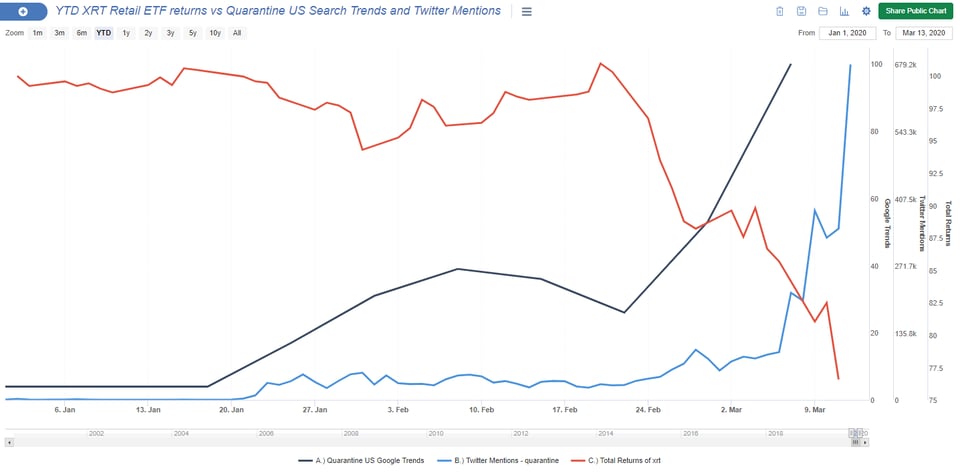 Looking inside the XRT, we see individual names down 50% or more from their 52-week highs, from legacy stores like Macy's to online natives, life Stitch Fix.
---
Guidance suspension continues
Unsurprisingly we continued to see suspensions of guidance, dividends and buybacks as well as capacity curtailments across industries on Wednesday.
Gap
---
But instead of anchoring there, ask yourselves, what is on the other side?
Everything is now cheaper, sometimes much cheaper, so it makes sense to start thinking about buy lists during the quieter times of the day. Right now, there are 121 US-listed companies, with a market cap over $1 bn, Net Debt to EBITDA of under 2.0x, LTM FCF Yield of over 8%, and 2-year Net Sales change of over 7%.
Equities have historically returned above risk-free assets in most markets because they price risk. Sometimes that risk is catastrophic: equities did go to zero after the Bolshevik putsch in Russia in 1917, or in China in the late 1940s after General Chiang Kai-shek lost. What we are seeing right now is risk being repriced.
---
Do your part: stay at home, wash your hands, and keep things in perspective. The sooner we all do it, the faster things will be back to the new normal on the other side of the abyss.