Every year, thousands of pages of earnings call transcripts are generated and analyzed by equity analysts for signals about how individual companies — and the market — will perform. Our 2018 Word On The Street report demonstrates how Sentieo's Document Search and Transcript Sentiment tools make that data more accessible to researchers.
How It Works
We used Sentieo's natural language processing technology to scrape all the earnings transcripts published in the last year. We then processed and cleaned the data to distinguish the keywords in the text. We highlighted the words in each transcript that occurred on the greatest weighted average basis. We also eliminated filler words (like "or", "and", etc.) and conducted analytics on the cleaned data, like part-of-speech tagging (picking out nouns and verbs for semantic analysis) and sentiment analysis (quantifying the tone of the text).
Natural language processing powers the Sentieo platform's document search and transcript sentiment functionality, putting its users at the forefront of financial research technology.
The Most Popular Transcript Keywords Of 2018, By Sector
Our 2018 report spans all sectors – from consumer discretionary to utilities. Here's a sample page of our report on the Consumer Staples sector. For the full, free report, please download it here.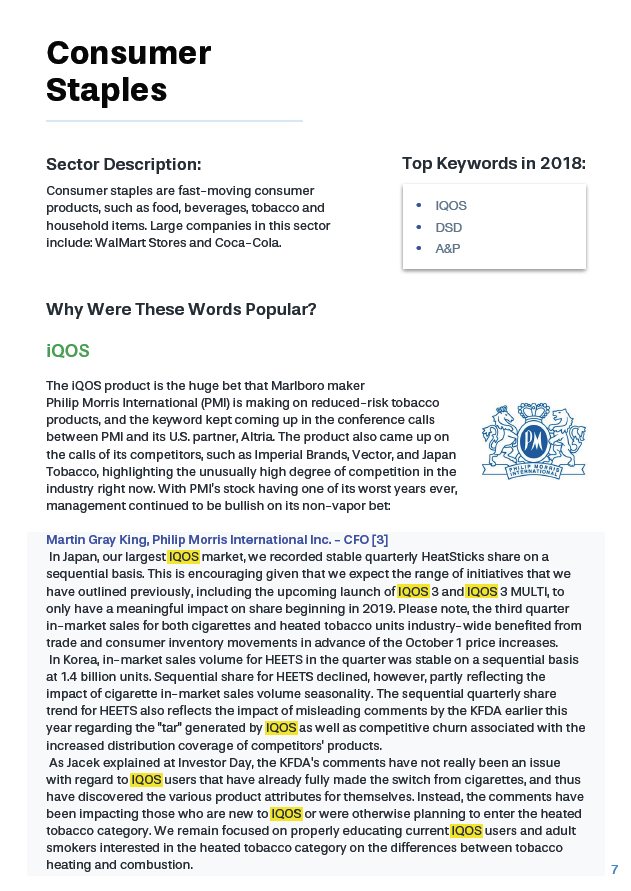 We want to hear your thoughts on this report, or any of our other whitepapers! Your feedback is welcome at hello@sentieo.com. For a free trial of Sentieo or to learn more, get in touch here.