With earnings season upon us, we've got our eye on Netflix, one of the first earning calls of the week.
We used Sentieo's Mosaic feature to quickly plot a couple graphs on Netflix, which we anticipate will beat estimates in subscriber growth based on alternative data.

Check out the Google Trends (green dash), Alexa Website Traffic (red dash), and Twitter Mentions (light blue dashed) for $NFLX above. They have all led subscriber growth movements (solid blue). For Q4, analysts are expecting a subscriber growth to decline from 26% in Q3 to 23% in Q4 (dotted line). Google/Twitter/Alexa are trending up, suggesting upside to consensus estimates.
We also looked at the Twitter mentions for specific Netflix shows below. The second season of Stranger Things was described as "one of the biggest entertainment phenomena on the planet" by Chief Content Officer Ted Sarandos at the UBS conference last December. The cultish following of the show is certainly reflected in the chart below by the huge spike in Twitter mentions when it was released around Halloween.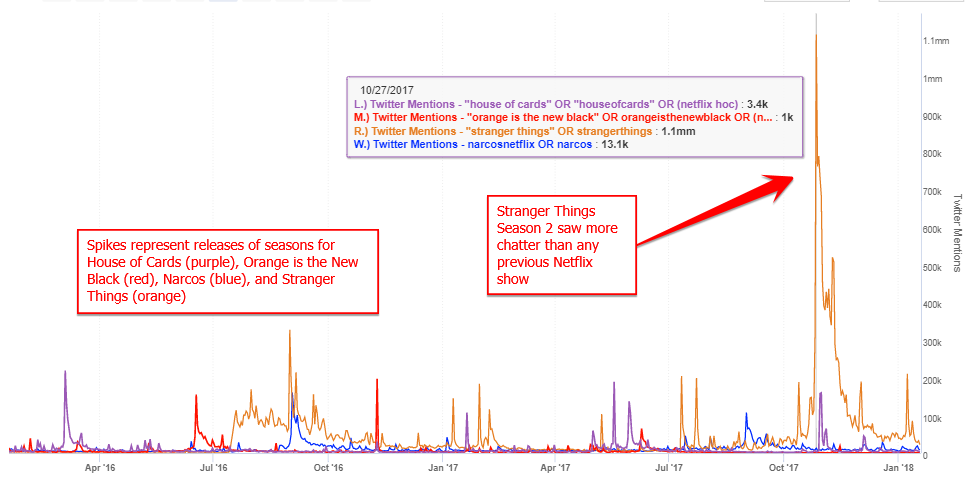 We're eager to log into Sentieo and check out Netflix's full 8-K that it released today, as well as its press releases, presentations, and much more. You can view all this too by signing up for a free trial of Sentieo. Why not get your research done faster?