On Friday we wrote a blog post predicting a deterioration in $NFLX's domestic and international businesses after analyzing web & social data available through Sentieo's Mosaic offering. Yesterday $NFLX did indeed miss top and bottom line numbers and lowered guidance on quarterly net additions for both domestic and international segments, with management, largely blaming "un-grandfathering" of lower prices. Management even used Google Trends to illustrate increased awareness of Netflix price increases un-grandfathering in their presentation and blamed increased media coverage for deterring new members.
We used Sentieo to take a closer look and found a profound result- Netflix has had three previous mentions of price increases un-grandfathering and each mention has consistently led to large decelerations in consumer interest and revenue growth. Put another way, yesterday's miss and messaging is hardly a new phenomenon and suggests this is a structural headwind, meaning Netflix has much less pricing power than bulls (and management) have hoped for.
In the chart below we track social mentions of "Netflix price increase" via both Google Trends (green) and Twitter (black) as well as YoY growth in Google Trends searches for Netflix (dark blue dashed line).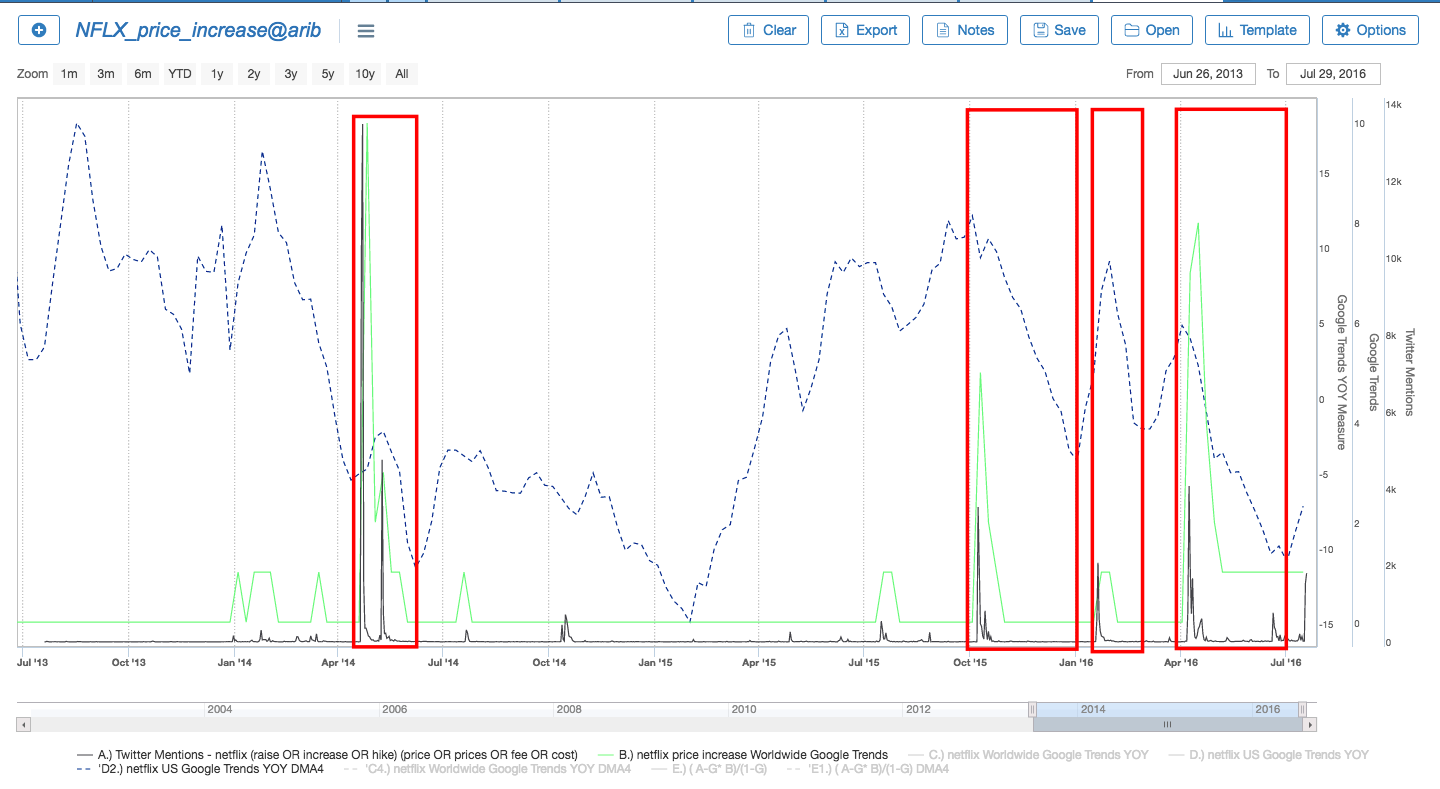 Notice the red boxes here indicate social mentions of price increases and in each case we see immediate deceleration in Google Trends growth. With "un-grandfathering" only half-way through, $NFLX will continue to face a significant membership growth headwind over several quarters, as traffic continues to be impacted by perceived price increases. This could be an even longer-term concern if, in the face of rising competition and content costs, $NFLX's ability to raise prices is impeded.
Sentieo's Mosaic service can be used to analyze real-time trends in a number of consumer, Tech/TMT, and healthcare companies. Using Mosaic, you can keep a real-time pulse on consumer interest for the stocks you follow, yielding better decision-making and better returns. Simply go to Sentieo.com and sign up for a free trial. If you would like to continually receive content related to topics of interest in the markets, don't forget to subscribe to the Sentieo Blog so that we can notify you of new posts by e-mail.