For investors in Consumer Discretionary and corporates operating in that space (retailers, consumer products), monitoring various sources of alternative data is of paramount importance. Search trends (and their year-over-year change), Twitter mentions (with year-over-year changes), web traffic (also with year-over-year changes) alone or together can provide important, real time insights during this critical holiday shopping period. We used a number of these sources, by themselves and combined, to look for standout products and companies.
All indications point to the 2019 holiday shopping season remaining very strong, with 3.8%-4.2% spending growth expected. Online spending on Thanksgiving Day itself was up almost 15% to a new record high. Adobe's shopping tracker reported $7.4 bn in online spending on Black Friday, up almost 20% YoY, and another $3.6 bn Cyber Monday, up 18% YoY.
5 Holiday Winners
1. Peloton
Maybe you've seen The Ad, and maybe you've read about the controversy. Perhaps you liked the ad, or perhaps you did not. But what really matters here is that Peloton, a relative newcomer to the public markets, was able to dominate the conversation for a few days (!) and insert its $2,000 stationary bike + $39/mo sub plan as a possible holiday gift for many consumers this year. Step aside, Lexus!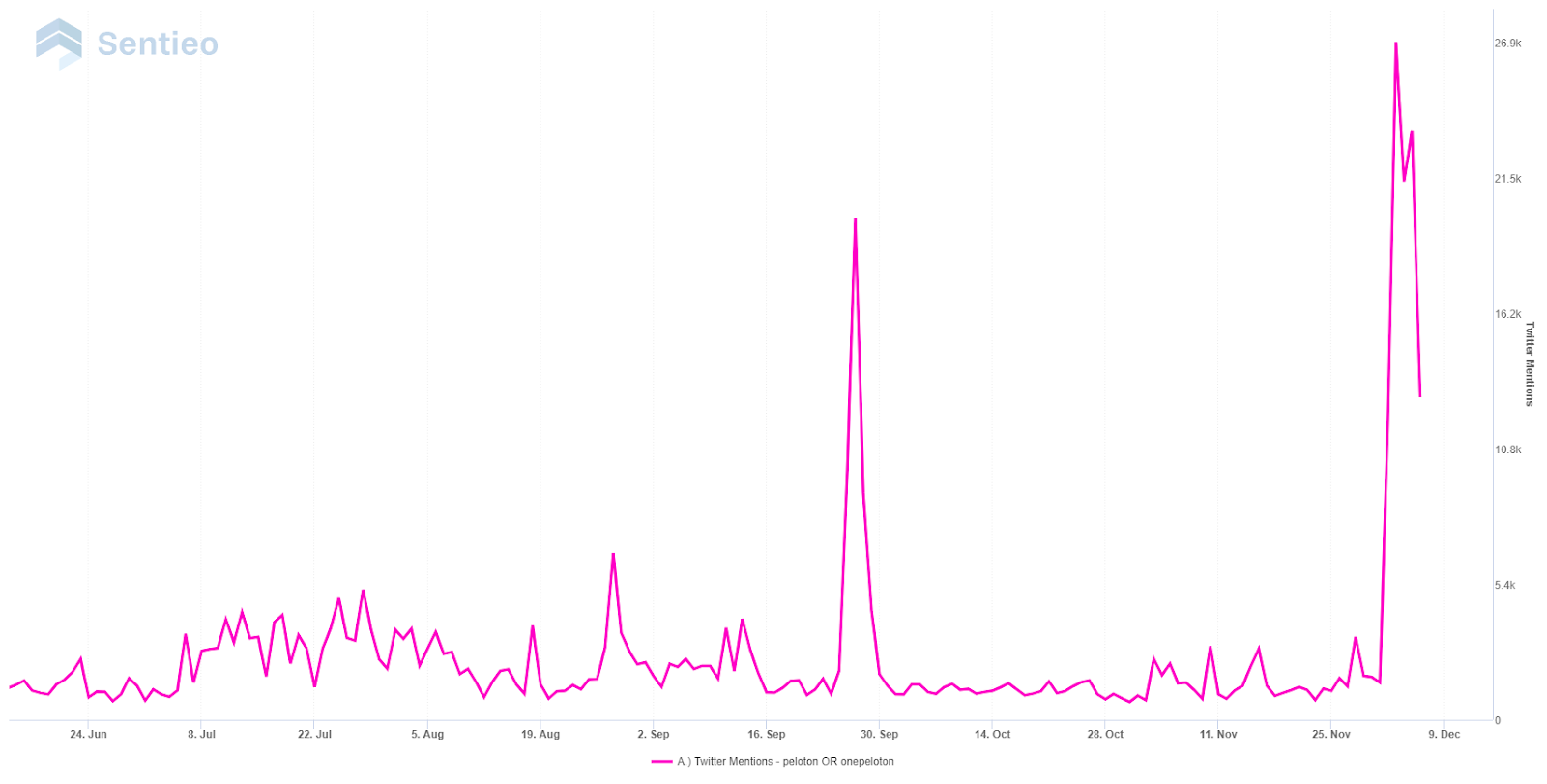 Interactive public chart viewer
2. Roku:
We really liked Roku in early 2019 when we released our Sentieo 11 alternative data stock picks: it was the top performing pick in H1. We also included it in our July 13 picks for H2 2019. We discuss the idea in detail, as well as the overall alternative data methodology used, in this webinar from July with our CEO/co-founder Alap Shah and VP of Product Arib Rahman.
Our alternative data composite index (a multivariate regression for the most predictive basket weights of the available data sets) is pointing to an exceptionally strong holiday season for Roku. We would not be surprised to see a revenue beat (street estimates of quarterly revenue are the dotted green line in the chart; actuals are the solid green line).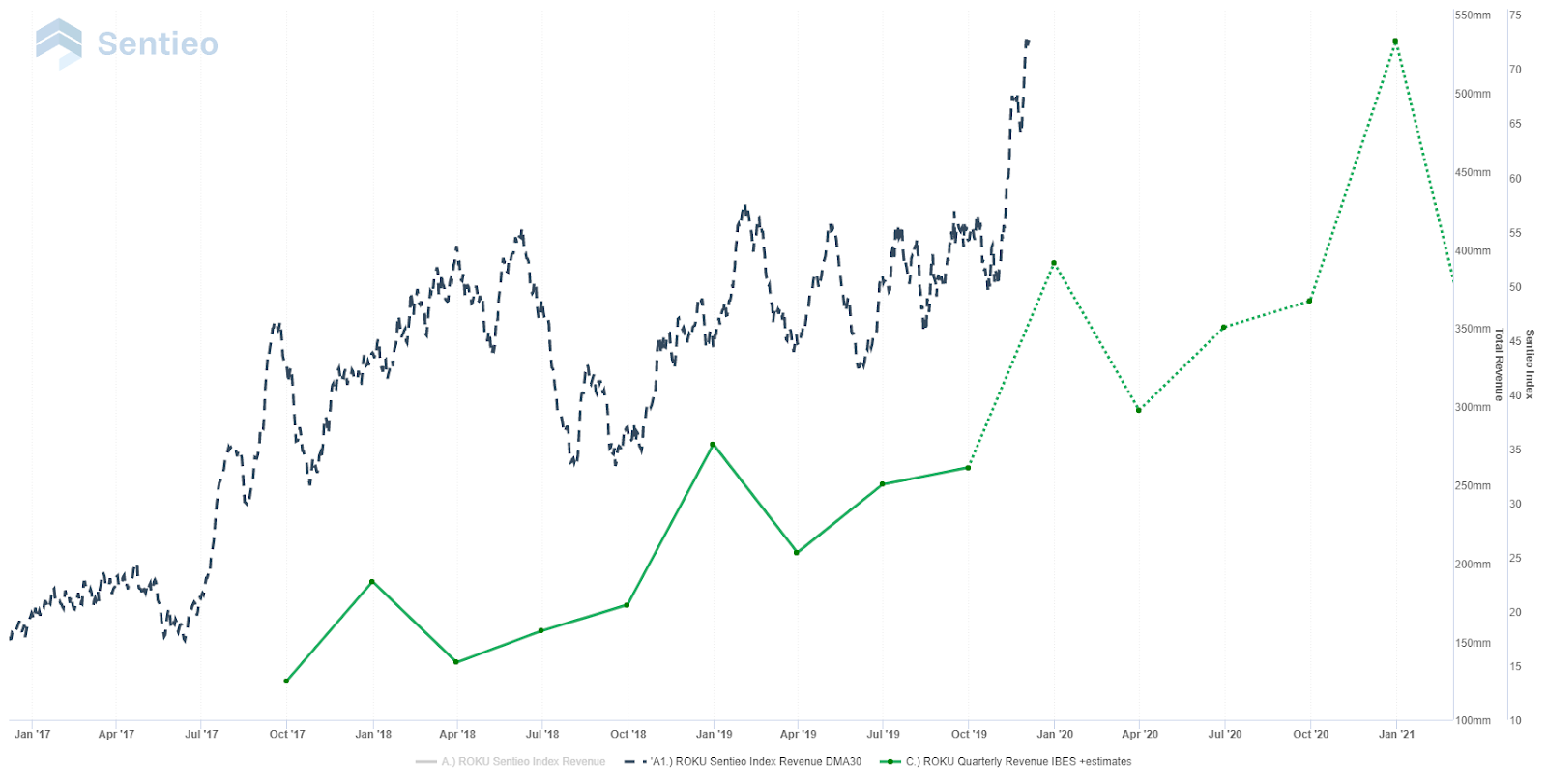 Interactive public chart viewer
3. Airpods:
Airpods are… seasonal?
The bluetooth audio/mic earbuds by Apple are hot this season much to our surprise. (Did everyone lose theirs at the same time, or are they now a discretionary accessory?) We can't be sure, other than what we see in the data: highest ever search interest and seasonal high Twitter mentions (30-day moving average) for the product (starting at $159 in the US for the basic version).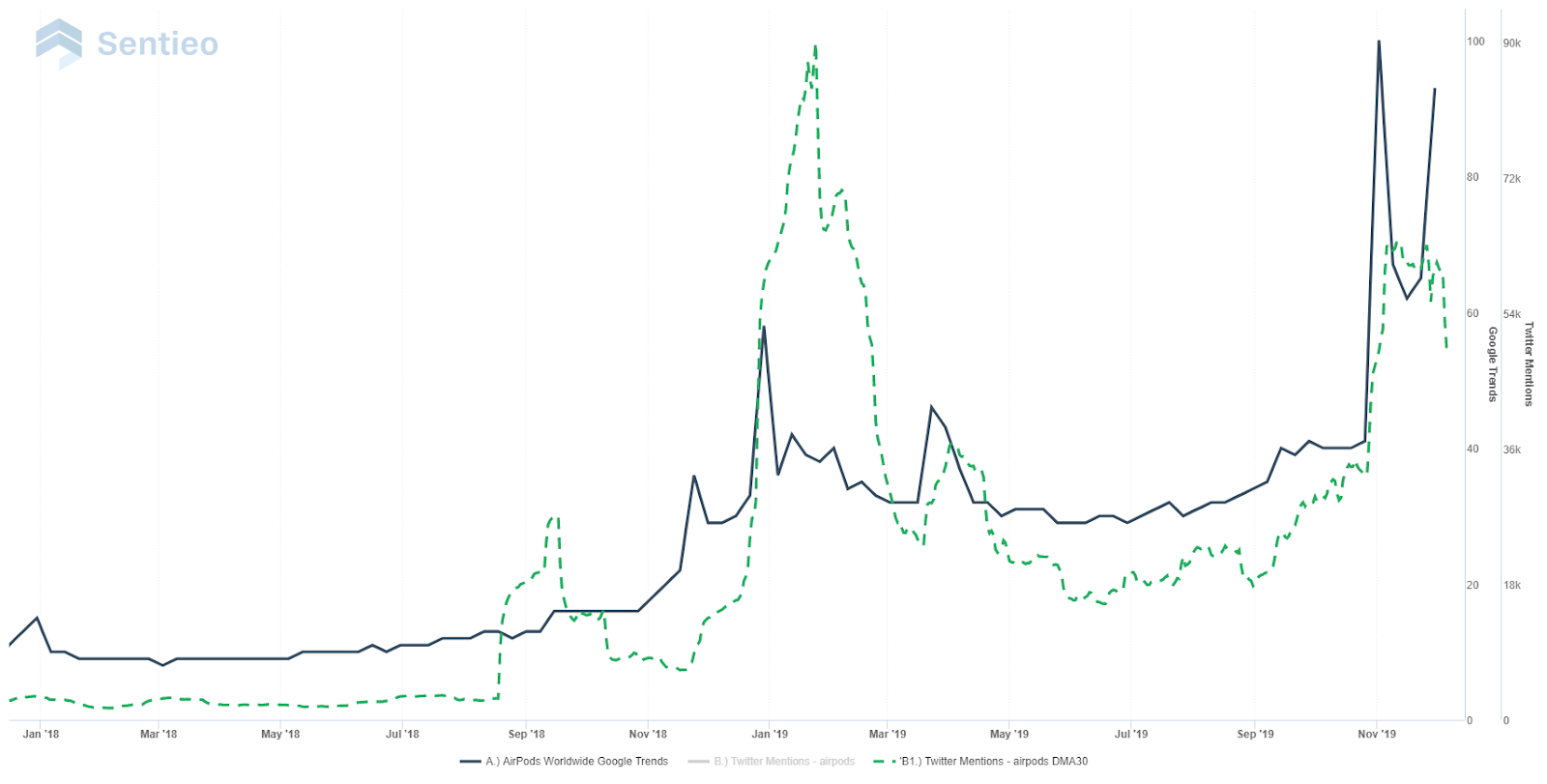 Interactive public chart viewer
4. Rosetta Stone:
Rosetta Stone is a language learning software company that has had its ups and downs over the last few years. We spotted the alternative data index acceleration in our Screener, and we were immediately interested.

Interactive public chart viewer
The acceleration is due to web traffic: we are seeing a 100%+ spike on a year-over-year basis on rolling 30- and 91-day moving average basis.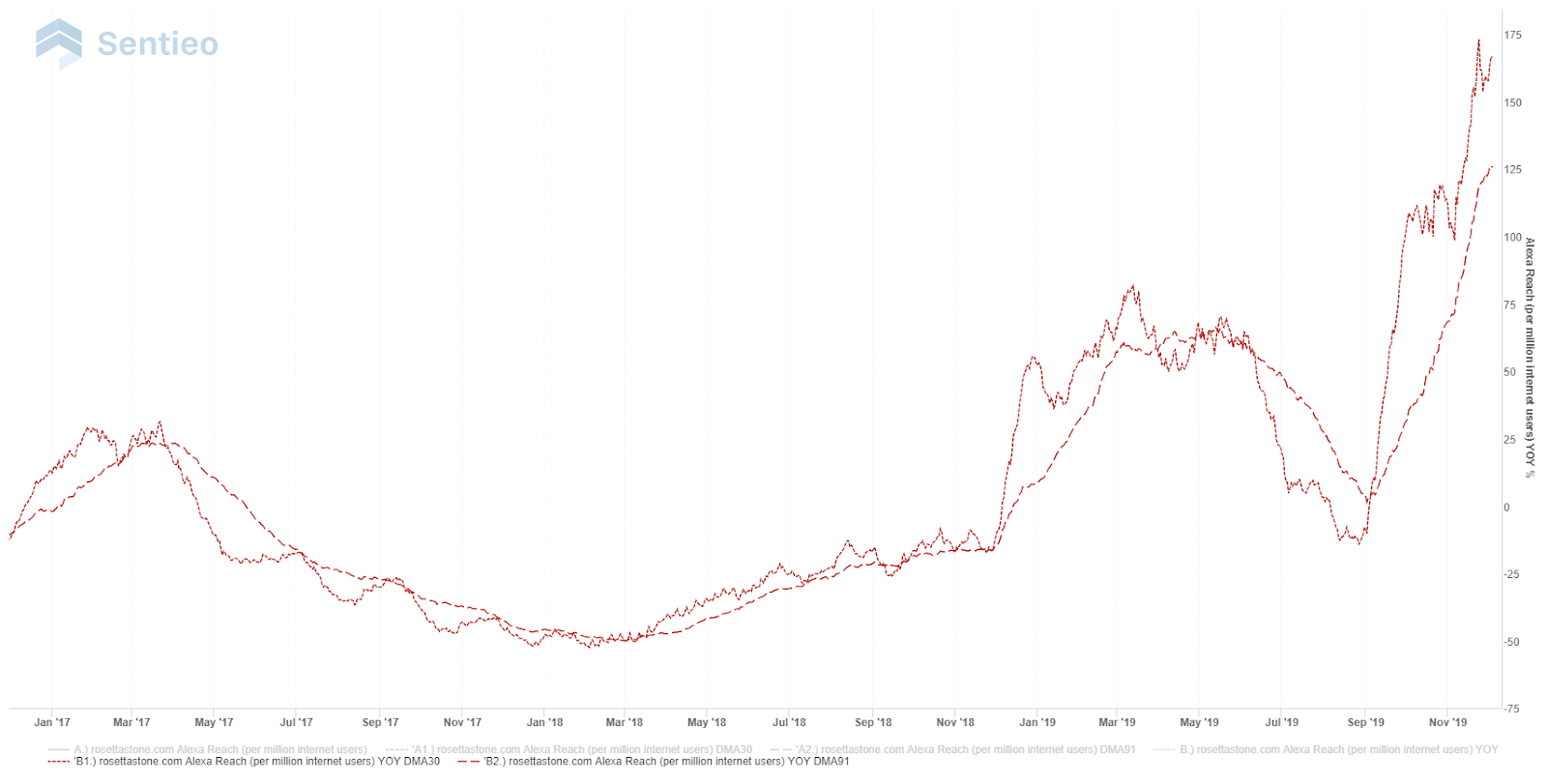 Interactive public chart viewer
5. Five Below:
The discount retailer was also another one of our H1 picks, like Roku and Nintendo above. They reported strong results on December 4th (retailer fiscal years are generally on a January year-end so their earnings season is later than most: see our Q3 machine learning/NLP Transcript Smart Summaries here on real Q3 calls from Facebook, YUM! Brands, Beyond Meat and Merck). We see strong data sets for Five into the holiday season (yet to be reported).
"Stacked" search trends show annual search trends for the entire year, "stacked" on top of prior years. We see that 2019 has been very good for Five Below, including the current holiday season.

We are also seeing good web traffic.
Interactive public chart viewer
The momentum has meant a great looking Sentieo alternative data composite index for the FIVE revenue growth for the quarter that was just reported, and likely continued strong performance through the holiday season.

Interactive public chart viewer
1 Holiday Loser: Victoria's Secret
Our pick for the loser this holiday season is Victoria's Secret, a unit of L Brands. The lingerie brand has seen years of declining search interest and weak comparable store sales, as shown in the table below, which uses our one-click table chaining and extraction tool.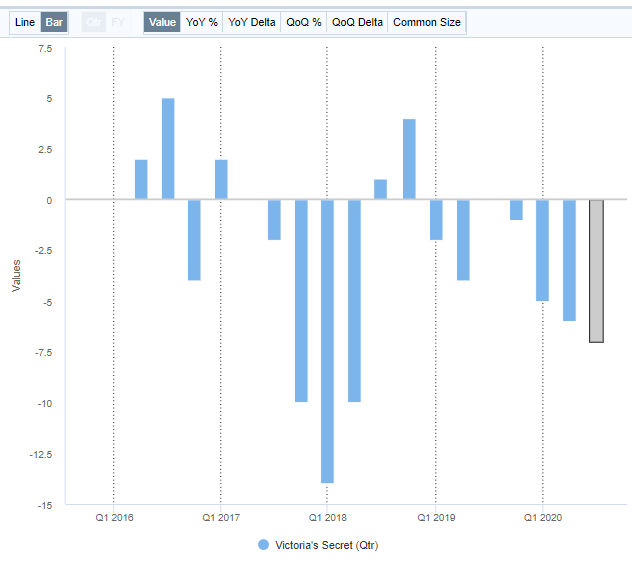 We are seeing very weak search trends compared with the last 10 years!

Note that VS is one of two brands for the parent company, L brands. The other one, Bath and Body Works, has been strong over the last few years.
To try analyzing alternative datasets for yourself, try Sentieo today.