Our first step to analyzing how retailers are doing during this "Back to School" season is to use our industry-leading Document Search to find out which retailers are talking about "Back to School" in the first place. If keyword mentions appear in filings or in transcripts, then we know that we should be taking a closer look at that company. 
We start in our Document Search without tickers (since we want keep the search broad to firstly see who mentions "back to school"). We combine our in:CF (in-filings) and in:TR (in-transcript) search for exact match "back to school." We can also see our machine learning-suggested synonyms as well, though here we are not going to use them.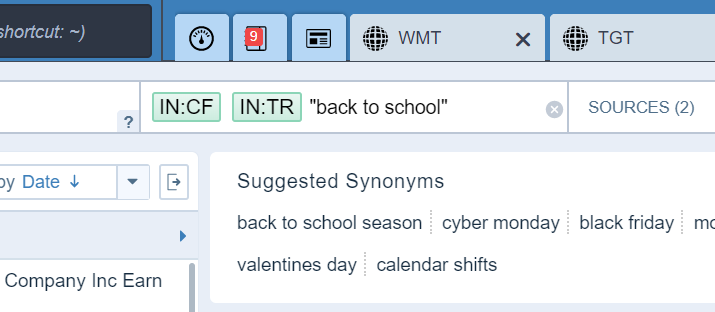 We add two filters: one is an industry filter (Consumer Discretionary and Consumer Staples), and the other is a geographic filter (US).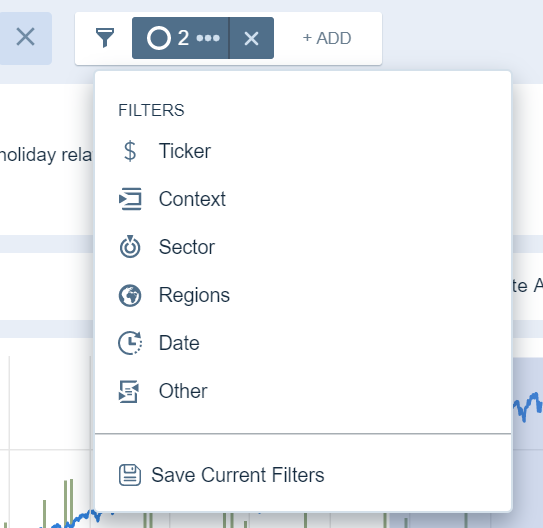 In our next step, we create our "Back to School" retailers watchlist by simply saving all companies that have positive hits in our search. We started with a fairly broad theme that is now confined to a watchlist with specific companies on it.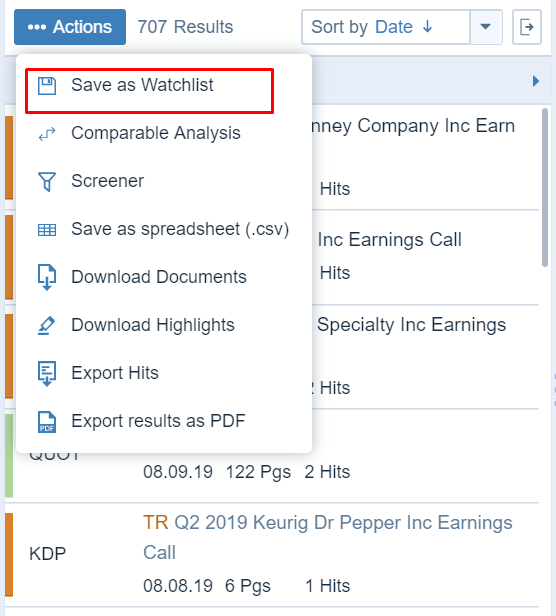 In our next step, we name our Back to School watchlist, configuring any alerts that we would like to receive, and saving the watchlist with alerts preferences.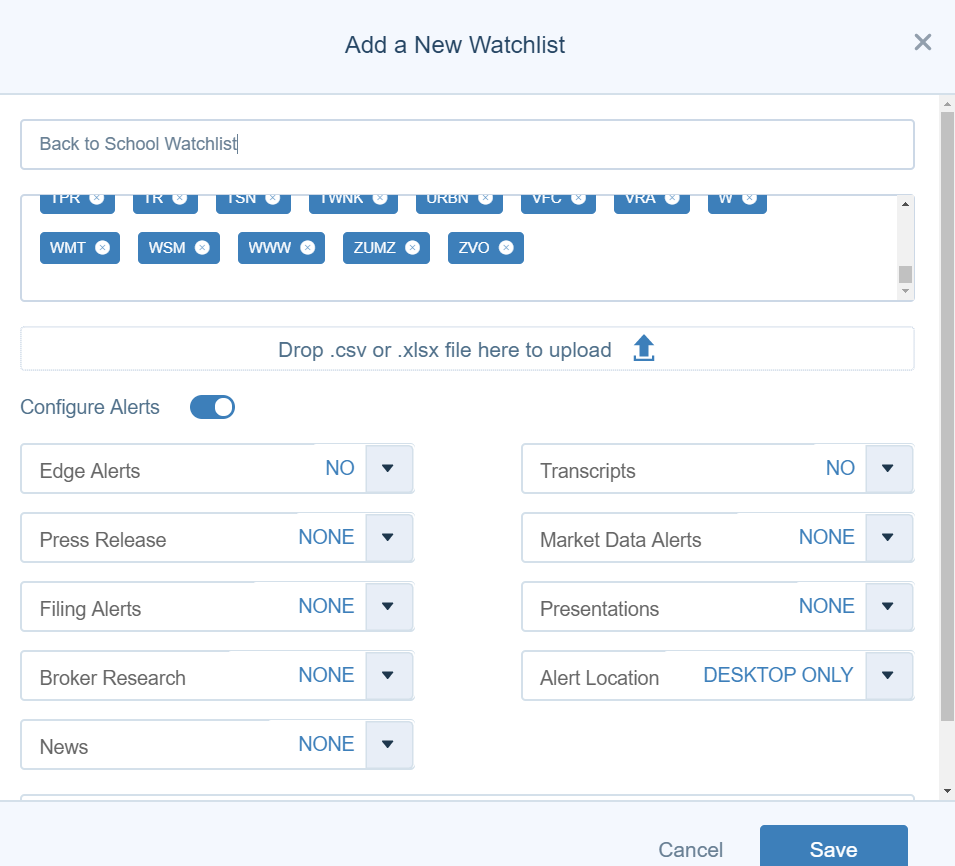 In our next step, we brought in our just-created Back to School list in our customizable Dashboard, where we are looking at a few things related to our composite alternative data index. (Watch this recorded webinar to find out how our alternative data index takes several sets, calendarizes them properly to the reporting periods, and then compares the "index" to the consensus estimates).
First, we see which is the optimal metric against which the index works best, based on past performance. Since these are retailers, we can see that comparable store sales, a standard KPI for the industry, works better than revenue for some. Second, we see the R-squared that our index has against that optimal metrics: a higher number here indicates a higher predictability.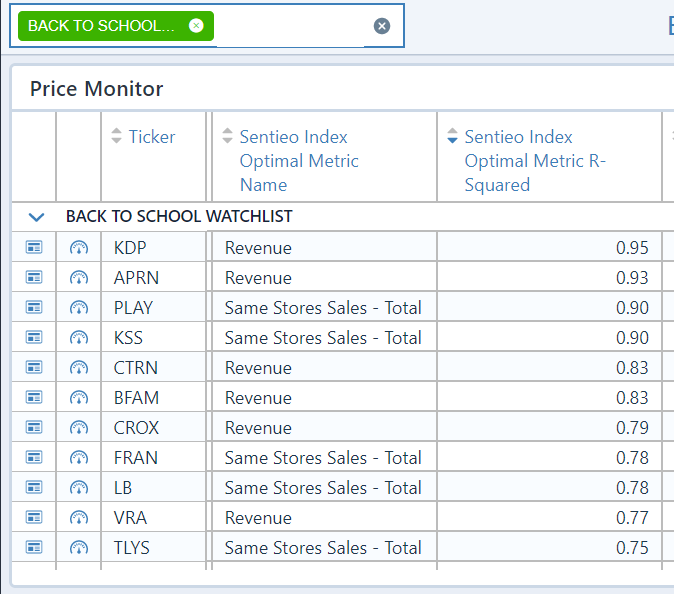 We dig deeper by checking the individual dataset metrics on a monthly basis for YoY changes (in this case, we are showing monthly YoY percentage change in search trends and page views) along with the earnings dates.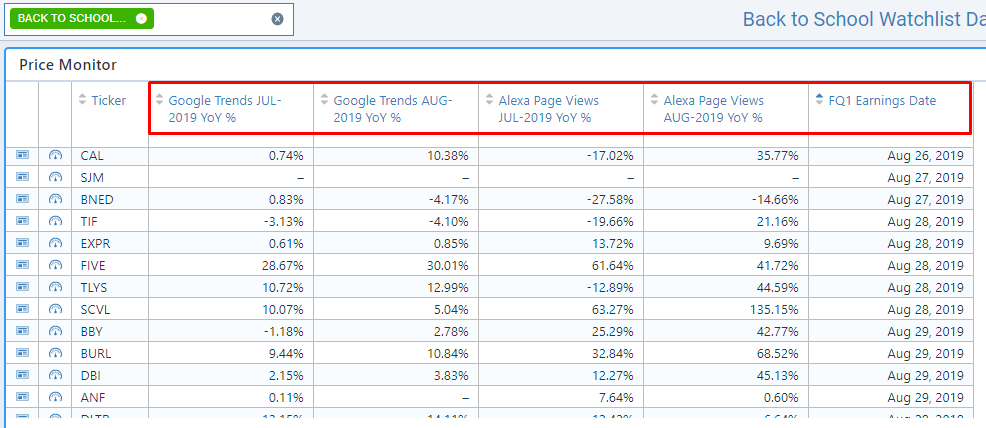 We see that there 18 retailers reporting in the next few days (the week of August 26, 2019, and the week of September 02, 2019). They are: CAL, BNED, TIF, EXPR, FIVE, TLYS, SCVL, AEO, GCO, BBY, BURL, DBI, ANF, DLTR, PVH, ZUMZ, FRAN, and VRA. Since these retailers' fiscal year typically ends at the end of January (vs. the standard December for the majority of publicly traded companies), the Q2 numbers are for the quarter ending in July. So the "back to school" period is somewhat split. But investors do expect QTD color for Q3, as well as guidance updates. Since the Sentieo team has decades of buyside experience (all product managers are former buyside and/or sellside analysts), we know that we can eliminate TIF, BNED, and FRAN from the list. TIF, a high-end jewelry retailer, is not really driven by BTS, while BNED and FRAN are "special situations" currently. 
With our slimmed-down, "actionable" list of 15 stocks, we took a look at what our composite index looks like YoY (used for the more predictive metric, revenue or comparable store sales growth).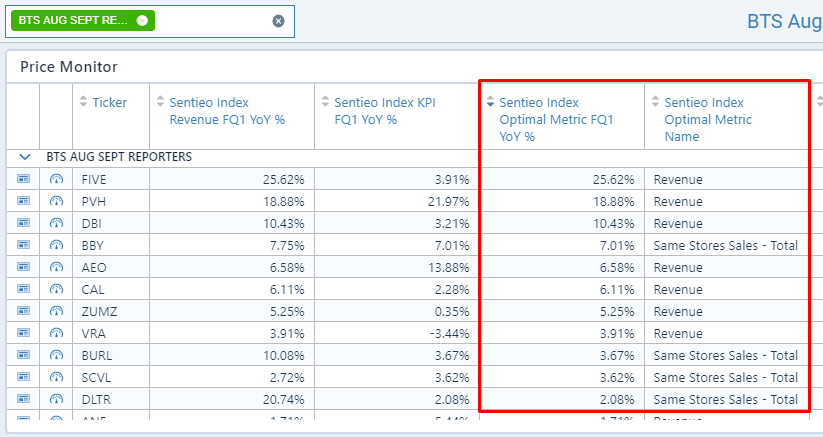 We see the potential for strong overall YoY revenue growth in FIVE, PVH, DBI, AEO, CAL, ZUMZ, and VRA. We see the best potential for comparable store sales growth for BBY, BURL, SCVL, and DLTR. 
Taking this a step further, we can look at past performance by adding the R-squareds to our list (higher = more predictive). Our confidence is highest in the YoY revenue growth performance from FIVE and AEO, and for comps, in BURL.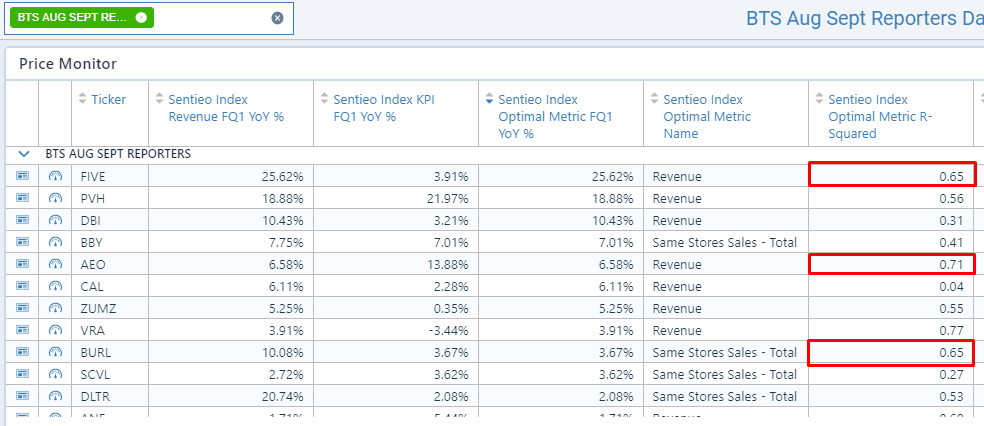 To find out more on how you can compare the alternative data composites against the analyst consensus numbers, please see our white paper and webinar from a few weeks ago, or request a trial with a product specialist.