Last week, we took a close look at the food industry, which certainly follows trends and changing consumption habits that can ultimately greatly affect the performance of various companies. Using Sentieo, we were able to take a look at data and trends regarding protein-rich grains like quinoa, hemp, and sorghum. This week, we'll examine how the hype around brunch and street foods have been discussed across company filings.
The Avocado Craze and Brunch Boom
Avocados have been available to consumers for a while, but they were not very popular outside of Mexican cuisine until a few years ago. Since 2010, the popularity of this fruit has boomed, and consumer interest has spiked due to people's greater awareness of healthy eating habits. The benefits of the avocado are many: the fruit has more potassium than bananas and is full of antioxidants, to name a few.
Google Trends data from Sentieo shows the booming popularity of the avocado quite clearly. The volume of searches has risen by over 400% since 2004 – 2008: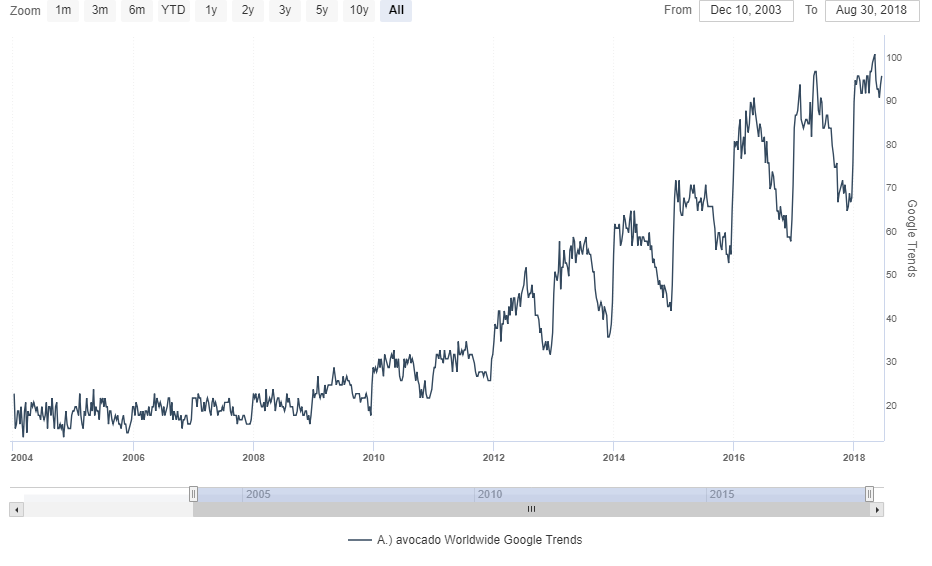 Many companies are not waiting on the sidelines. They are well aware of the recent trends, and the number of times that the word "avocado" has been mentioned in company filings proves it. (See below).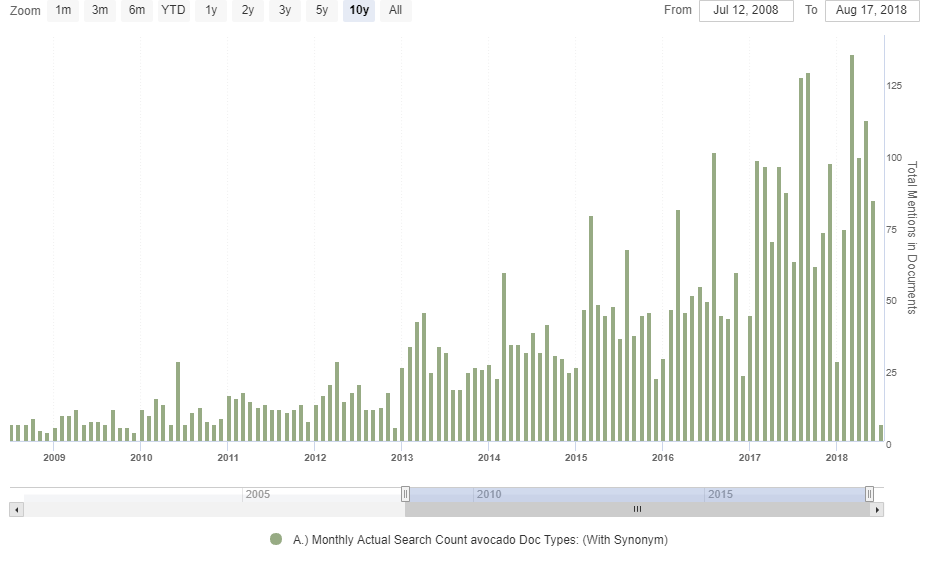 There are numerous companies exposed to the growing popularity of the avocado. Del Monte produces and markets several avocado products, while Limoneira claims to be one of the leading producers of avocado in the Americas. In the restaurant segments, more and more companies use it as an ingredient in their recipes. Del Taco Restaurants even mentions avocado in the company's About section on every press release:

Consumers' changing tastes are not just reflected in the growing or falling popularity of specific foods, but also in changing consumption habits when it comes to where to eat and when to eat. The way people eat and relax across the world is evolving, and the growing popularity of brunch is a clear example of that.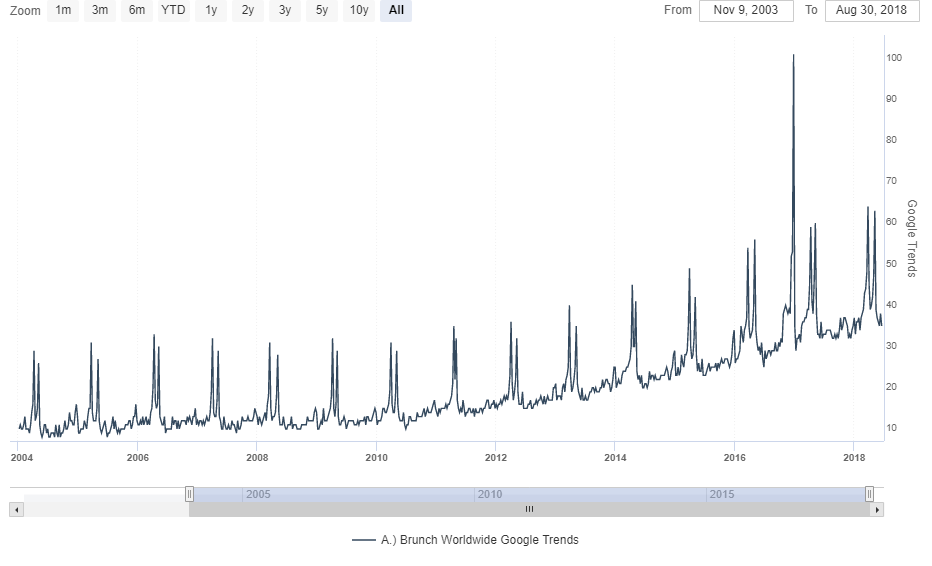 Document hits confirm that the brunch boom is a trend that many companies have been riding for several years now: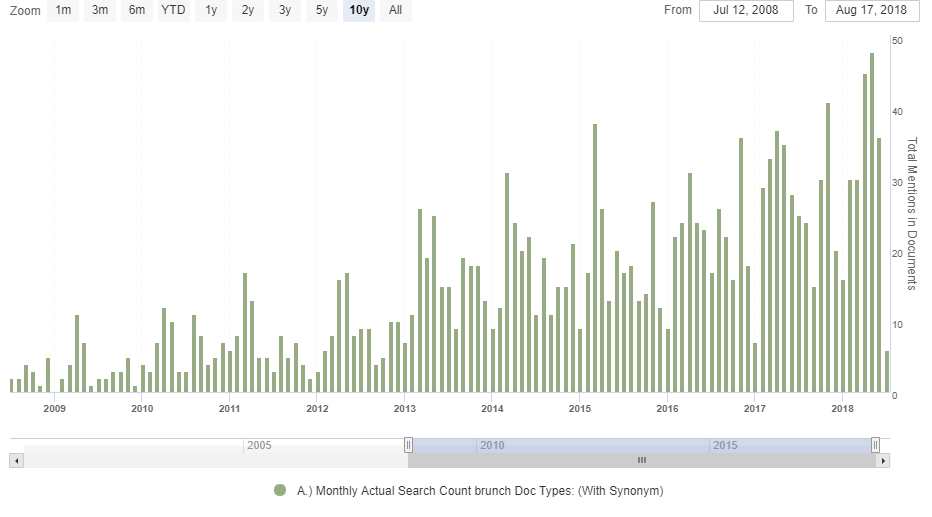 Based on the number of times that the word "brunch" has been mentioned in filings and transcripts, the most active companies in the brunch space seem to be Brazilian steakhouse chain Fogo de Chao, The Cheesecake Factory, and Brinker International. Even hospitality chain Marriott International has tried to take advantage of the new trend by offering several brunch options to its customers.
Speaking of how and where, we can't avoid mentioning the constant growth of street food concepts. Street food's growth is rampant. Even Michelin has recognized street food in its Hong Kong guide, and even two Singapore street-food hawkers have each received one Michelin star. The street food concept is loved by companies that want low-risk ways to test a new restaurant concept or food offering before committing to larger investments.
Look at how the number of mentions of "street food" in company-related documents and transcripts has boomed since 2013: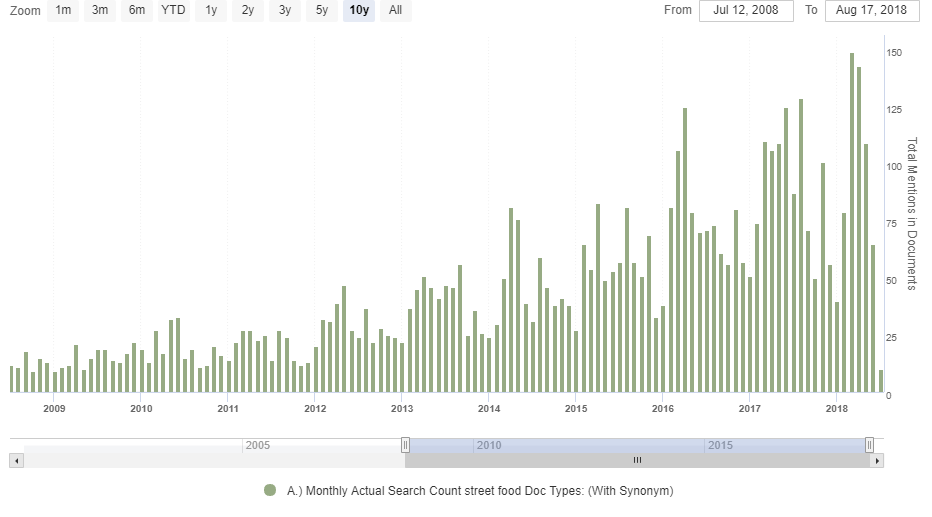 It is also a reflection of the growing interest from customers: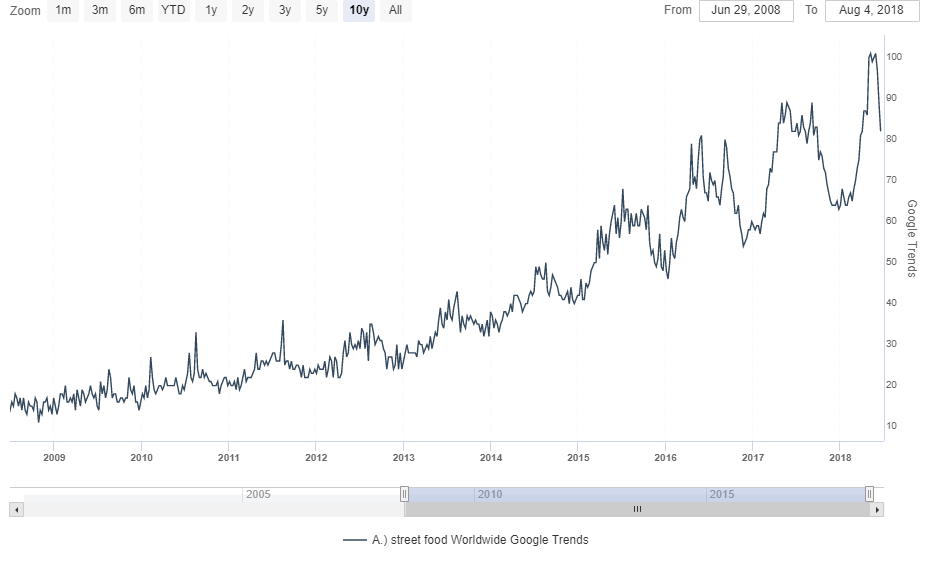 Street food combines the pleasure of eating tasty food with an important experience component, and it's highly shareable, as the growing number of Twitter mentions indicates: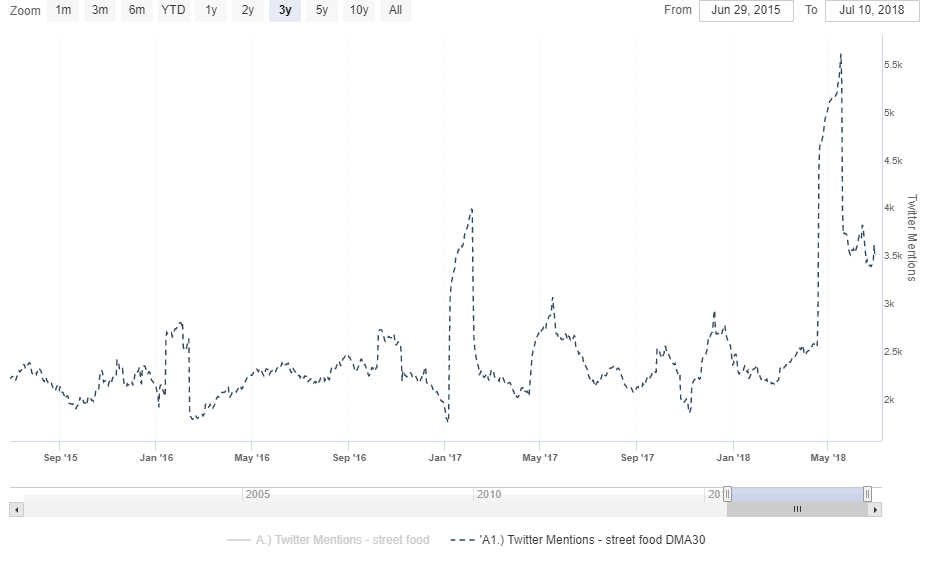 Sentieo's tools help us identify, analyze and compare industry trends quickly and effectively. We used Document Search and alternative data from Mosaic to analyze these interesting trends in the food industry, a segment of the consumer space that is experiencing significant changes due to increasing health consciousness, changing consumption habits, and the rising adoption of specific diets for ethical reasons.
However, Sentieo's tools can be used to run ad-hoc searches on a virtually unlimited number of topics, allowing us to gain important insights into any industry that are not available anywhere else. Stay tuned for the upcoming Part 3 of our Trending Foods Series!