One of the most substantial recent changes in public company accounting is ASC 606: Revenues from Contracts with Customers. The changes affect a wide range of public filers, from SaaS companies to real estate managers, to fast food franchisors. This post will focus on what analysts can do to efficiently see what has changed in their coverage universe. For the accounting enthusiasts who want to know more about the changes themselves, we recommend KPMG's 1,100-page implementation guide.
As the implementations have been rolling in the filers' SEC filings, we find that two Doc Searches can help analysts find the adjustments provided by the companies.
For income statement changes, we use IN:TABLE search for revenue within 200 words of "606." In Sentieo, analysts can search specific company documents, docs from several companies (tickers entered manually or in a saved watchlist), or general search (which can be modified by factors such as market cap, headquarters location, specific filing forms, sector, and many others).

For balance sheet changes, we use IN:TABLE search for equity, within 200 words of 606.

Using these searches enabled us to find what we need, in a fraction of the time that older search methods require. Here are some of our findings.
Intuit (INTU), parent of QuickBooks and TurboTax, went from a loss to almost break-even in its third quarter under the new standard.

SaaS company AutoDesk (ADSK): we see that both revenues and the closely watched ARR numbers are affected.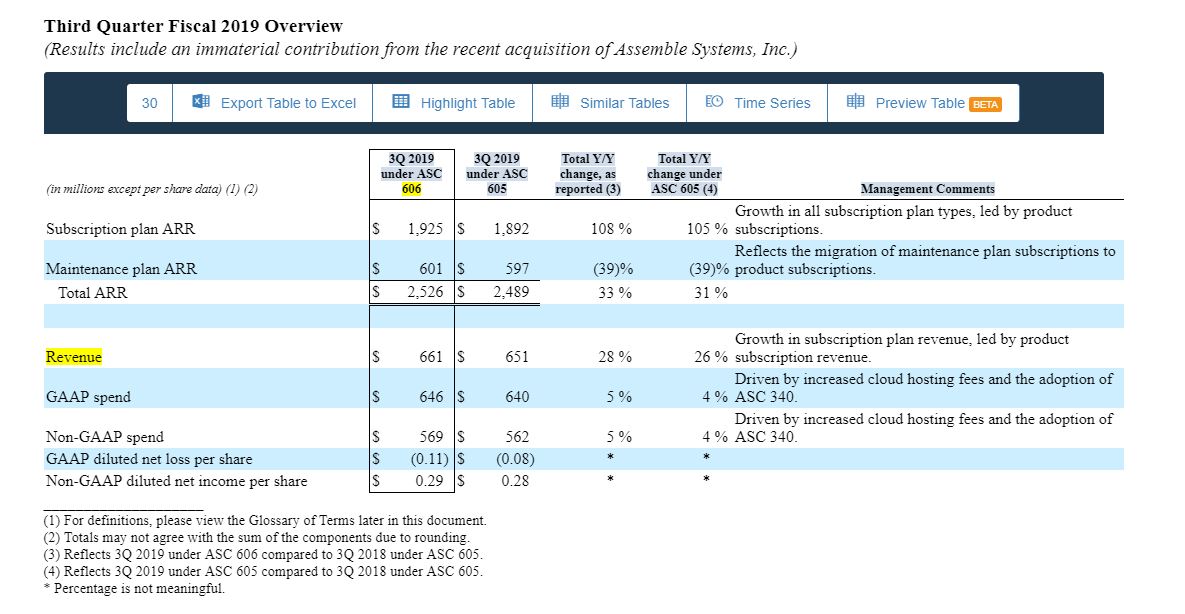 Dunkin' Brands (DNKN), franchisor of Dunkin and Baskin Robbins, analyzed the applicability of 606 to its revenue streams (franchise fees, advertising fund fees, products, rents), and Sentieo provides a detailed breakdown.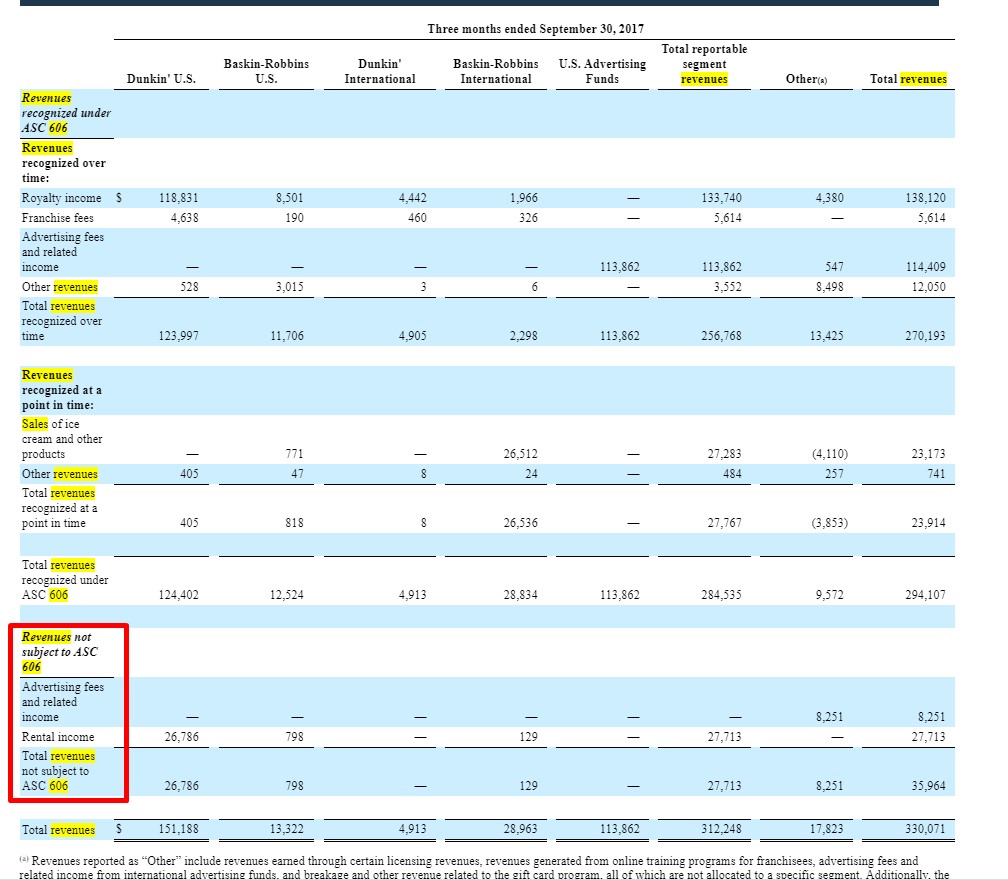 Our balance sheet search mentioned above picked up some notable changes, too.
Commercial real estate broker and manager Jones Lang LaSalle (JLL) saw several changes in its balance sheet, notably the creation of several new line items related to the adoption of 606.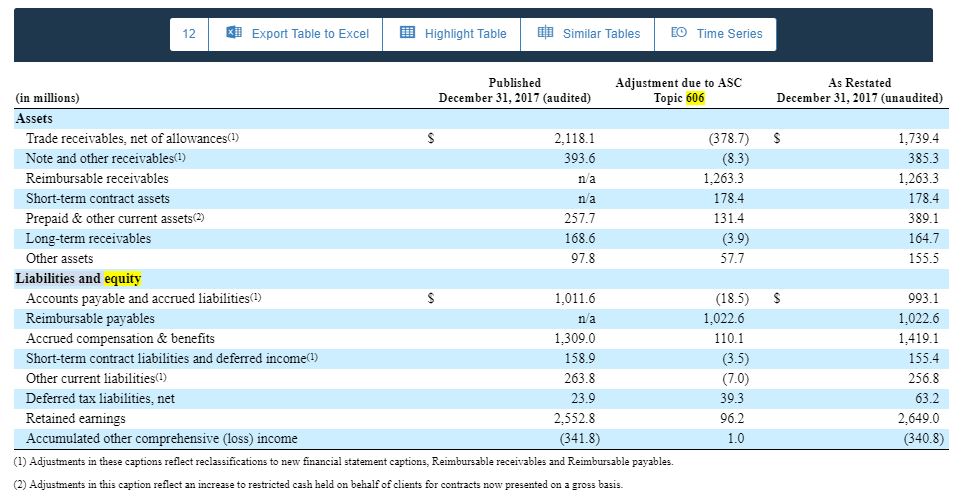 SVB Financial (SIVB), parent of Silicon Valley Bank, also reported major changes in its accounts receivable and its deferred revenues on its balance sheet.

Finally, telecom Sprint Corporation (S) saw balance sheet adjustments in a few categories, including the addition of $1.2 billion of customer contract acquisitions on the Assets side, and a $1.3 billion swing from negative accumulated earnings to positive.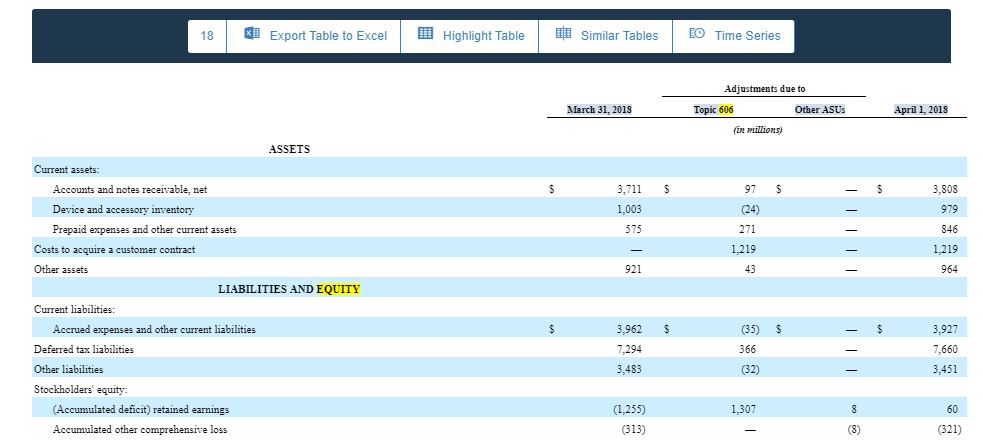 If you'd like to learn more about how using Sentieo can help your process, get in touch.