Interested in trying out Sentieo? Click here to request a free trial.
– Subscription meal-kit services like Blue Apron, HelloFresh ($RKET), Plated and dozens of other upstarts are changing the way people purchase groceries and are permanently impairing WFM's traffic. We walk through how we used Sentieo to ballpark the -1.0% to -1.5% annual comp sales headwind from lost traffic.
– In the broader "food at home" space, WFM's prepared food business is also at risk from the likes of health-focused on-demand players like Sprig and Munchery as well as new on-demand restaurant delivery players like Postmates, Doordash, and Caviar. Prepared food is 20% of WFM revenue at margins significantly higher than company average.
– The disruption by new tech-enabled players and direct competition by lower margin traditional grocers means WFM has to reset margins, potentially much lower.
The Story So Far
WFM's struggles are well documented with increased competition from the following:
Traditional players (e.g. KR – $11bn natural/organic, COST – $4bn organic) have eaten into WFM's share of the organic market

Grocery delivery services (FreshDirect, Peapod, AmazonFresh) also pose a challenge and have inspired not only a WFM partnership with Instacart, but also a

recent investment

Me-too organic grocers like SFM, TFM and NGVC continue to grow stores
We can see it in recent results below — WFM's same store sales (black), traffic (orange), and average check (green) growth have decelerated for the past few years and have recently all turned negative: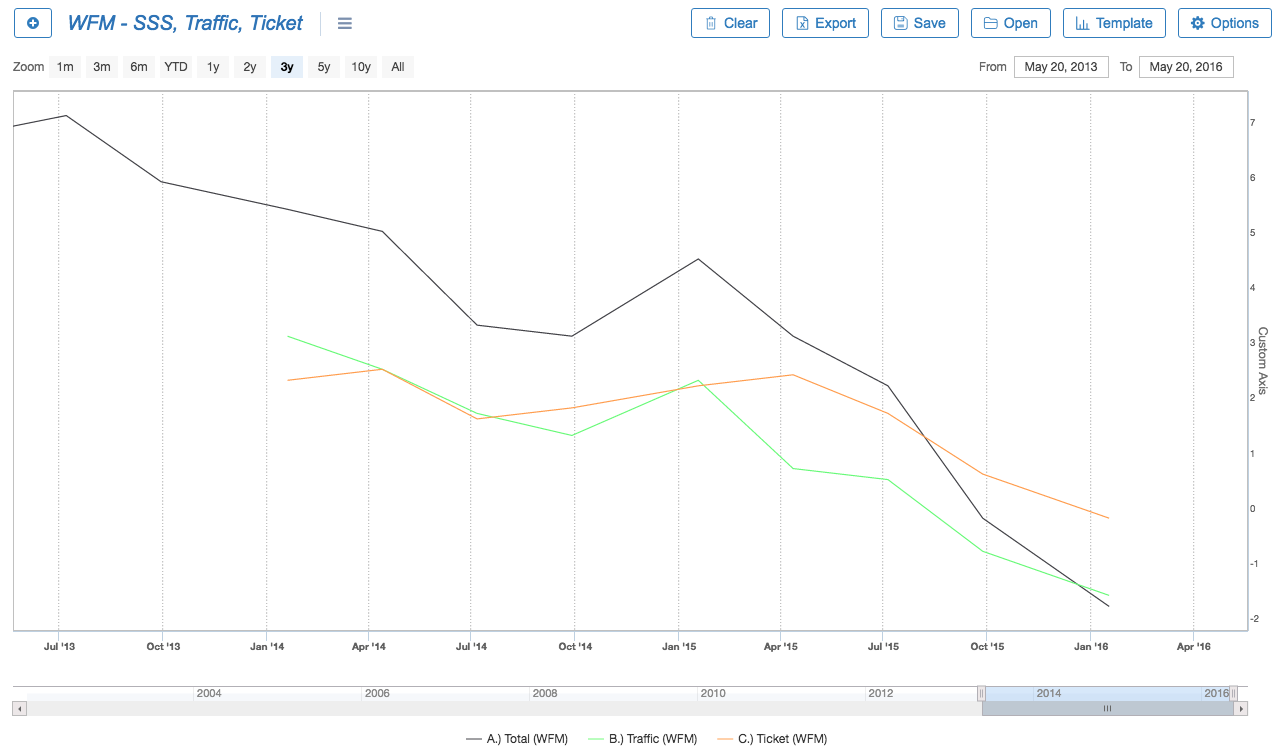 However, another challenge is emerging which we believe has already had a meaningful impact on comps and is currently accelerating. Most importantly, the market does not appear to appreciate the existence or magnitude of this threat.
The rise of Subscription Meal-Kits
The NYT dives into the meteoric rise of meal-kit delivery services in this article… and then the NYT actually entered the business themselves just last week. Broadly, subscription meal-kit business models like Blue Apron (valued at $2.0bn), Hello Fresh ($2.9bn), and Plated send subscribers weekly meal-boxes with pre-cut and portioned ingredients and instructions to cook delicious meals at home. This enables customers to reduce food waste and cut out a fraction of their grocery trips while also experimenting with new foods and cuisines.  These businesses are growing at a torrid pace and collectively have gone from ~0 to ~$1.4bn in revenue in the last three years. With over 100 meal-kit companies in the market today, competition is becoming more fierce by the day. This fall, Amazon will wade into the meal-kit space with Tyson Foods.
We can use Sentieo's Mosaic service to track the popularity of these services. In the chart below we have plotted monthly website visits for Blue Apron, HelloFresh, and Plated. The Blue line aggregates the traffic of the three meal-kit players to compare it to red line which is visits to wholefoodsmarket.com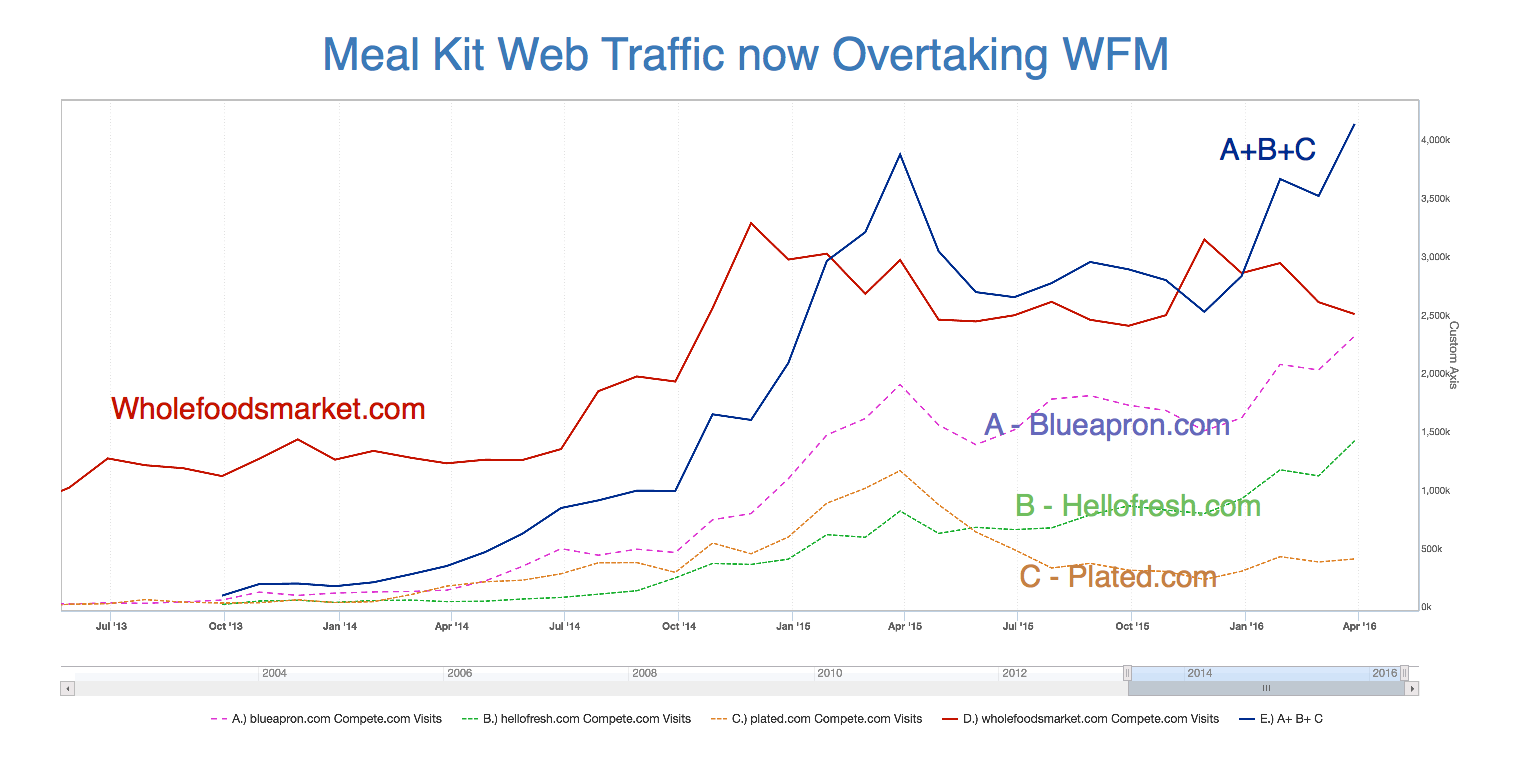 The three businesses have rapidly accelerated this quarter to 4mm combined monthly website visits while wholefoodsmarket.com has gone ex-growth as meal-kit traffic has accelerated. Continued momentum in these leaders and the dozens of smaller competitors will be an ongoing headwind impeding WFM's return to positive comps.
The Comp Math Nobody Is Doing
While private companies don't disclose revenues, we can use their infrequent disclosures to estimate that Blue Apron is currently doing ~$720m in revenue while HelloFresh is doing ~$375m in the US. See our accompanying methodology post to get into the nitty gritty of our math if you're interested, but essentially comparing the disclosed revenue run rates to traffic allows us to triangulate the undisclosed revenues of the smaller players.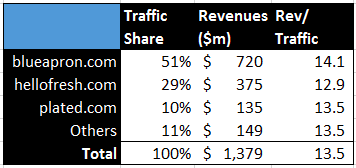 Note: revenues above are Sentieo estimated 2015 exit run rate revenues. Revenue per traffic numbers are averages.
The meal-kit companies' traffic and revenue appears to have more than doubled in 2015, suggesting that they gained a staggering $800m in US revenue in 2015 alone. It's reasonable to assume that much of this revenue growth has come at the expense of the organic grocers, as they share the same affluent customers focused on convenience and health. If we make the assumption that 25% of this growth is coming at the expense of  WFM, we can build a sensitivity table like the one below:

So we're looking at a base case of a 100-150bps (1.0%-1.5%) headwind on WFM's comp store sales, or $150-$225m on WFM's sales of $15bn. Put another way, WFM would have comped positively the last couple quarters without the meal-kit impact. Since the meal-kit companies continue to grow traffic and receive chunky rounds of funding, its safe to assume that a similar magnitude headwind will persist for the next few years…not an encouraging outlook if you own WFM.
Let's use Sentieo's Document Search to see how much WFM management talks about these upstarts, across all their public statements from conferences, earnings calls, MD&A, etc:

Apparently not at all.
Sellsiders are slightly more diligent- of 28 sellside brokers who cover WFM and are available on Sentieo, we found all of TWO reports even mentioning the topic.
On Demand Delivery vs. WFM's Prepared Foods business
A WFM transcript search for "prepared foods" gives us two pieces of key information in the first two document results:
Prepared foods + Bakery =

$3bn/yr

, or ~20% of LTM Revenue — and this is at a much higher margin than the rest of the business
Prepared foods are expected to be a key draw in new stores rolled out in areas like

LA and Miami

This appears to be another flank that WFM is unprepared to defend. WFM's prepared food section is an attractive convenience offering for on-the-go professionals and busy moms. The growing cohort of tech enabled food delivery apps, whether delivering their own food or that of a third party restaurant, are targeting the same customers for the same convenience occasions. Grubhub and Seamless ($GRUB, $2bn mkt cap, $200m cash) along with Eat24 ($YELP, $2bn mkt cap, $180m cash) are the original competitors in the space, and we can look at their search trends to see they have been growing steadily for the last eight years. Postmates ($500m valuation $180m funding), Doordash ($700m valuation, $190m funding) and Caviar ($SQ, $3.5bn mkt cap, $370m cash) represent a newer wave of restaurant delivery apps with their own delivery force and tighter supply chain integration with their partner restaurants. Finally, on demand players Munchery ($300m valuation, $120m funding), Sprig ($300m valuation, $57m funding) and Maple (~$200m valuation, $22m funding) deliver their own food via apps and their own on demand delivery force. Using Sentieo's Plotter, we can observe that the search trends for these players in aggregate is now equivalent to that of Whole foods, displaying consistent annual growth in contrast to WFM's own search trend stagnation.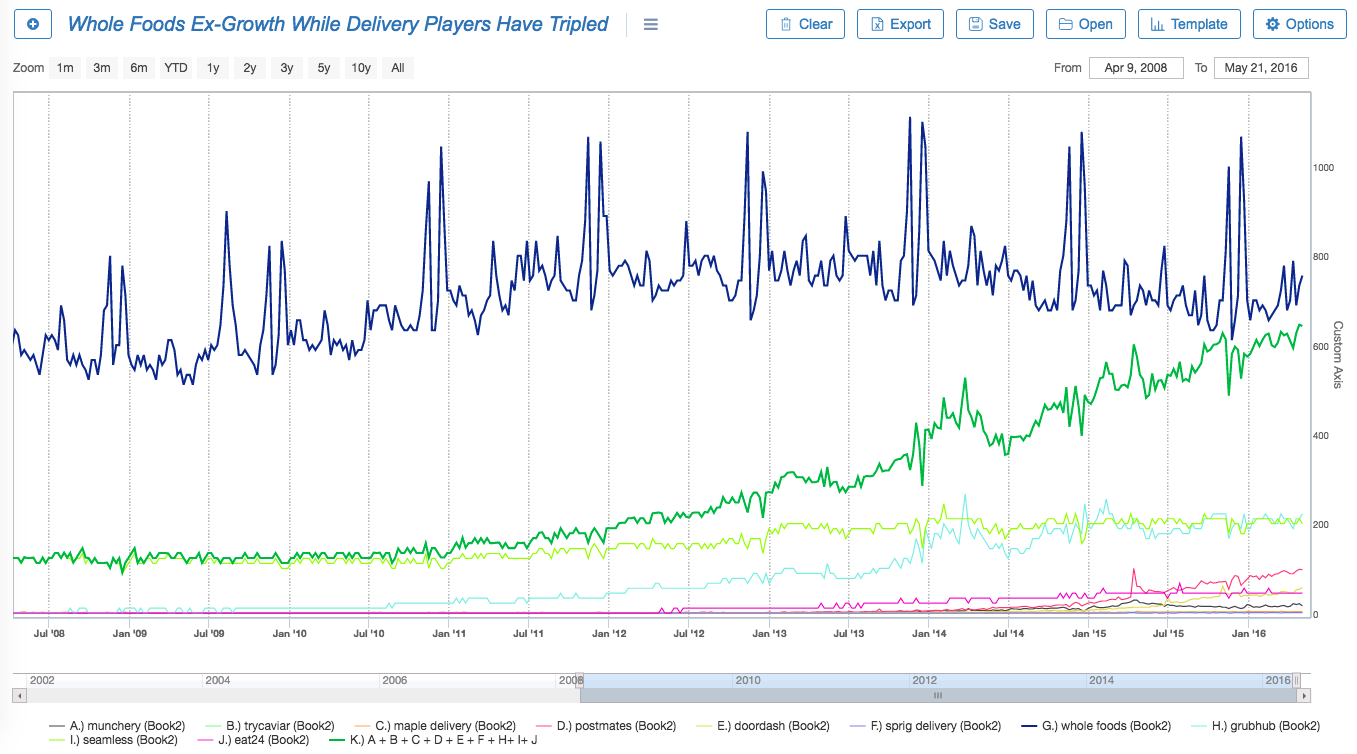 Note: We are comparing search interest in all delivery vs. search interest in Whole Foods and have not zoomed in on the 20% of WFM that is the prepared foods segment, which we figure offsets the ~25% flowthrough factor from the delivery space impacting WFM that we use as our base case above.
How concerned are management and investors? Not very – we didn't find a single mention among WFM's formal statements.


I can save that search to make sure I'm notified via email, mobile, and desktop if and when WFM does mention one of these challengers.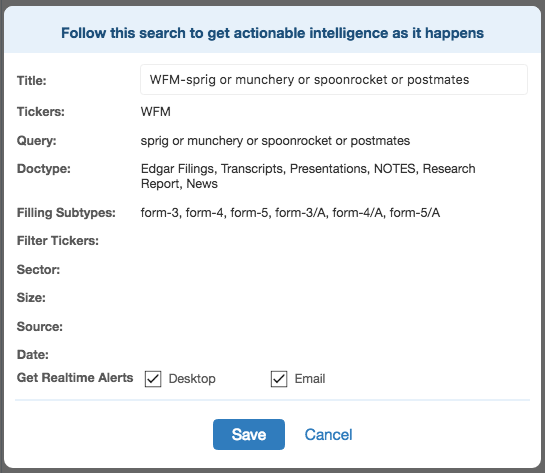 Tickerless searching also makes use of the massive scale of Sentieo's database, and you can use it here to answer questions like "how many of WFM's competitors ARE concerned about on demand delivery"? Answer: loads like KR, FWM and TFM, WFM's absence is quite notable.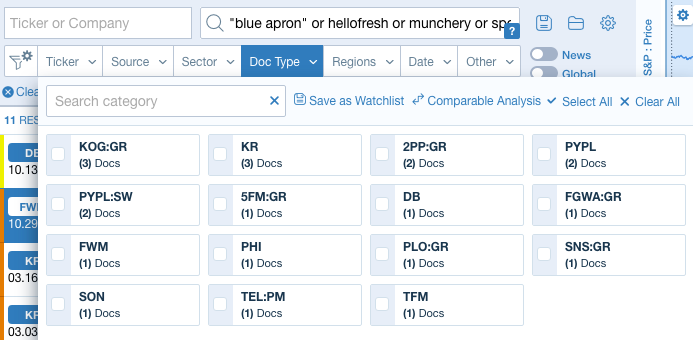 Game of Margins
The last shoe to drop when a previously premium offering begins to get commoditized is that margins start to fall. Plotting historical and forward Gross Margin % estimates is trivially easy (dare we say fun?) in Sentieo.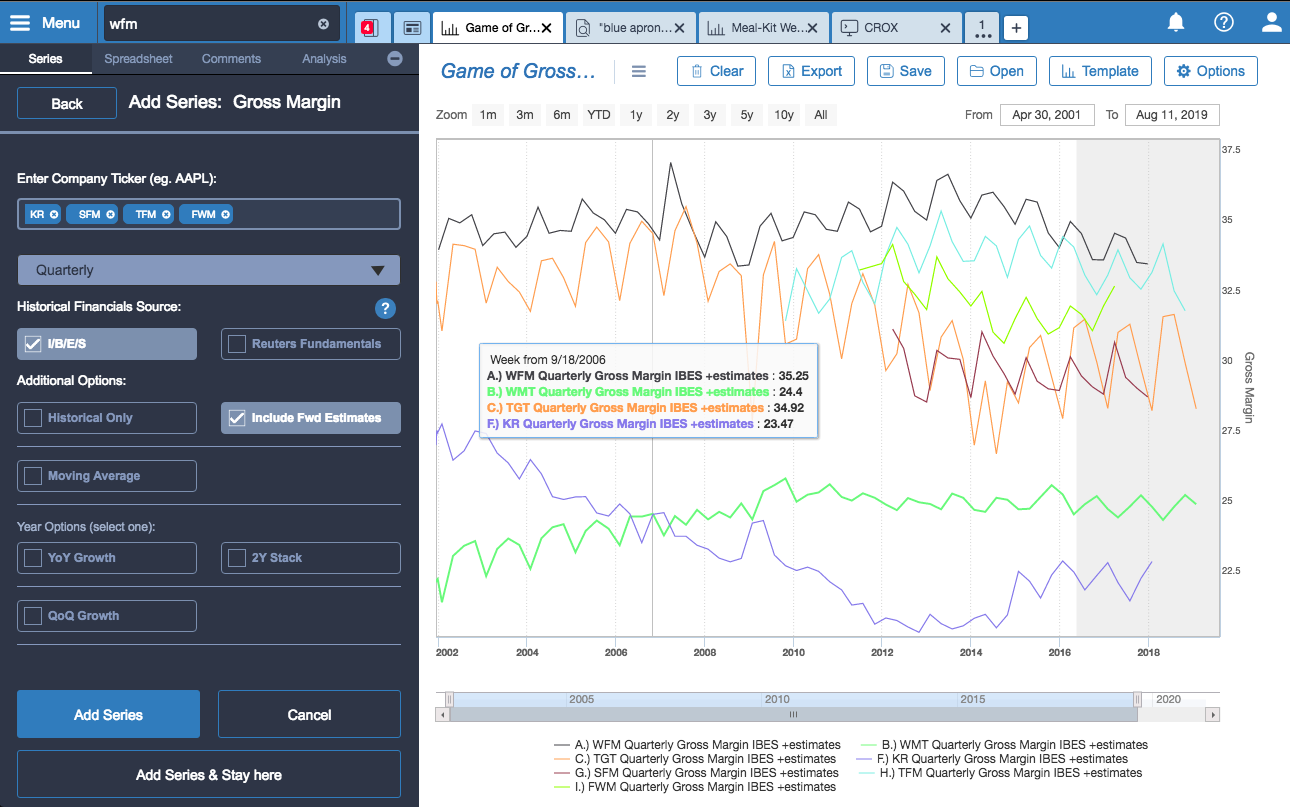 WFM has consistently maintained the highest gross margins of the group, a laudable achievement, but now that the pendulum is beginning to swing the other way it has the most to lose. WFM's moniker as "whole paycheck" has long suggested it has a pricing problem, however this problem could be exacerbated in an environment of new disruptive tech-mediated competitors, where it will simultaneously face pricing pressure from traditional competitors and lost trips due to technology. In a downside scenario, WFM's needed price investments could impair margins at the same time tech steals more of the grocery trips of WFM's least price sensitive customers. Not a pretty picture…no wonder management is focusing investors on the new lower priced 365 by Whole Foods store format.
Conclusion
Marc Andreessen once famously mused that software would eat the world. That analogy is only now coming full circle to the actual food-at-home space, and the traditional players aren't just ill-positioned, they seem almost oblivious. Software is eating food, and investors should take note.
About Sentieo
Sentieo is a powerful equity research platform designed by former hedge fund analysts, using a combination of new datasets to generate alpha for asset managers, individual investors, and corporate organizations.
Click here to sign up for a free trial of Sentieo.