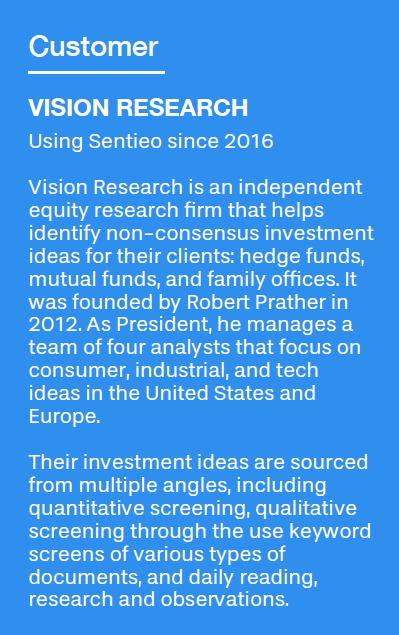 Challenge
The Vision Research team needed a tool that would allow for thorough document research, but also allow them to quickly organize and communicate ideas across their remote team.
Solution and Results
One of Vision's clients recommended Sentieo to Robert and his team, and they were immediately impressed with Sentieo's Document Search, and especially Sentieo's Notebook research management system.
Robert and his team members have been using various document search tools for over a decade, including Thomson Reuters StreetEvents and Alphasense. However, they now solely use Sentieo, which has powerful search functionality, but also integrates with the rest of their workflow very easily.
Document Search For Idea Generation and More
The Vision Research team uses Sentieo's Document Search on a daily basis, for a couple of reasons:
• Idea generation – querying certain "buzzwords" or specific keywords and their synonyms (and eliminating false positives)
• Researching an idea that they have already begun, continuing to follow a story
Sentieo has been a timesaver in both of these tasks, allowing the team to experience 75% time savings when compared with previous platforms. The team especially likes the Document Search redlining tool, which allows them to compare language from the same document type from different quarters.

Tables, Export to Excel, and Modeling
One feature that the team was not able to find in Alphasense or other platforms was a table extraction tool that allowed them to extract tables from any document and push them into Excel. Sentieo allows them to do this and more, including the ability to extract and easily compare tables historically over quarters or years. With the Sentieo TableX suite, the team spends 50% less time than it used to on modeling activities.


The Notebook: Collaboration Made Easier
The Sentieo Notebook was the platform's biggest selling point for the team. Before Sentieo, the team used a shared cloud drive to store files, and communicated information using only hundreds of emails and Excel spreadsheets, which ended up being a very inefficient process for them.
Now the team is able to create notes and categorize them for easy organization across the team. They have created a system where they can share ideas and label them "Reviewed" "Unreviewed," and more. Everyone on the team can comment, and there is a trail of comments and activities that they can reference at any time.
This is especially helpful because the team works remotely across different offices in Dallas, and some members of the team travel frequently. The Notebook keeps their research all in one place, transparent across the team, and has made for at least 50% time savings compared to their old process.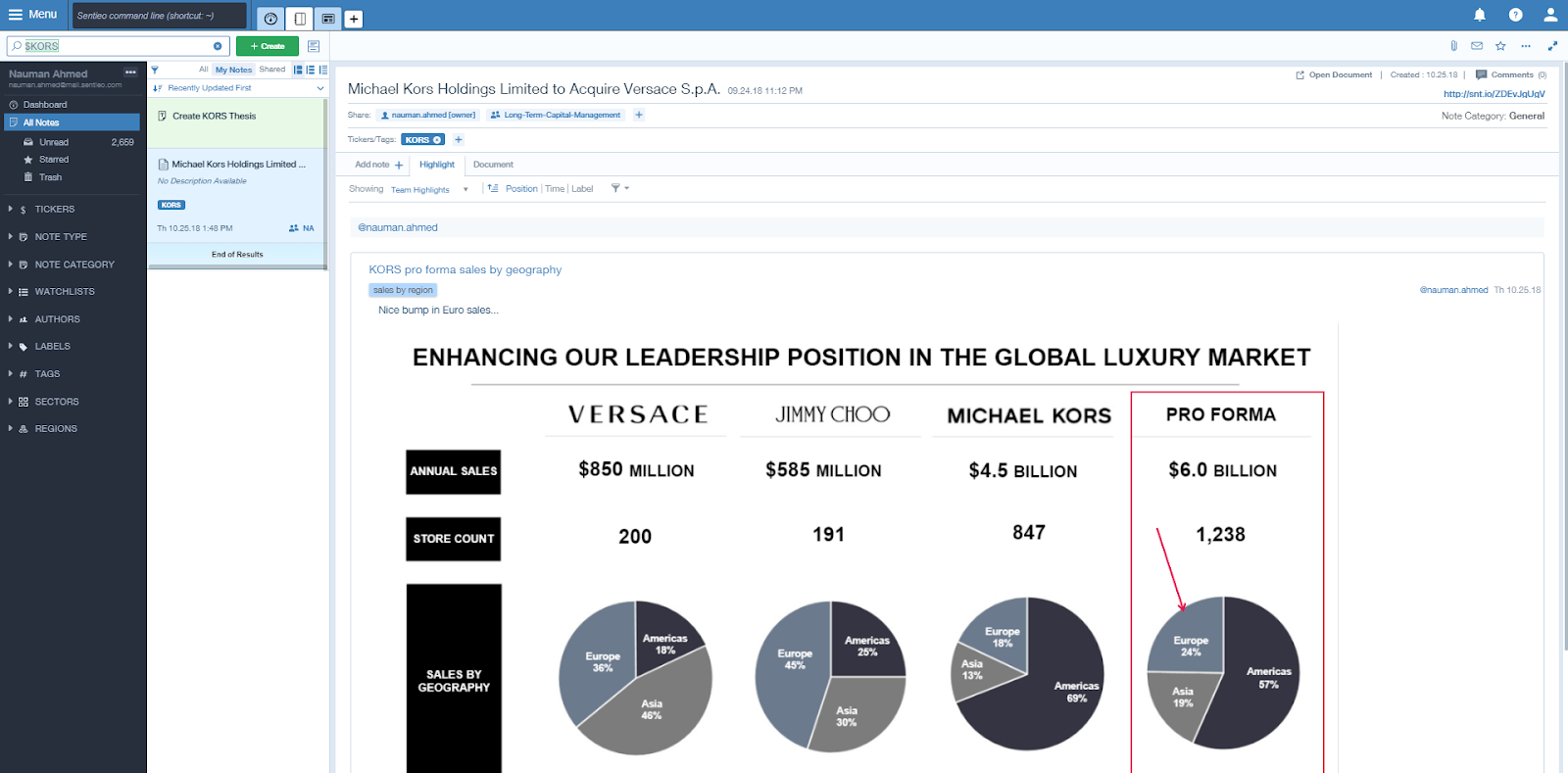 Equity Data Terminal: Financial Data At Their Fingertips
The team started using Sentieo's built-in equity data terminal because they ultimately wanted to replace Bloomberg, and did not want to have to buy expensive Bloomberg licenses for future junior employees joining the team. Sentieo offers all the quality financial data they need, from street estimates to trading multiples and shareholders data — at a fraction of the price of Bloomberg.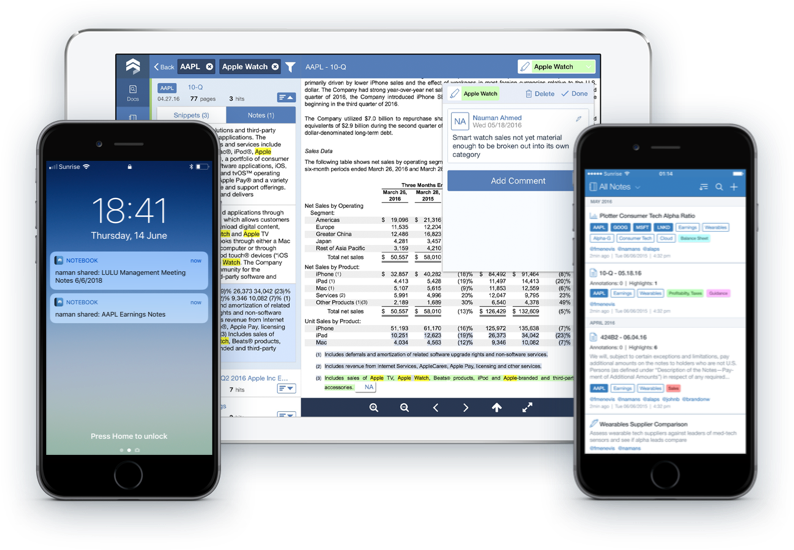 Mobile Apps For Researching Anywhere, Anytime
The team uses the Sentieo mobile app to get instant push notifications about tickers and companies that they are following.