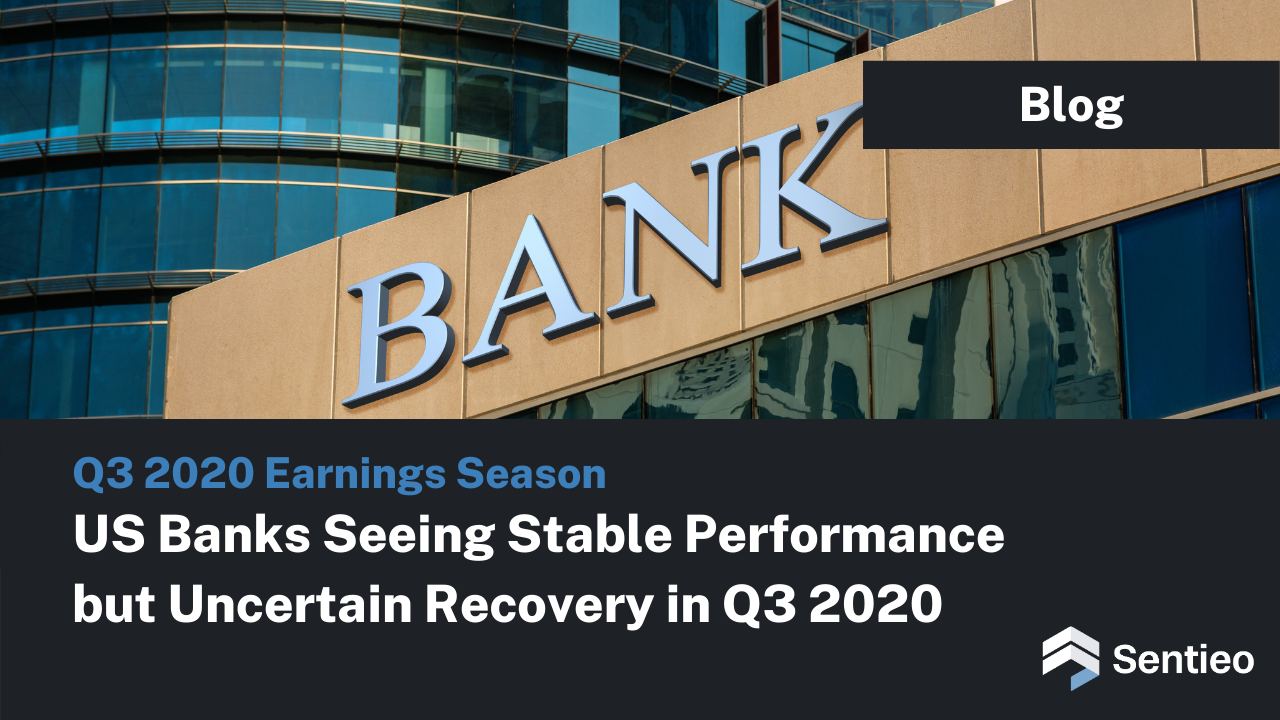 With the large U.S. banks' results already out this earnings season, we decided to take a look at what we can extract using the AI (NLP and ML) technology built into our platform. We focused on the larger banks as their "live view" into the economy provides critical insight during periods of uncertainty.
For our analysis, we utilized many of Sentieo's standard tools that help users save time and gain insights every day:
What we saw across the industry was:
Optimism around credit quality (driven by declining unemployment, stimulus programs, and other factors): we picked up terms like "reserve release"
Strong housing markets: we see terms like "home lending"
Broad uncertainty around the recovery: a lot of mentions of "crisis" and related terms
Regulatory conversations
We also picked up a number of company-specific topics that we will go over, like U.S. Bank's purchase of the State Farm card portfolio.
For the examples below, we focus on the largest U.S. banks by assets: JPMorgan Chase (NYSE:JPM), Bank of America (NYSE:BAC), Citigroup (NYSE:C), Wells Fargo (NYSE:WFC), and U.S. Bancorp (NYSE:USB), as well as some other well-known financials, like American Express (NYSE:AXP) and Discover (NYSE:DFS).
Most importantly, by using the tools in the Sentieo platform, we can spot changes, inflections, and trends in seconds, instead of spending hours reading.
SEC Filings Section Redlining
Pulling up our Section Redlining for DFS, we can see some updates in the MD&A and in the Notes to Financial Statements section. Also spot the 100% just in the Q1 Risk Factors: most filers were adding COVID language at that time.
Looking through the MD&A, we can see added language around the Federal Reserve, as well as borrower relief ("Skip A Pay") program updates.
Looking through the changes in the MD&A for AXP, we see the recurring theme: improved credit performance but continued uncertainty.
Transcript NLP Heatmaps
We saw sentiment improving across most categories. Looking at JPM below, we can see that while the last three transcripts have been "redder" than normal (going back five years), we see overall sentiment improving for two quarters in a row.
Clicking specifically on the business drivers, we can see why: investment banking and capital markets revenue is up, record asset/wealth management revenue, and they've taken over the #1 spot in U.S. retail deposits.
We also used our clickable/expandable Peer Comparison Heatmap (here shown for USB) as we like the ability to "graze" information on one screen.
Trending Terms
For JPM, we saw the "reserve release" that really dominated the headlines when they reported, alongside deposit growth (we picked up their move to #1 as shown above), as well as macro and regulatory language. Users can simply click on a trending term to convert to a search.
For BAC, the EPS number was affected by litigation expenses. Similar to JPM, we also saw regulatory and macro terms.
For WFC, we saw more heavy emphasis on the regulatory language: for example, the asset cap that the company is currently subject to.
For C, we see an interesting mix: new CEO (first woman CEO of a major Wall Street Bank), global operations (FX and geographic terms), and some specific regulatory actions from the Fed and the OCC related to internal risk and controls that we expect will be resolved shortly.
For USB, the big State Farm credit card portfolio transaction really dominated the results.
Transcript NLP Smart Summary Word Clouds
Using word clouds, we get a more visual extended version of the trending terms. For USB, we can really see the State Farm card acquisition being front and center, along with macro terms (unemployment rate, interest rate environment) and sector exposure (i.e., Lodging).
For C, we can see the new CEO name, as well as the regulatory issues that are relevant.
Table Explorer: One-click table identification, chaining and visualization
Finally, we used our machine learning-based table identification, chaining, extraction, and visualization tool Table Explorer to see some reported KPIs. We started with our in:table search function for VaR (Value at Risk) in JPM's 8-Ks.
We then clicked on the Table Explorer button above the table we want to chain.
And we can see that the VaR, while higher than previously, has come down from its Q2 peak.
Table Explorer also allows for one-click conversions to Common size, YoY%, and QoQ% changes. For example, here is USB Table Chaining from 8-Ks for their Investment Securities line item YoY% change.
Keep an eye out for additional earnings season highlights over the next couple of weeks. If you have any questions or would like to set up a free trial, please get in touch.