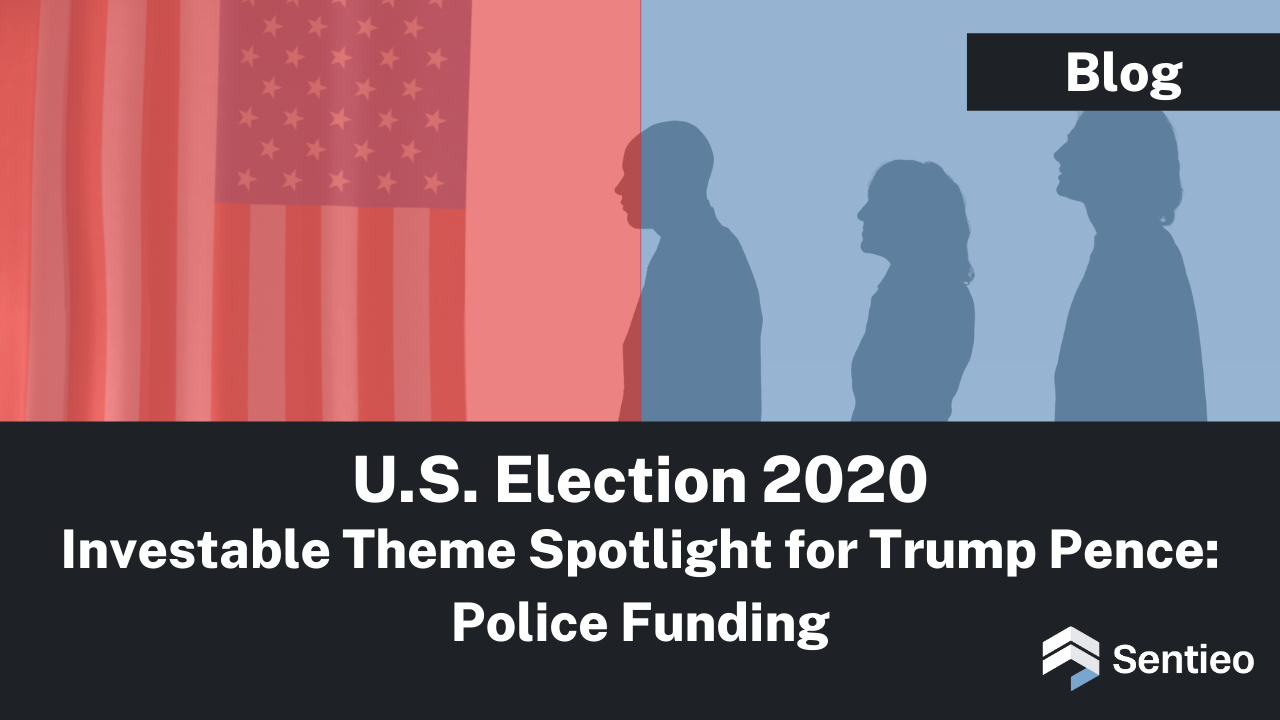 We recently launched our U.S. Election 2020 dashboard and reports: Six Stocks and One ETF for a Biden Presidency and Six Stocks and One ETF for a Trump Second Term. 
In the last couple of weeks we gave an overview of how we identified the core themes and stock ideas for each campaign and provided more color on the first investable theme for a Biden-Harris win: Higher Education. Today we will focus on the first in the Trump-Pence portfolio: Police Funding.
Perhaps the biggest social flashpoint in the last few months has been policing: Pew Research Center covered several separate issues this summer.
As President Trump has adopted an explicit "law and order" messaging (including tweets containing just "LAW & ORDER!", all caps) during the recent months of protests, riots and looting across the country, we looked at his policing position.
Additionally, President Trump picked up endorsements from the main NYPD union and the Chicago PD union, both deeply Democratic cities.
In President Trump's agenda, we see a call to "fully fund and hire more police and law enforcement officers" as well as to "end cashless bail and keep dangerous criminals locked up until trial," an emerging problem in some cities that ended cash bail, like NYC.
We like two "police funding" stocks: Axon, the company formerly known as Taser (Nasdaq: AAXN) and Shotspotter (Nasdaq: SSTI).
AAXN TO BENEFIT
In addition to the famous "less lethal" Tasers, Axon has seen strong growth in its body and police vehicle cameras, and evidence management solutions (effectively, cloud services), in addition to recently released innovations, like transcriptions. Pew reports that only 31% of the smaller police departments use body cams. Axon's stock has done well in the last two years, powered, in part by substantial NTM EV/EBITDA multiple expansion.
SSTI TO BENEFIT
Shotspotter is a microcap SaaS service that contracts with local police departments to monitor gunshots through multiple locally installed sensors. A part of the technological solution is the recognition of firearm sounds based on its proprietary identification library, which is then combined with location triangulation from multiple sensors. While revenue has grown consistently since its IPO, the stock has been range-bound: we think that a Trump win will change the sentiment around the stock.

Subscribe to the Sentieo blog for more investable theme highlights. You can also find a synopsis of each theme on the Election 2020 home page as well as a preview of our U.S. Election 2020 Dashboard here.