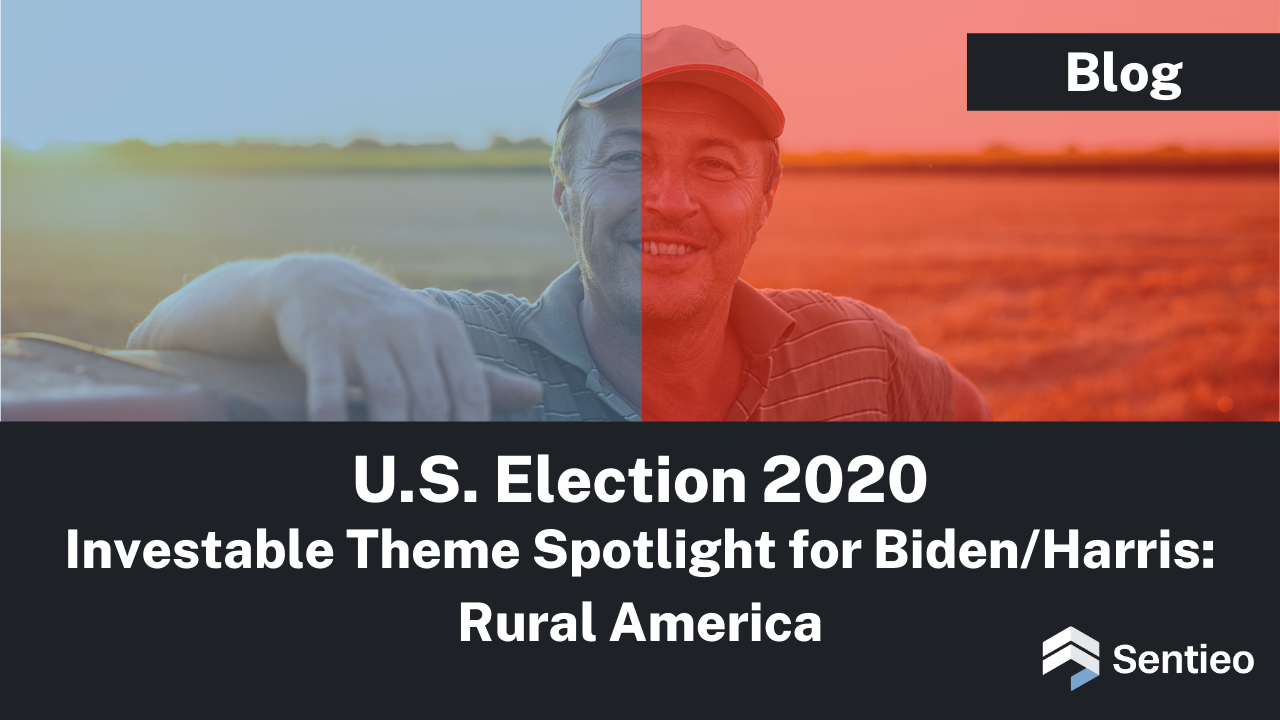 In the weeks since the first U.S. presidential debate, we've covered some of the investable themes for both campaigns, including: higher education, police funding, cannabis decriminalization, private prisons, caregiving, and credit reporting. Today, we're reviewing the last of the investable themes for Biden: rural America.
While President Trump convincingly won most rural counties, the Biden-Harris platform outlines extensive initiatives for rural America, perhaps seeing an opportunity to gain votes after the ongoing uncertainties with China and the multiyear decline in the value of agricultural exports (FRED data).
Some of the outlined initiatives are "carryovers" from the Obama-Biden administration: broadband access, securing rural hospitals, and expanding renewable energy production on rural lands (wind/solar). There are some interesting newer ideas, too:
Stabilization of the trade policies
Regional "food system" support
Land grant university IP expansion
Scrutiny around antitrust (including seed genomics)
DE & NTR TO BENEFIT
What really caught our eye is the combination of increased investment in ethanol and "next generation" biofuels and materials along with a microloan new farmer program, plus increased USDA ownership/operation funding.
We believe that this combination of increased domestic demand and better access to funding will be a positive for agricultural equipment and fertilizers: specifically, we like Deere & Company (NYSE: DE) and Nutrien (NYSE: NTR), formed a few years ago by the merger of Agrium and PotashCorp.
There is a lot to consider when it comes to analyzing the extensive Biden-Harris platform for investable themes.
We picked four themes by researching "under the radar" policy positions, the Obama-Biden track record on these issues, and whether or not local programs existed that could be a blueprint for changes at the federal level.
You can read more in our reports: Six Stocks and One ETF for a Biden Presidency and Six Stocks and One ETF for a Trump Second Term. You can also subscribe to the Sentieo blog for more investable theme highlights. You can also find a synopsis of each theme on the Election 2020 home page as well as a preview of our U.S. Election 2020 Dashboard here.