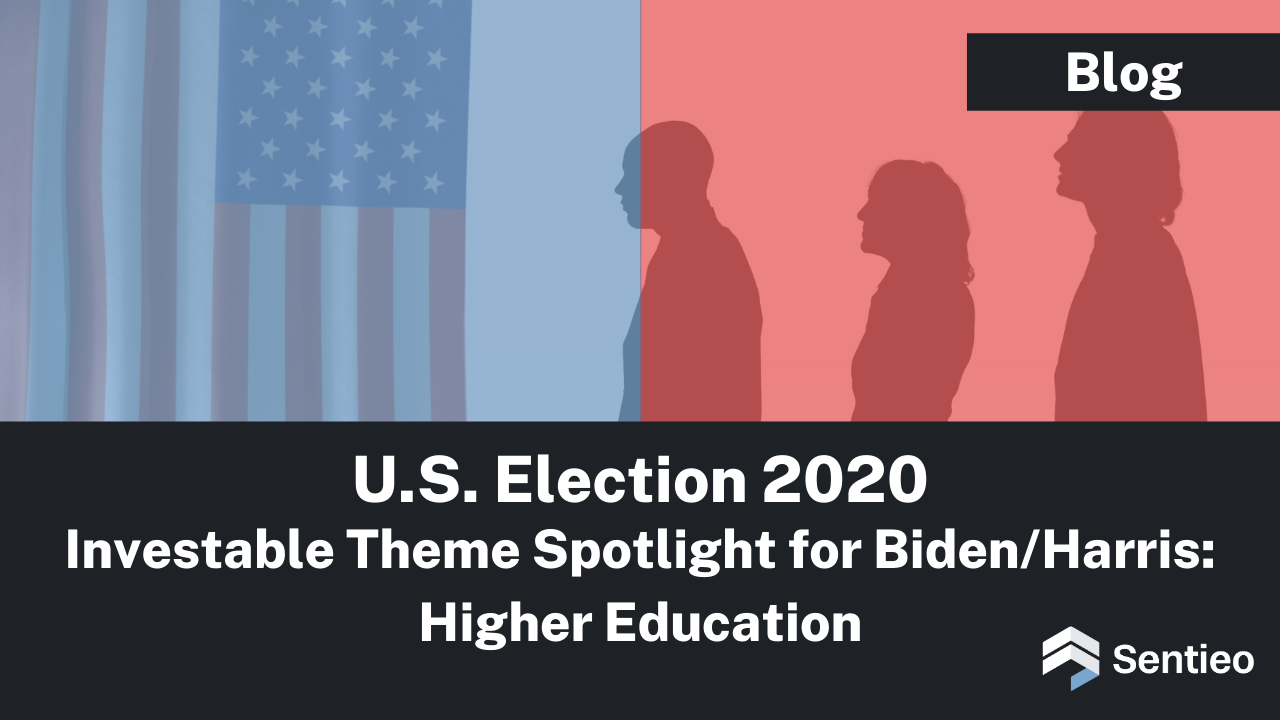 This week, we launched our U.S. Election 2020 dashboard and reports: Six Stocks and One ETF for a Biden Presidency and Six Stocks and One ETF for a Trump Second Term.
In Monday's blog we gave an overview of how we identified the core themes and stock ideas for each campaign. Today, we will focus on the first investable theme for a Biden-Harris win: Higher Education.
We combed carefully through the Biden-Harris higher ed positions for ideas on what is likely to happen in the sector. There are two big reasons why we focused so heavily there.
First, the student loan crisis in the US is an unmitigated disaster. There is almost $1.7 trillion in student debt outstanding (FRED data), more than motor vehicle loans ($1.2 trillion, based on the latest FRED data) and credit card debt ($992 billion, based on the latest FRED data).
Second, the Obama-Biden administration implemented a large number of initiatives around higher education. The passage of the Student Aid and Fiscal Responsibility Act dramatically increased the government's role in student loans, increased Pell Grants and the Federal Direct Perkins loans, and more. The Obama-Biden administration also introduced student loan forgiveness under certain circumstances, as well as the "Gainful Employment" rule targeting the for-profit universities.
In addition, we also looked at state-level precedents for the "big" parts of the proposal, and we found them. For example, New York State's Excelsior program provides free in-state tuition for families with incomes under $125,000, with some other conditions. We have seen similar initiatives in Texas (with a lower income cutoff), and in Connecticut (with an even lower income cutoff).
The Biden-Harris platform targets making colleges and universities tuition-free for families with incomes under $125,000 (just like the NY State program), in addition to numerous other initiatives for two-year colleges, grants, income-based repayments, and loan forgiveness for individuals pursuing a public sector career. There are three higher ed "plays" that we like:
Aramark (NYSE: ARMK), a provider of dining and facilities services to colleges, stadiums, and offices
Barnes and Noble Education (NYSE: BNED) campus bookstores
Chegg (NYSE: CHGG), an online learning platform
We can see ARMK's severe drop in quarterly revenues year-over-year during the shutdowns, combined with the decline in stock price.

In aggregate, we can see college enrollment under a Biden-Harris administration not just recovering post-COVID but increasing despite the demographic cohort declines after 'Peak Millenials'.
Subscribe to the Sentieo blog for more investable theme highlights. You can also find a synopsis of each theme on the Election 2020 home page as well as a preview of our U.S. Election 2020 Dashboard here.