Twilio filed their highly anticipated S1 yesterday, which was available to search, annotate and analyze instantly on Sentieo. Our analyst was able to build a quick 3 statement model in under 15 minutes, available below.
– WhatsApp is 15% of revenue, but the breadth of customers disclosed has surprised commentators, including Nordstrom $JWN. We show how this has been known for over a year, and how a broader ecosystem list could have been generated months ago using Sentieo, yielding interesting clients like Salesforce $CRM, partners like 8×8 $EGHT, landlords like Boston Properties $BXP and listed, lesser known competitors like GINSMS $GOK:CN and Xura $MESG.
– Many research processes, from pulling out $TWLO financials to building a notebook from web clips of external articles can be done in a single click. 
– Twilio's wide competition can be tracked and aggregated, and show a surprising trend in recent months that will be worth investigating.
Rather than discussing the IPO dynamics which will certainly be difficult in this tech-unfriendly IPO environment, we wanted to spend some time walking users through how they can even diligence non-public companies using Sentieo. In particular, we will highlight three of our products: DocSearch, Web Clipper, and Mosaic.
DocSearch
Twilio, alongside competitors, serves the biggest names in tech from WhatsApp ($FB) to Uber. However, the S1 filing yesterday also detailed how it works with some tech savvy companies that are often overlooked, like Nordstrom ($JWN), which was a surprise to some:

However, this would not have been a surprise to anyone following along using DocSearch, as Twilio was mentioned over a year ago in $JWN's March 2015 investor presentation. In fact, it is trivially easy to get a list of who in the publicly listed ecosystem have given shoutouts to their new partner (everyone from Salesforce $CRM to Expedia $EXPE), or who are actually potential competitors like Canada's GINSMS $GOK:CN and Xura Inc. $MESG: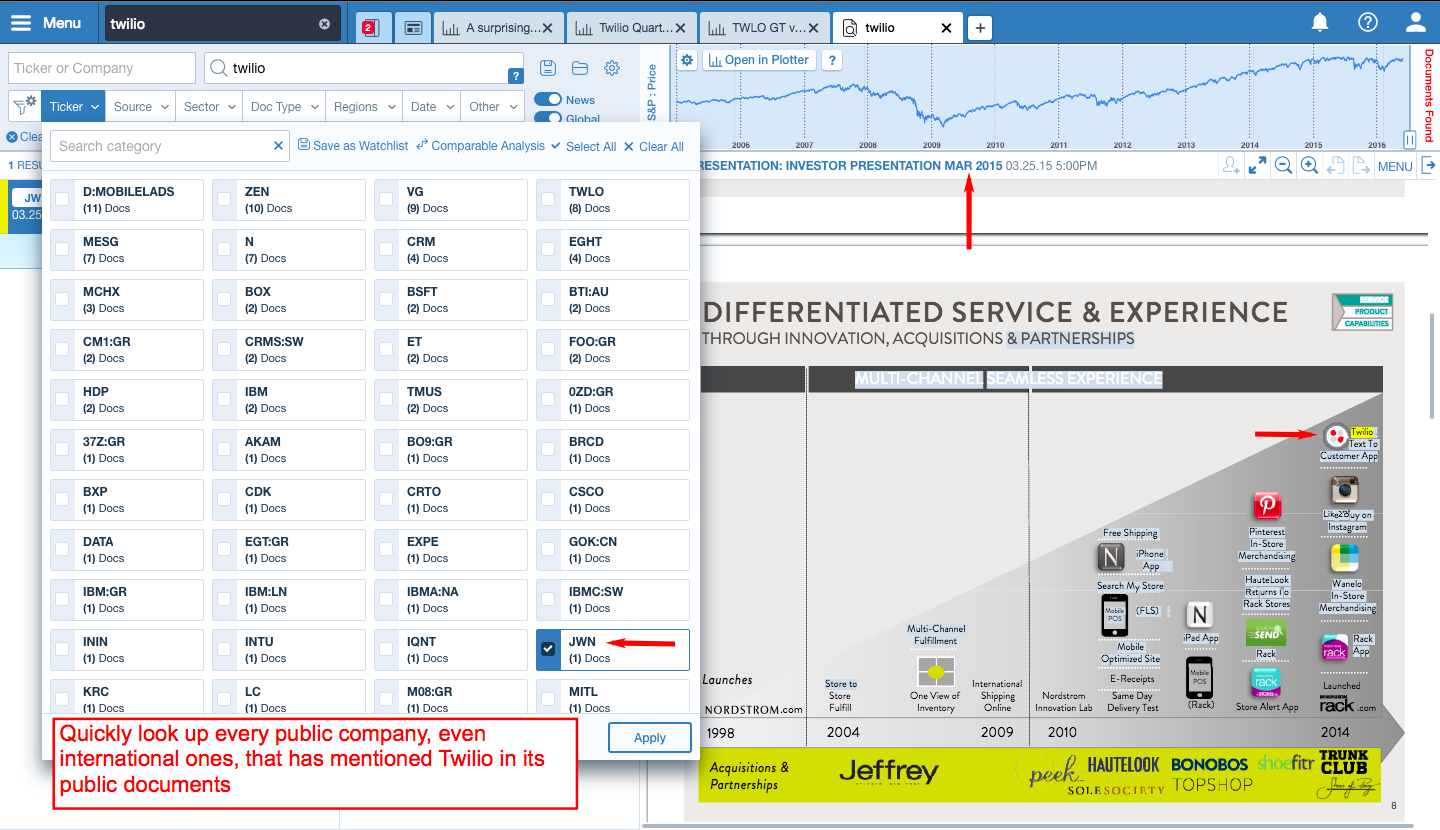 You know what's coming next. Finance guys love Charts, and Sentieo loves dishing them up. Hit Open in Plotter, and within seconds you can plot the meteoric rise of Twilio among enterprise users over time, by searching out mentions of "twilio" within US public company documents (filings, press releases, transcripts, presentations):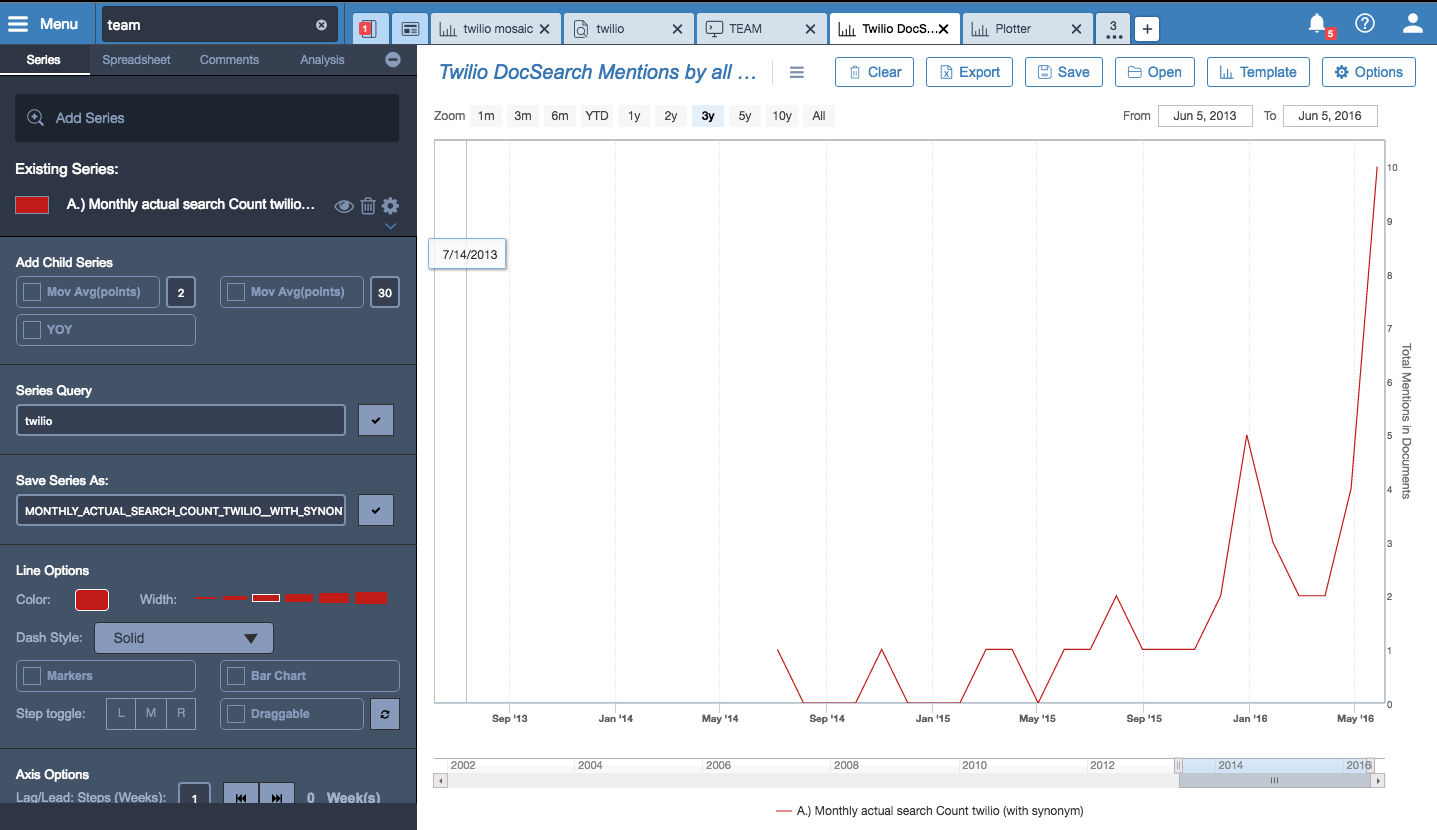 The last thing to call out about our insanely powerful DocSearch feature is of course Table Extraction. Within 15 minutes, our analyst was able to pull together a three-statement TWLO model (forward assumptions do not constitute a forecast in any way! we have merely straightlined from most recent quarter) from the uploaded S1. This kind of smart extraction can not be done from the SEC website (or on legacy platforms, for that matter).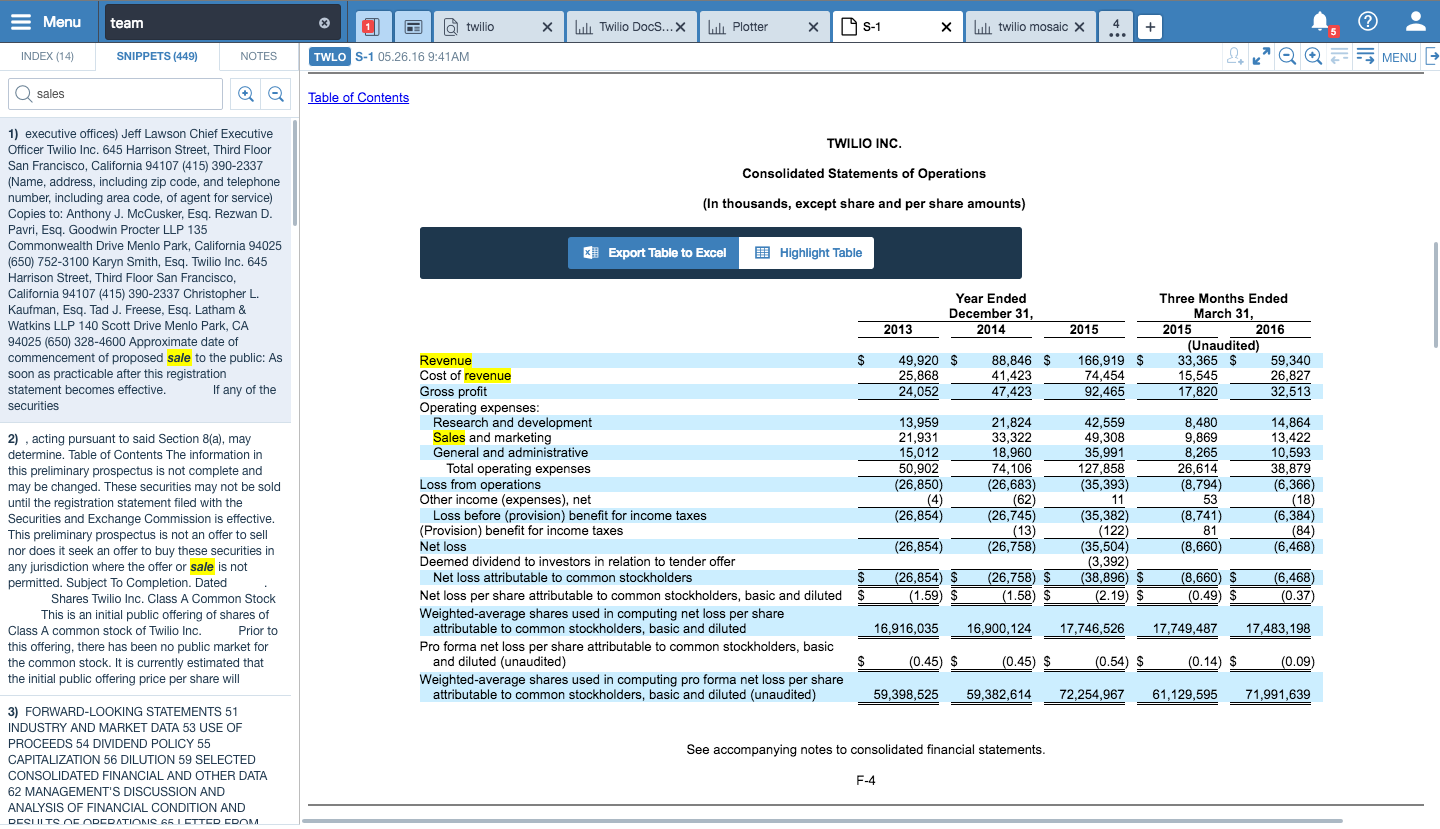 Web Clipper
The main problem with diligencing private companies is that they will not have SEC filings, broker research reports, or IR pages from which to scrape transcripts and presentations, all table stakes for typical public company research. However, external media does an excellent job of covering these companies as they grow in influence and eventually near IPO, and therefore every good corporate research platform needs to be able to draw in these secondary sources. Sentieo powers your out-of-Sentieo research process with Web Clipper.
Existing subscribers, if you don't already have Web Clipper, get it here (works best on Chrome).
As you Google/Bing/Yahoo articles about the leadup to the process, you can click the little Sentieo logo and tag articles like the Fortune writeup with the new ticker, like so: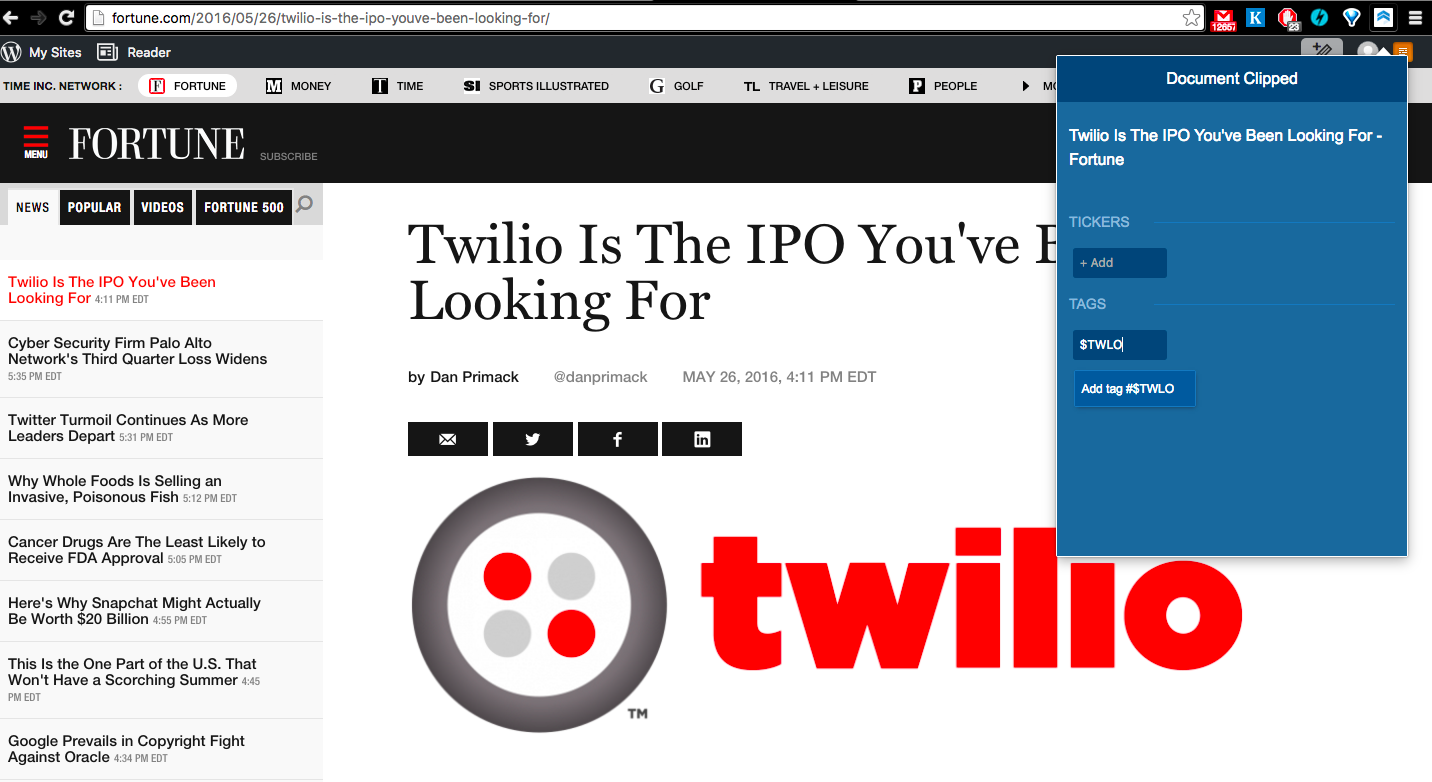 So you are able to do your entire research process off-platform, and come home to a neatly organized, fully searchable notebook (that, incidentally, will also be available to you on all your mobile devices):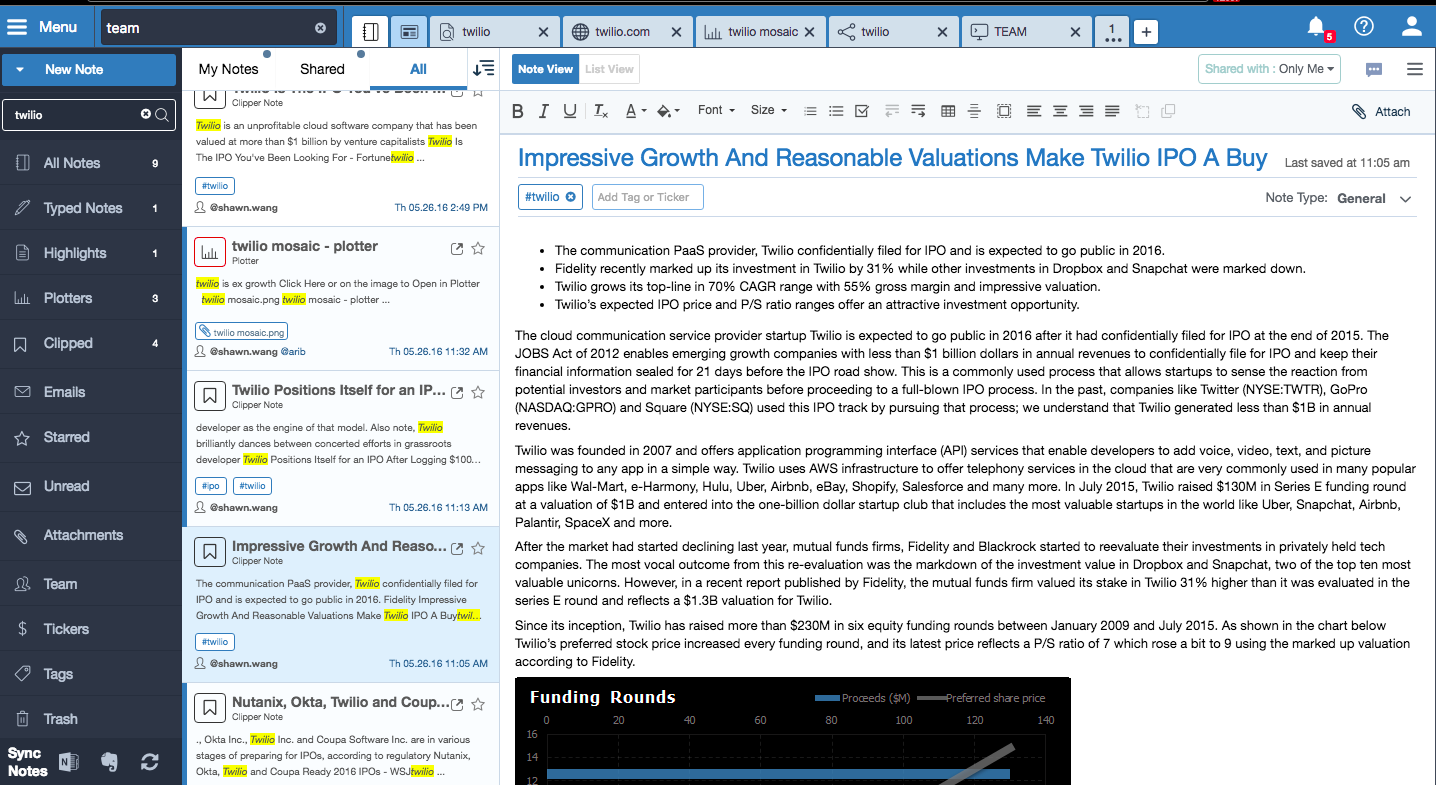 Mosaic
We've covered what the company has said about itself and what the media has written. But how about more real-time, objective, quantifiable measures of how the company is doing? We believe it is the responsibility of every investor to keep abreast of the wealth of data available in the public domain, and provide the best tool in the market to do that: Mosaic.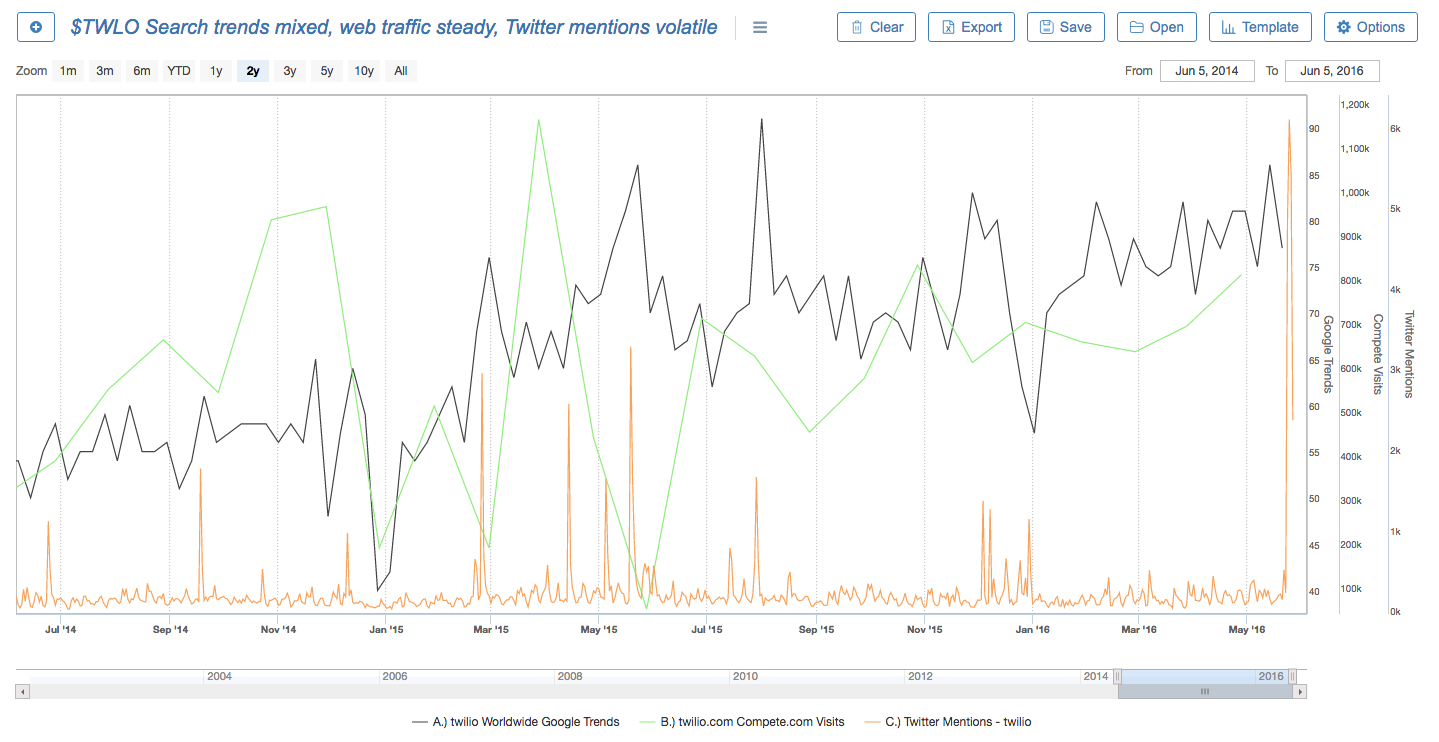 So in a few clicks you can pull up disparate heterogenous datasets and plot them all together to see that search trends are mixed, web traffic is holding steady, and twitter mentions of Twilio are volatile (you can see the most recent spike with the S1 filing). We have gone over how we use Mosaic in prior posts like $WFM Whole Foods Spoiled: Software Eating Food Edition and its companion post $PLATED – Using Mosaic to ballpark unlisted company financials, and won't repeat ourselves here, but in Twilio's case we thought it worth mentioning that you can investigate Twilio's competitive set just like we did for $WFM: