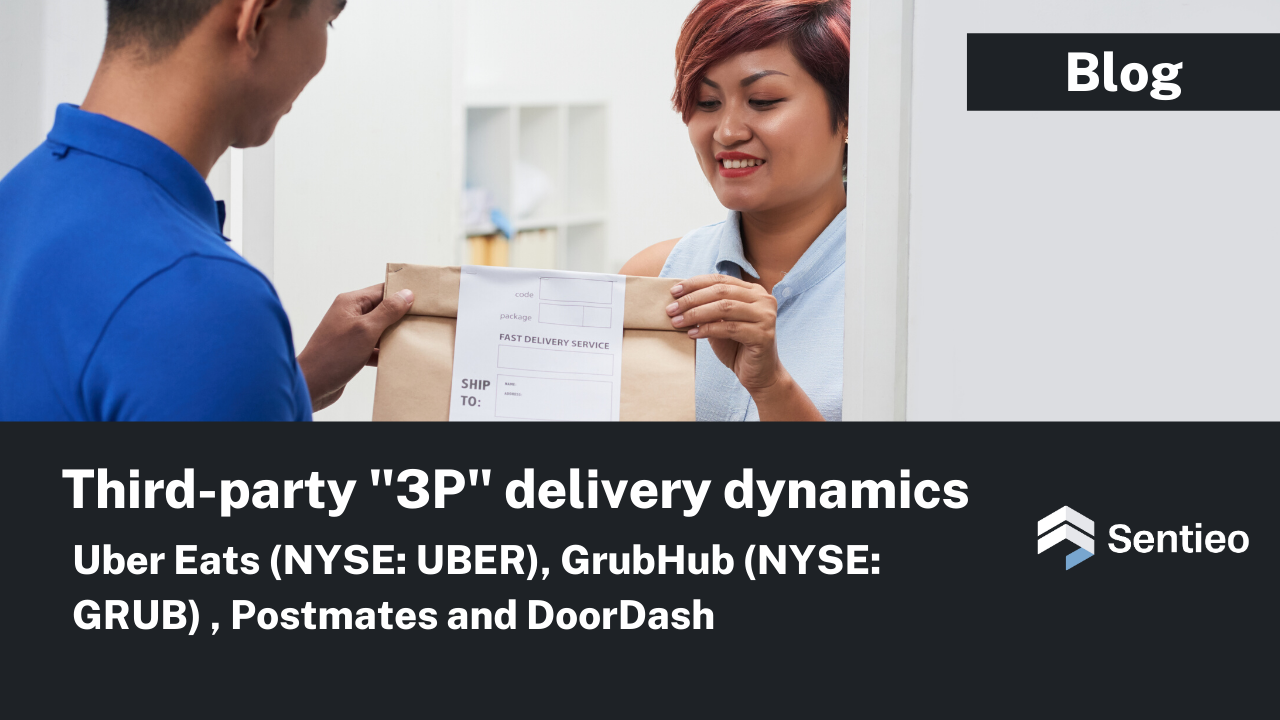 The long-expected restaurant third-party, or 3P, delivery provider consolidation seems to be accelerating this week with numerous media reports on a potential Uber-Grubhub tie-up. This would also likely move the other players to strongly consider their strategic alternatives, given the importance of scale in this business.
In the short videos below, we will go over how we went about getting up to speed on the sector across financial metrics, private company data, sell-side research reports, transcripts, and news reports to get the full picture efficiently.
The most "news-y" item is the UBER/GRUB potential all-stock deal. One number that came out in the media is 2.15 UBER shares for GRUB. We recorded a video on how to get the context for this ratio in seconds when the news first came out.
Since two of the four big players in the space are private (DoorDash and Postmates), we used our private company data integration to look at funding rounds, total funding, and backers for these two companies.

We then looked at revenue and EBITDA numbers for the two public players, UBER and GRUB. We used our in-table search to find exactly what we need. We then used our ML-based table identification, chaining, and visualization tool to look at the trends in GRUB's EBITDA and Adjusted EBITDA on a year-over-year basis.
Since the space is very dynamic with frequent partnership announcements, staying on top of press releases is essential. Here we looked at how to find press releases for both the public and the private players in the 3P space through our press release searches.
It's also important to understand the end-market (restaurant) dynamics. Performing an exhaustive search in restaurant transcripts and in restaurant sell-side reports, we then took highlights and screenshots—without leaving the documents. These are saved automatically, and we will combine them later in the full "report."

In this video, we used our extensive Equity Data Terminal to look at the restaurant operator (not franchisor) profitability (specifically EBIT margins), along with the consensus expectations. We look at the large Burger King franchisee Carrol's (NASDAQ: TAST), "best in class" operator Chipotle (NYSE: CMG), and mall traffic-exposed Red Robin (NASDAQ: RRGB).
There has been a lot of regulatory news around the delivery companies, both at the local and at the federal level. In this video, we cover how to search and take notes in our News and RSS integration in our Document Search.
In this final video, we show you how to combine your research from all these disparate sources into one single full report. We add all the relevant tickers and tags for discoverability, and we share it with one group and one individual.
If you think that an integrated financial research platform can improve your productivity and collaboration, please get in touch.