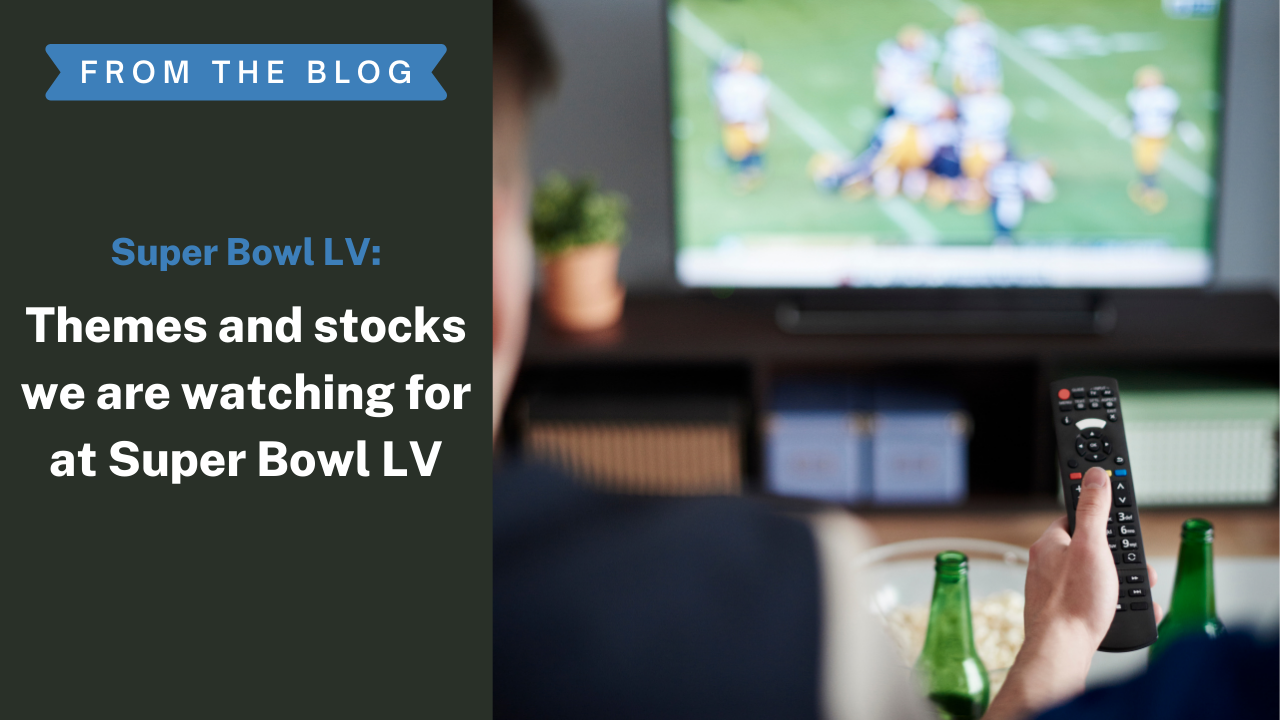 The upcoming 55th edition of the Super Bowl, the championship game for the U.S. National Football League, will be… unprecedented. We do not like using this word (see its rise chronicled in the New York Times using our data) but it is true. The pandemic has brought about serious attendance and activity restrictions to what is normally one of the largest events in the U.S., and we'd expect lower social viewing gatherings. 
Here are some of the themes and stocks we are keeping an eye on.
First-time advertisers
So far, from the public companies that we monitor, two big pandemic winners have announced their debuts: fast-casual restaurant chain Chipotle (NYSE: CMG) and restaurant delivery giant DoorDash (NYSE: DASH). A diaper brand, Huggies, by Kimberly-Clark (NYSE: KMB), will also make its first appearance. We will also keep an eye out for online car dealer Vroom (Nasdaq: VRM): the ad is already released. Vroom IPO'ed last summer. We share some thoughts on each below.   
Notably, the market capitalization of DoorDash (the company IPOed in early December 2020) is larger than that of most players in the restaurant industry, including several shown here (Chipotle, Yum! Brands, Yum! China, Restaurant Brands International (parent of Burger King, Tim Hortons, and Popeye's), Domino's Pizza, and Darden (parent of Olive Garden and other brands)

Choosing to advertise, Huggies was interesting to us: there have been concerns about birth rates during the pandemic (The Brookings Institution published estimates in December 2020, pointing to hundreds of thousands of "missing" births; for comparison, the latest CDC data shows the U.S. had 3.8 million births in 2018).
But here is another "alternative data" point: in October 2020, Church & Dwight (NYSE: CHD) reported double-digit (!) growth in the sales of its pregnancy kit brand, First Response.
Contrast this to their April 2020 comments that pointed to negative year-over-year change in sales for pregnancy test kids (as well as condoms, dry shampoo, and electric toothbrushes).
It is entirely possible to view the pregnancy test kit sales spike as a leading indicator, and assume that Kimberly-Clark knows something that maybe the economists at The Brookings Institution do not.
We decided to take a look at the year-over-year percent change in search interest for both Huggies (in red) and, if we can use this word for diapers, its arch-rival, P&G's Pampers brand. We see that both had a major spike (100% for Huggies) around the first round of lockdowns in March 2020 but have drifted down steadily since, and are now flat on a year-over-year basis.

Vroom's best known direct comparable is Carvana (NYSE: CVNA) but there was a very recent SPAC deal in the space, CarLotz is now public (Nasdaq: LOTZ). CarLotz ceremonially rang the opening bell on the Nasdaq on January 25th, 2021. Given VRM's recent public market debut, we think the stock could get interesting following its advertising debut.
In terms of revenues, both VRM and CVNA are much smaller than the established leader in used car sales, CarMax (NYSE: KMX).

And in the last two years, both CVNA and VRM have generally had stronger topline growth, versus KMX.
Who is NOT advertising this year?
While USA Today reported that the list prices for 30-second spots have softened somewhat this year, it clearly was not enough for a number of mainstay advertisers and brands at the event. 
Traditional advertising was hit very hard by the pandemic as we can see in both the absolute revenue (in blue) and the year-over-year revenue change (in red), along with the analyst estimates, for Omnicom (NYSE: OMC), one of the largest players in the space. Analysts do not expect pre-pandemic revenue levels through 2022.
We are also seeing somewhat subdued overall marketing interest: one of our favorite alternative data indicators is the number of press releases referencing "the big game", a common approach to avoid running afoul of any trademark problems yet a pretty clear reference to the Super Bowl. While the event was 5 days earlier in 2020 vs. 2021 (February 2nd vs February 7th), we are still (as of January 26th), at a fraction of all PRs mentioning "the big game" versus January of last year.

From the companies and brands that have announced that they will skip this year's event, the ones that stood out to us are Budweiser, Coca-Cola, Pepsi, Ford, Olay (P&G), and Hyundai. To be sure, AB InBev (NYSE:BUD) will be running ads for some of its other brands, while the Budweiser time will be donated to a vaccine awareness campaign. 
But it is entirely possible that skipping the Super Bowl this year but creating a conversation around it is just as effective: search interest in Avocados from Mexico, a 5-year advertiser that is also bowing out, was at an all time high in the latest data.
For AB-InBev, Coca-Cola, and PepsiCo, pulling back this year makes sense. Exposure to food service and on-premise consumption resulted in double-digit revenue declines for BUD and KO (PEP has a large food business so it did not see as large of a dip).
Past Results
Interestingly, there are studies on stock price performance following advertising during large sporting events. For Super Bowl advertisers specifically, this 2010 study found a significant positive stock price effect in 2-4 days after the ad. A similar study by different authors also found outperformance for the stocks of the advertisers in the 1996-2010 period. The same authors also found a positive effect from Olympics sponsorships between 2000 and 2010. There is further confirmatory evidence from the 2012 London Olympics: UK sponsors experienced statistically significant share price increases. 

We can confirm some of this using our stock price returns seasonality matrices. While Nike (NYSE: NKE) has been one of the biggest "long term winners" in the US equity markets, more than half of their 19% annual returns for the last 15 years has come in calendar Q3: typically the time that both FIFA World Cup and the Summer Olympics take place.
We are seeing an even stronger dynamic with their Japanese competitor Asics (TYO: 7936): almost all of their returns for the past 15 years have been in calendar Q3.
The seasonality with Adidas (Xetra:ADS) is also the strongest in calendar Q3.

And we can see that the then-upcoming Olympic Games in Tokyo were surfaced as the number one trending topic on Nike's last conference call before COVID (read more about our NLP Trending Topics on our blog here).

Try surfacing some of these insights for yourself, sign up for a free trial today!