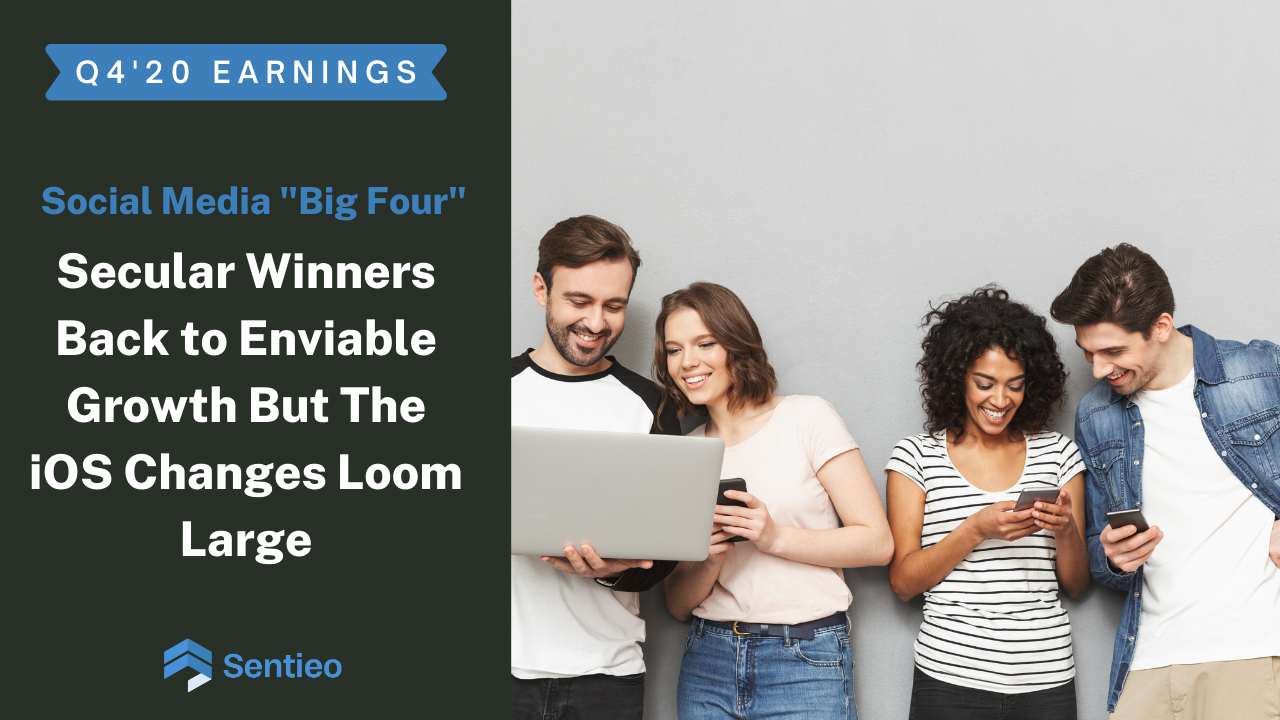 We have been monitoring "The Big Four" social media companies (Facebook, Twitter, Snap Inc., and Pinterest) for a while. We published a very long and very bullish piece on Pinterest in Forbes shortly after the company's IPO in May 2019. We specifically stated:

"To summarize our view, we see Pinterest as a unique advertising and potentially ecommerce property that has established a very attractive vertical, and is only now turning on the monetization "machine." Valuation is not dissimilar to what we saw in early Facebook, but with substantially lower business risks: we know what works."

Pinterest has more than quadrupled in price since then, from $20 to over $80.

We have "the receipts" on Snap and Twitter as well: our co-founder and Chairman Alap Shah was interviewed in Barron's in January 2019, expressing a bullish view on Snap (the stock has around 10x'ed since then). We covered Twitter in our July 2019 picks: the stock was at $35 then, and it is at over $70 now.

Looking at the Q4 2020 reports, we continue to be positive on the space.

In terms of overall revenues, all four had record quarters: in the data viz below, we have aligned the origins of the revenues of the companies (and moved Facebook to a left axis, since they are so much larger). We can see that both Pinterest and Snap are "above trend", and Twitter's revenue has inflected upwards. (Watch how to make this chart on YouTube)

In terms of reported revenue growth on a year-over-year basis, we can see that the COVID impact was very short-lived (and shallow, in the case of Facebook). Both Pinterest and Snap are at all-time or multi-year highs in revenue growth, while Facebook, despite its size, is still a 30% grower. Twitter has been below the group, however, we fully expect acceleration there as well with its improved ad stack, extensive new product innovation, and dramatically improved monetization. (Watch how to make revenue growth charts in seconds on YouTube)

The Street estimates for strong revenue growth continue for 2021 as we can clearly see below. Even the 2022 numbers are in the 20-40%: revenue growth rates that would be the envy of non-tech companies everywhere.
To illustrate the striking contrast between the share gainers/new market players (FB TWTR SNAP PINS) and traditional advertising, we can look at how the FY2020 and FY2021 revenue estimates for Omnicom (NYSE:OMC), a "traditional" advertising agency, have been contracting for five straight years.

Even previously "safer" outdoor (billboard) advertising plays, like Clear Channel Outdoor (NYSE: CCO) have seen dramatic declines in revenue estimates.

We are also seeing record KPI numbers. For example, below we have used our Table Explorer table chaining and visualization tool to show Snap's daily active users (DAUs.) (watch how to use Table Explorer on Youtube)

Pinterest, which reports monthly active users (MAUs), looks similarly steep.

Specifically for Pinterest, we can also see the constantly improving monetization (average revenue per user, or ARPU) over time, along with the big difference between U.S. (almost $6 in the last quarter) versus international (just $0.35 per user). The increased monetization is still a big part of the thesis there, as we had outlined almost two years ago, though more of it is priced in.

Digging into our Natural Language Processing (NLP) trending topics inside of the transcripts, we did notice the dramatic increase in mentions of Apple on Facebook's calls (13 vs 0-2 most other quarters), along with the negative sentiment. (Read how to get company- and sector-level insights through our NLP technology here).

We also saw Apple's iOS14 mentioned by Facebook in the Headwinds category around targeting.
For contrast, we can see WhatsApp mentions are frequent (around 10-20 per call) and consistently positive over time.
To get up to speed quickly on the issue, we decided to look across the four transcripts for Apple or iOS or IDFA. We immediately spotted that Facebook is by far the most active in discussing these changes.
Switching to our newly-released Snippet Summary view, we can read the conversations side-by-side.
More specifically, the comments range from "modest impact" for Twitter and "keeping our eye on that" for Pinterest, to "sharing the stories of small businesses worried that Apple's iOS 14 changes will hurt their ability to reach customers" from Facebook. As we know, the tension between Apple and Facebook has spilled to full-page newspaper ads.

We decided to dig deeper into the issue, and redline the 10-K language around the same term in these companies filings. (Watch how to redline any two SEC documents on YouTube)
In Facebook's 10-K, we see added language around "third party policies":

As well as additions to the targeting risk factor:

We see similar additions across Snap Inc.'s 10-K:
But the market overall seems more concerned about Facebook than the other three players (if we judge by looking at the returns over the last six months since the iOS changes were announced over the summer).
.
(interactive chart link)
If you have any questions about the Sentieo platform or would like to set up a free trial, please get in touch.