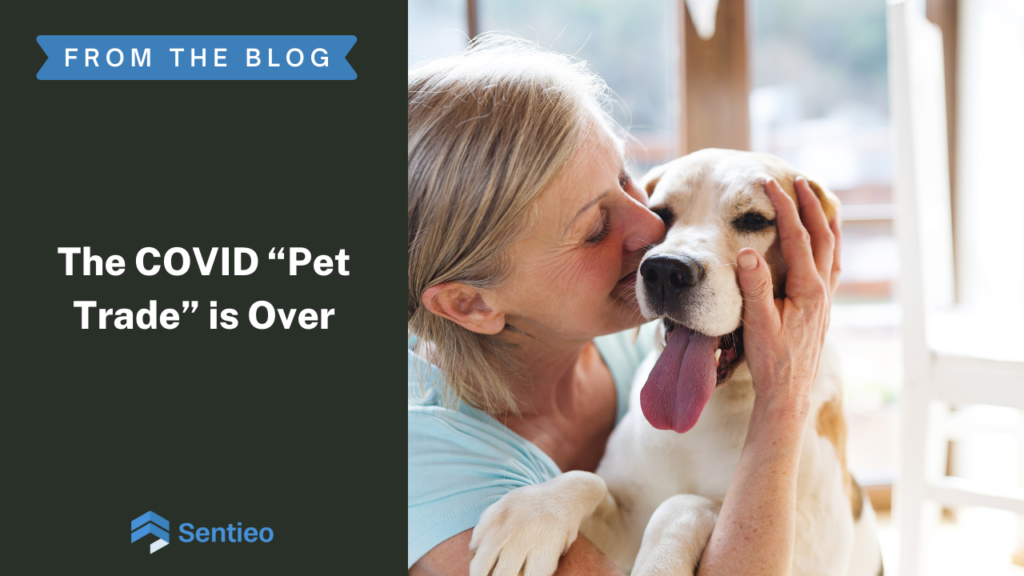 As we were doing research for our white paper with 39 post-pandemic consumer trends, one thing we spotted was the decline of interest in pet adoption. We included it in the section with trends that are "out" like sourdough, paint stores, and more (see extended blog coverage from earlier this summer here, here, and here). We can now affirmatively declare that the "pet trade" is over, at least for now. 
The fundamental trends remain very solid, from humanization to premiumization: however we are seeing revenue growth deceleration, and/or multiple compression with the "pure plays" Freshpet (Nasdaq:FRPT), Trupanion (Nasdaq:TRUP), and Chewy (NYSE:CHWY). In addition, recent IPO Petco (Nasdaq:WOOF) and SPAC deal Original BARK Co. (NYSE:BARK) have underperformed.
For readers unfamiliar with these companies, Freshpet makes fresh (refrigerated) pet food, Trupanion is a specialist pet insurer, Chewy is an online pet product retailer, Petco was a traditional pet product retailer moving into digital health and wellness, and BARK (BarkBox) is a subscription treats service.
We are seeing a decline of 30-40% YoY after the 100% surge in 2020 in pet adoption searches.
The stock prices for the three pure plays with longer trading history have softened after rising together post-COVID.
In terms of drawdown percentages, these stocks are down 30-40% from the recent highs.
In contrast, companies with partial pet exposure (General Mills and Smucker for food, Zoetis and Elanco for health products) is about 12%.
The recent offerings, WOOF and BARK, are also below their highs.
Analysts' revenue growth estimates for FRPT, CHWY and TRUP are pointing to decelerating revenue growth in the near future for all three.
We are also seeing a mean reversion in valuation (here, using EV/NTM Sales).
In contrast, we are not seeing a similar valuation contraction in the multiples (NTM PE) for companies with partial pet exposure, like General Mills and Smucker for food, and Zoetis and Elanco for pharmaceuticals.
To learn more about the data aggregation and visualization capabilities in the Sentieo research platform, we invite you to request a demo, or to view our recent Basic and Advanced data visualization webinars.