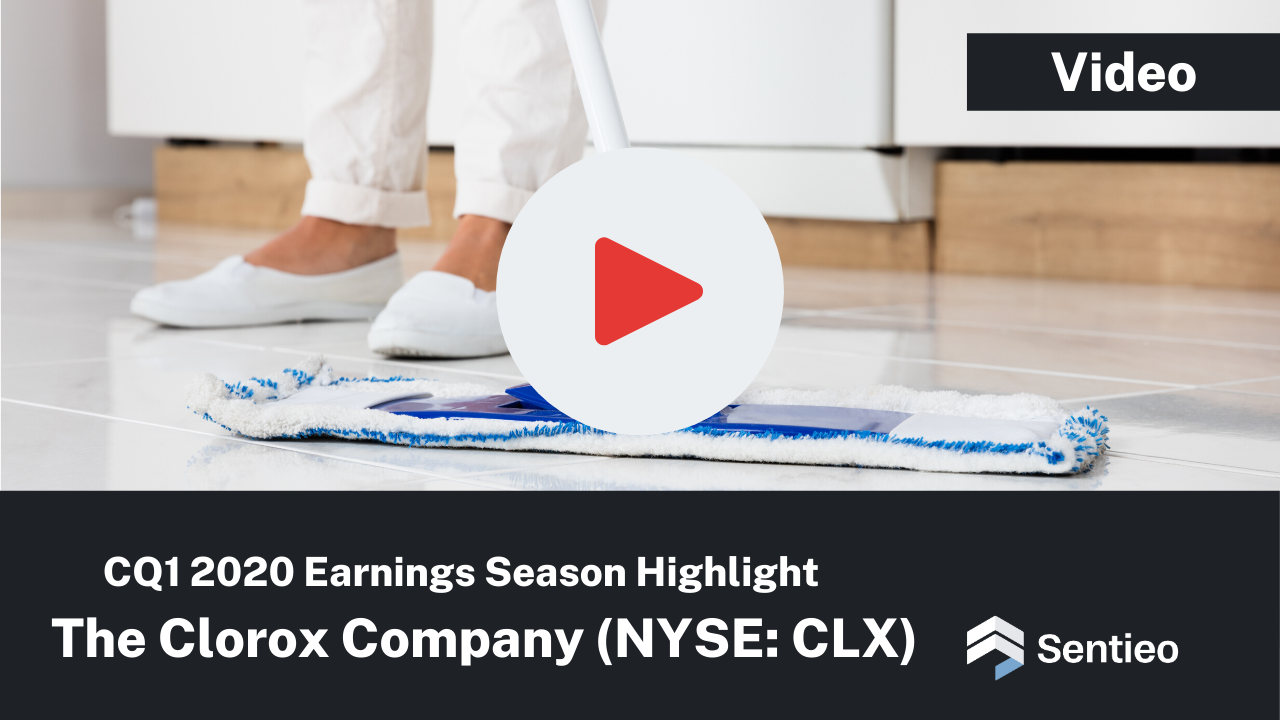 In our Q1 2020 Earnings Season Highlight series we've analyzed calls across a variety of industries using our machine learning and natural language call transcript application, Smart SummaryTM.
Over the last week, we looked at a logistics company, UPS (NYSE: UPS), a healthcare testing provider, LabCorp (NYSE: LH), and the regional theme park operator Six Flags Entertainment (NYSE: SIX). Today we will focus on The Clorox Company (NYSE: CLX).
The Clorox transcript Smart Summary we are reviewing today landed in our inboxes shortly after the call ended on May 01, 2020.

The Smart Summary begins with a word cloud using NLP keyword surfacing on top of the new tear sheet.

As with the other companies we've covered over the last week, Covid is large. Unsurprisingly, the big standout is their Disinfecting Products business which was also picked up by our top keywords chart. Their trash bag (Glad brand) and grilling business have been positively affected by so many people staying at home.
Unlike the other companies that we've looked at in this series, sentiment on the Clorox call was very positive versus prior calls.


The ML-based Category Heatmap is also more positive versus what we've seen with the other companies we've featured. As one would expect given the strong performance, the Business category (which encompasses sub-categories like revenue and volume) is "greener" than before.

The top terms have changed quite a bit versus prior calls: Covid is there (as it is with the other companies), but disinfecting products, volume growth, and healthcare facilities appear for the first time. Their cosmetics business, Burt's, is no longer a top key term.

In the next section, we highlight several categories from the ML output, along with their sentiment scoring. The first category is Covid: all mentions are negative.
The top callouts in the Business section are all positive: we highlight long-term tailwinds, double-digit growth, and similar highly-positive sentences.
In the 15-minute video below, we provide a more detailed walkthrough of the emailed Smart Summary along with the full version inside our product. We discuss in greater detail the machine learning sentence classification (we focus on volume and capacity expansion), and we look at the key terms. We take a peek at the product portfolio from a recent investor presentation. In our Equity Data Terminal, we highlight recent estimate revision trends along with the unusually wide range of estimates for the latest results, both for revenue and EPS. Finally, we discuss the outstanding relative performance of CLX against its S&P 500 Consumer Staples peers (the XLP ETF) and the broad S&P 500 index.
Register here for our Q1 2020 Earnings Season Recap webinar on Thursday, May 7.
If you would like to learn more about Sentieo's ML and NLP capabilities, we'd be happy to schedule a demo.