Over the last few years, we have watched the not-so-gradual evolution of investment marketing, from the rise of indexing and quantitative strategies to an explosion of alternative data and fee compression. The need to "research different" to maintain your edge is greater today than ever before. But despite the changes, there remains one major activity that all successful investors do: correctly identify trends.
Over the coming weeks, we will cover three different strategies to help you surpass your overreliance on hunches, intuition, or biased views — and start quantifying and visualizing investable trends (so you can ultimately generate alpha faster). You can skip ahead and read the full guided report here.
Today we're covering everyone's favorite industry buzzword: alternative data.
"Alternative data," a broad term that refers to newer data sources, has become increasingly popular over the last few years. From credit card data to search trends, app rankings, and even Twitter mentions, alternative data has become a buzzword as well as a useful tool for research.
Alternative data can be powerful. But to identify alpha-generating trends, we need more than just one data source, and we need to combine data sources. For example, let's take a look at clear aligners (the clear plastic trays used for teeth alignment). You might be familiar with the leader in the space, Align Technologies (makers of Invisalign), but there are a good number of recent entrants in the space. These include SmileDirectClub, a DTC (direct to consumer) clear aligner company that recently completed an initial public offering.
Starting with a very basic alternative dataset, search trends, we can gauge both the direction and the seasonality of the topic. An important point to make here is the distinction between search term (the exact term) versus the broader search topic (which bundles a number of related search terms together).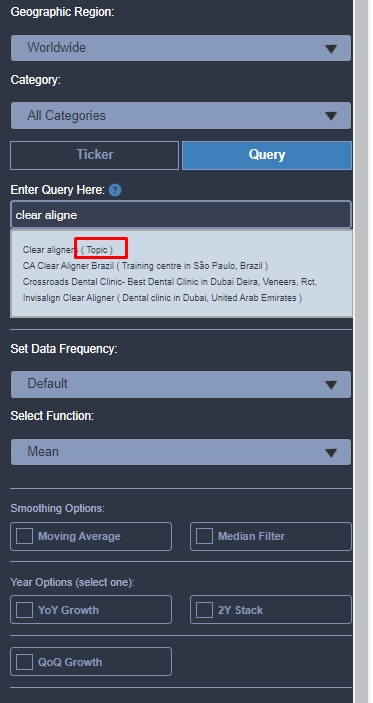 Plotting the search interest, we can see that interest in clear aligners has been growing very steadily for the last few years, with peak levels (indexed to 100) happening in 2019. We can also see distinctive seasonality: a drop off into the December holidays, followed by a spike to new highs in January, consistent with self-improvement trends post-New Year.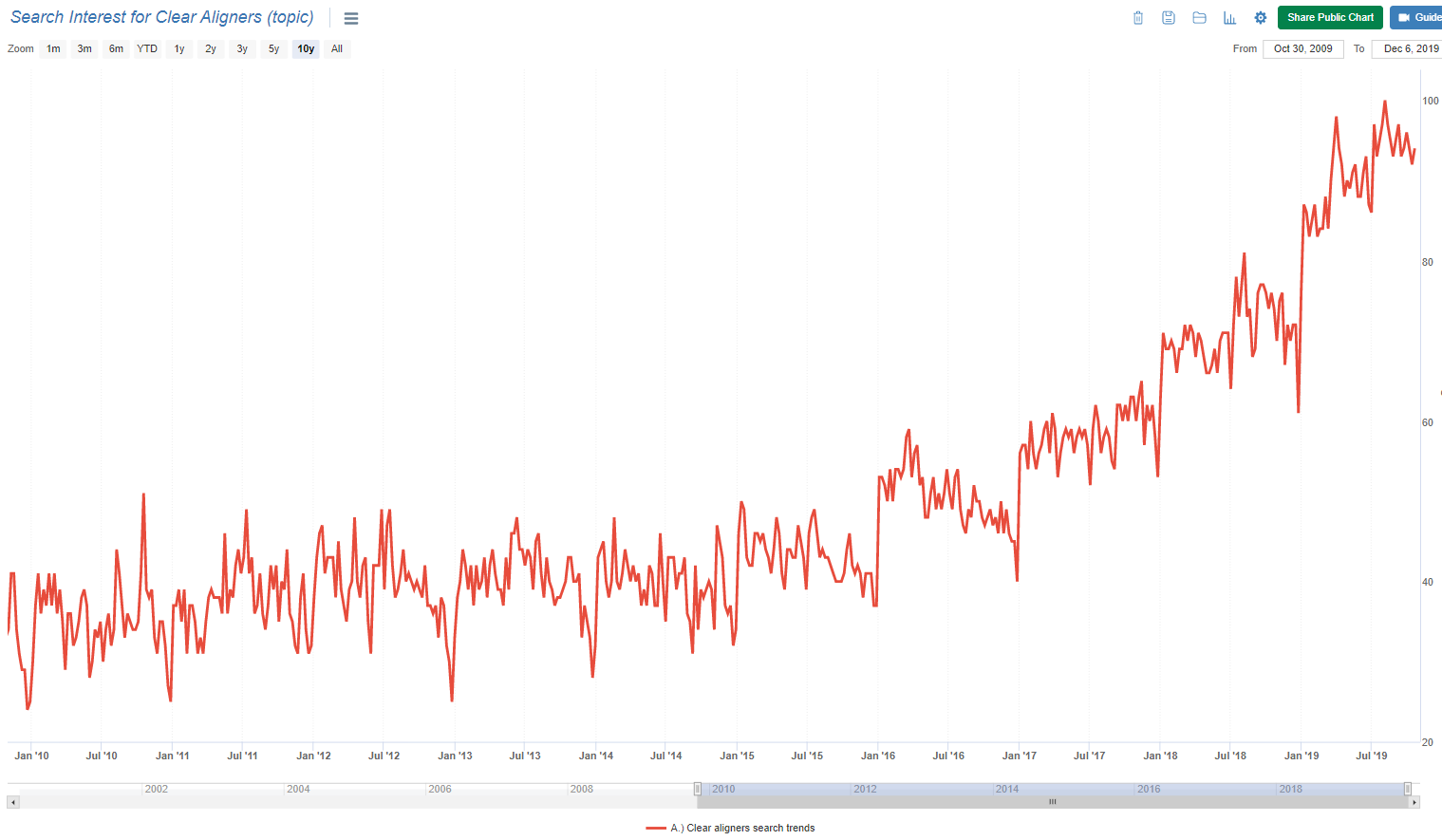 Interactive chart http://snt.io/KEF8ejHb8

But search is just a part of the picture.

Using Alexa web traffic data, we can combine the search interest with web traffic data for the major players in the clear aligner space. While there are "web traffic share" gains and losses, we can see that, as a whole, traffic is increasing across all players: Align, Smile Direct, Snap Correct, Candid Co and Smile Love.
Interactive chart: http://snt.io/MfF8emuTG
As the final step here, we can overlay the financial and valuation metrics for Align Technologies as the public company in the group with the longest trading history. For clarity, we are "hiding" the non-ALGN traffic metrics. We can see that the search trends correspond very nicely to quarterly revenues (2-year correlation is 0.8), while valuation (EV/Sales here) seems to move based on web traffic direction on shorter time frames.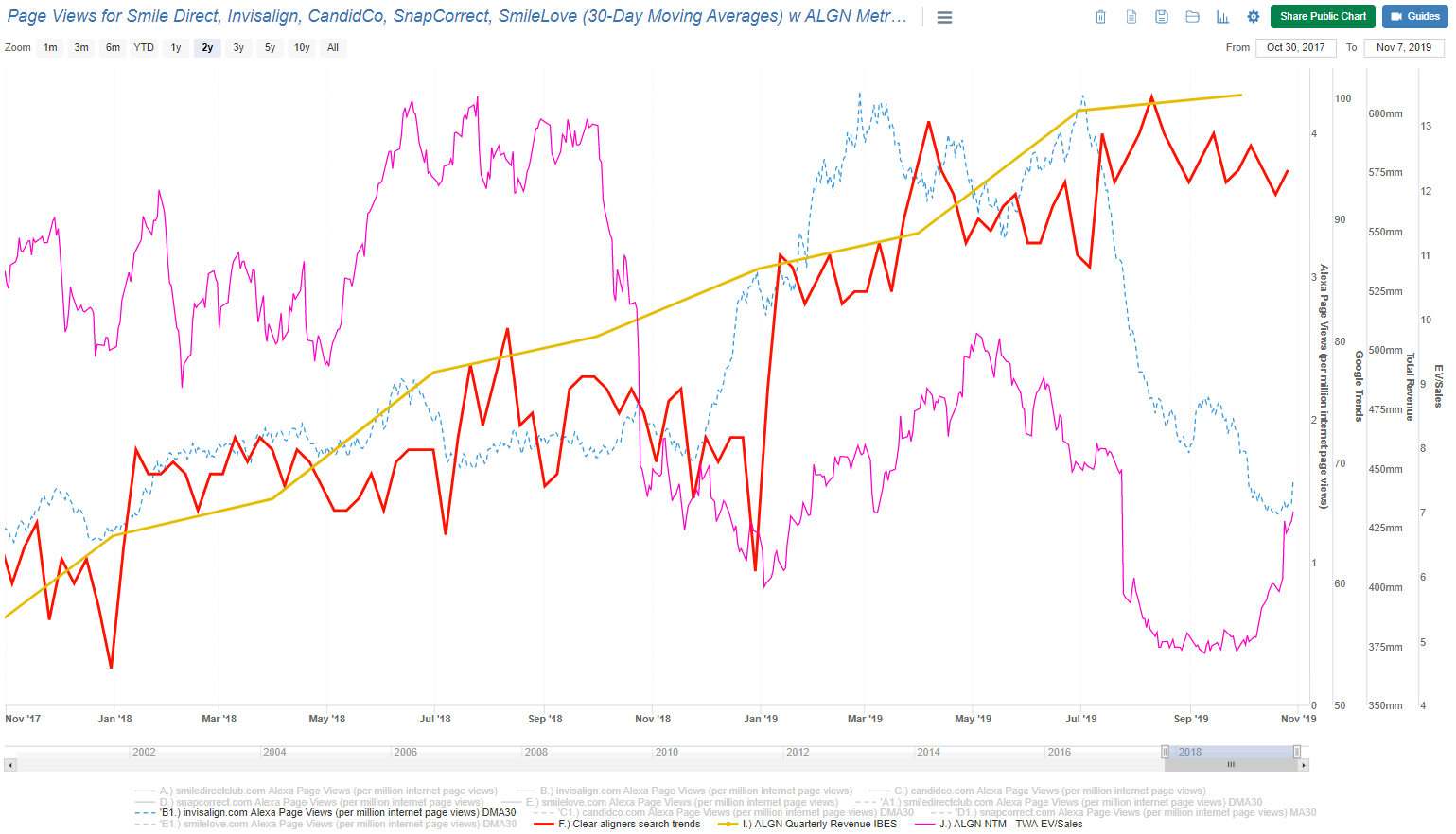 Interactive chart http://snt.io/BSF8epB5B
You don't have to focus on individual securities to use trends in alternative data—it can also be used to detect changes in macroeconomic trends.
For example, using Twitter as a "repository" for live conversations, we can see that tweets containing "new job" (30-day moving average for smoothing) foreshadowed the increase in the non-farm quits rate by months around 2012-2013.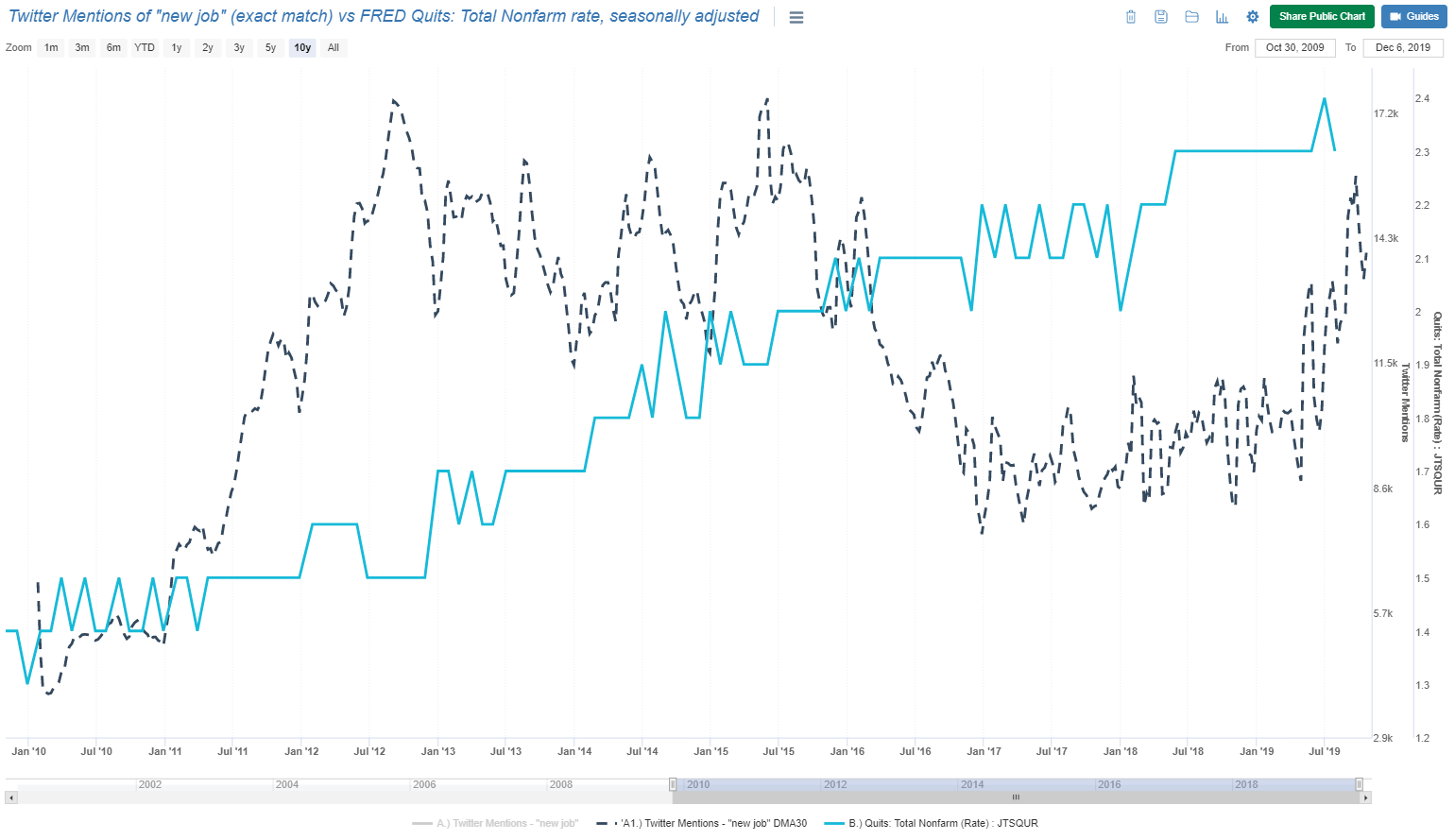 Interactive chart http://snt.io/NcF8et44S
Effortlessly combining traditional and alternative data sets in compelling visualization lets you not only see more but speed up your idea velocity in the pursuit of alpha. In the case of clear aligners we can see that there is a very strong, and growing, underlying demand for more convenient, "tech first" cosmetic dental care.
Next week we'll cover how to capitalize on your internal datasets for alpha generation. If you can't wait that long, you can download the full report here.