In our Q1 2020 Earnings Season Highlight series we've analyzed calls across a variety of industries using our machine learning and natural language call transcript application, Smart SummaryTM.
Over the last week, we looked at a logistics company, UPS (NYSE: UPS), a healthcare testing provider, LabCorp (NYSE: LH), and the regional theme park operator Six Flags Entertainment (NYSE: SIX) and The Clorox Company (NYSE: CLX), where the disinfectant business is doing extremely well. In our final installment before Thursday's 2020 Earnings Season Recap Webinar, we'll review Sysco Corporation (NYSE: SYY).
The Sysco results press release hit our inbox at 8:02 AM (ET), with the "old way" transcript coming in after the call, and the Smart Summary coming in a few minutes later.

The Smart Summary begins with a word cloud using NLP keyword surfacing on top of the pdf.

Similar to the other companies we've looked at over the last week (with the exception of Clorox), sentiment on the transcript is decidedly negative.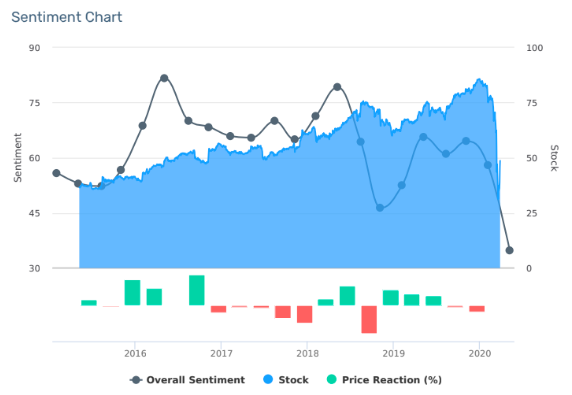 The broad machine learning Category Heatmap indicates stress across everything ("redder" last column.)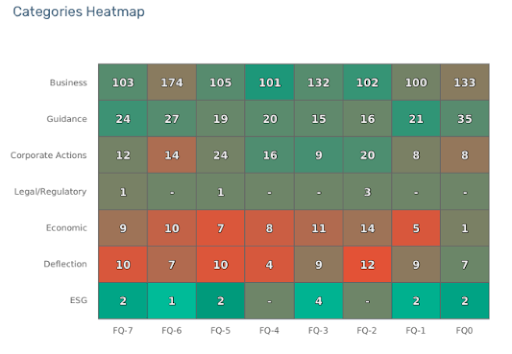 The next section consists of clickable top terms for the last eight calls. We see "crisis," "pandemic," and "inventory" among the top new terms.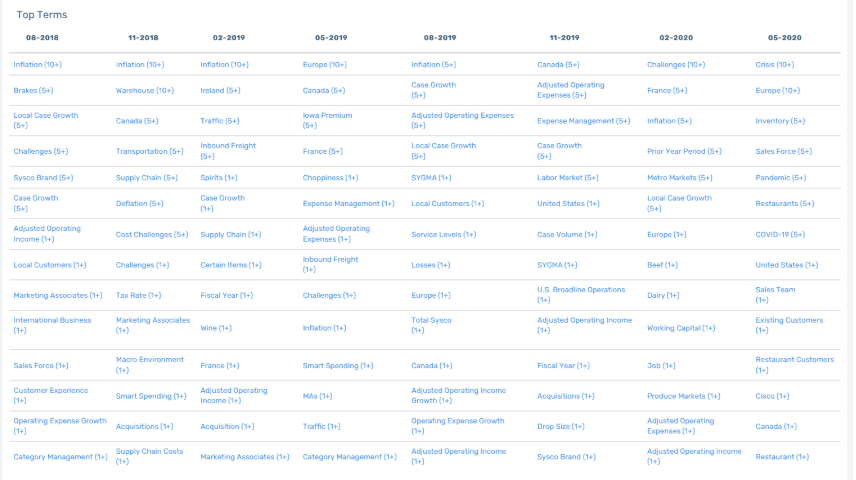 In the next section, we highlight several categories from the ML output, along with their sentiment scoring. The first category is Covid: all mentions are negative.

The top Business sentences are positive, including a major contract win.
Guidance picks up negative FQ4 operating income as a negative but most others, like the state of Texas reopening, are positive.

In the 12-minute video below, we provide a more detailed walkthrough (including the full version of the emailed Smart Summary). We discuss in greater detail the machine learning sentence classification with a focus on volume and the recent QSR win, and review the key terms. In our Equity Data Terminal, we highlight recent estimate revision trends along with the unusually wide range of estimates for the latest results, both for revenue and EPS. We also look at KPIs like Days Inventory and compare Sysco EBIT margin to those of their two major comparables, PFGC and USFD.
Want to learn more about Sentieo's ML and NLP capabilities? Schedule a demo.