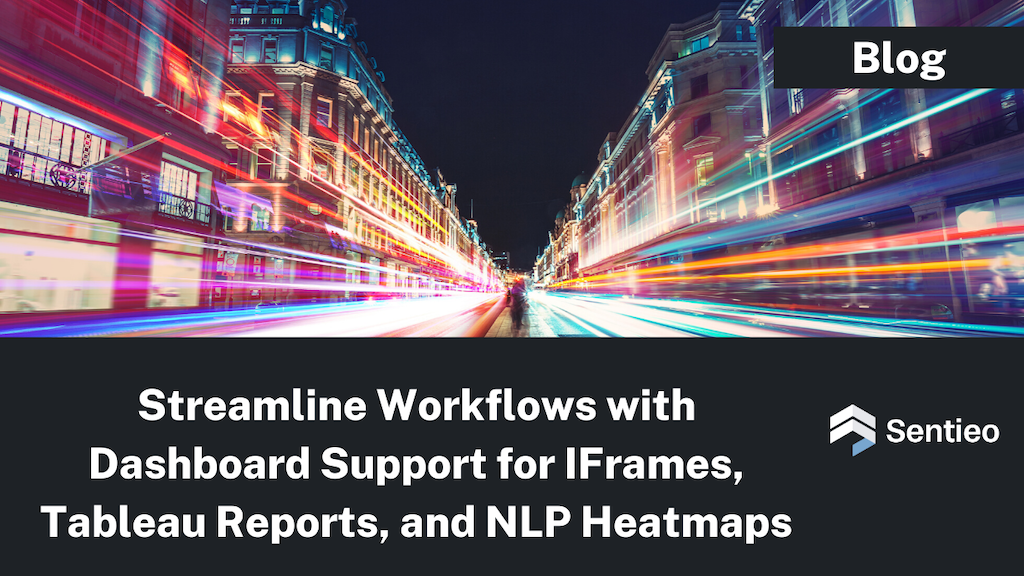 Investment professionals are required to process an endless amount of data from external sources (e.g. documents, broker research, financials). Combine that with all of the time it takes to properly absorb content created by you and your colleagues, and it makes it likely that you could be missing important information.
Sentieo's Dashboard aggregates your internal and external data so that you don't miss key information. Whether you want to use Sentieo for document search, note taking, or sophisticated financial/alternative data analysis, it's all possible with our highly customizable Dashboard.
If you are new to Dashboard, please read this introductory blog post or, if you are a Sentieo customer, watch the short videos in the Sentieo Support Center. We go over the basic Dashboard functions—using widgets, adding tickers and watchlists, document widgets, notes widgets, and more.
With our most recent release, Sentieo V4.3, we are rolling out some exciting features in Dashboard. You will find new sector templates and widgets to add NLP Heatmaps, IFrames (including Tableau!), and RSS feeds to your dashboards.
NLP Topic & Sector Heatmap
The evolution of Sentieo's NLP Smart SummaryTM sentiment analysis technology, NLP Topic & Sector Heatmap expedites the process of uncovering insights from transcripts by making it easy to quickly understand the sentiment and business drivers for an organization, or across a peer group of companies, over time.
You can add our new NLP Topic & Sector Heatmap into a dashboard, with the ability to navigate quickly between tickers and watchlists using Price Monitor. We have put together a short video on NLP Heatmaps and if you are a customer you can learn more about NLP Heatmaps in the Sentieo Support Center.
IFrame Widget, Tableau Reports
Use the IFrame widget to build your ideal workflow. By combining the power of Sentieo with your favorite third-party tools, you can have all of your key data in one screen without losing productivity to context switching. Tableau is one of the most powerful examples that you can add into your dashboard. Instead of having to leave Sentieo to work through parts of your workflow, you can use IFrame widgets to eliminate the switching cost of moving to another platform.
In this short video, we show how the IFrame widget lets you seamlessly integrate external applications in Sentieo.
RSS Feeds
In our efforts to streamline research workflows and eliminate context switching between multiple applications, we've also added a widget to view all subscribed RSS Feeds in a Dashboard. If you are a customer, learn how to add your first RSS feed into Sentieo in the Sentieo Support Center.
New Pre-Built Dashboards
With our most recent release, Sentieo V4.3, we've made it even easier to create a new dashboard by reorganizing the Create Dashboard screen and adding new Sector templates.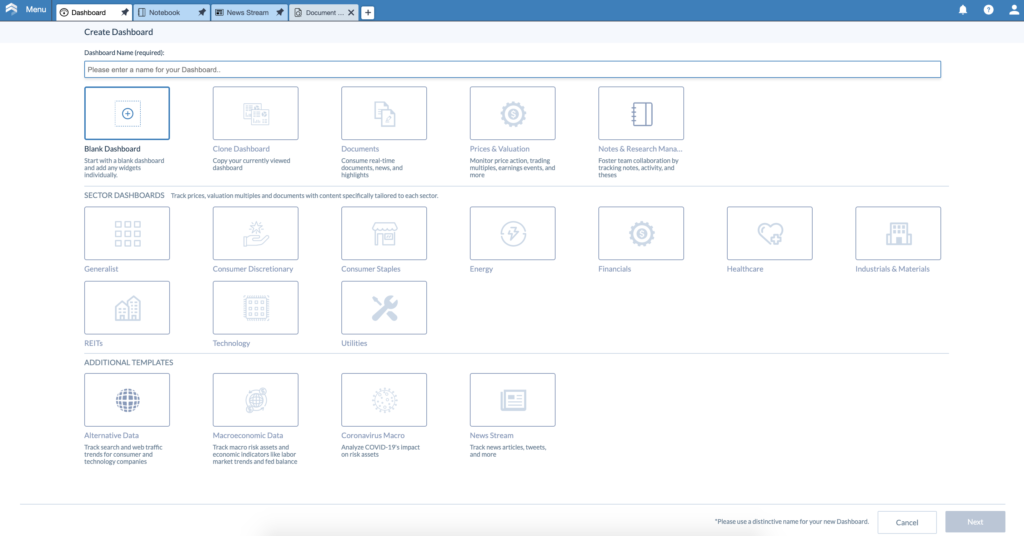 Dashboard templates are a useful way to tailor the Sentieo experience and to discover your ideal workflow. Whether you care about certain use cases (Documents, Research Management, Financial Data) or particular sectors, these templates can help you find insights faster.
New dashboard templates for sectors—including energy, technology, REITs, healthcare, consumer, utilities, industrials—help analysts and researchers save time configuring dashboards for at-a-glance tracking of financial data and trends, new documents, news, notes, events, and visualizations.
Here is an example of what a specific sector dashboard, Energy, looks like. One can see the dashboard is pre-populated with sector tickers, relevant charts, relative performance, and trading multiples widgets.

We've put together a short video to walk you through a few of these new Sector Templates.
To learn more about how Sentieo's research workflow platform can help your team be more productive, please get in touch.