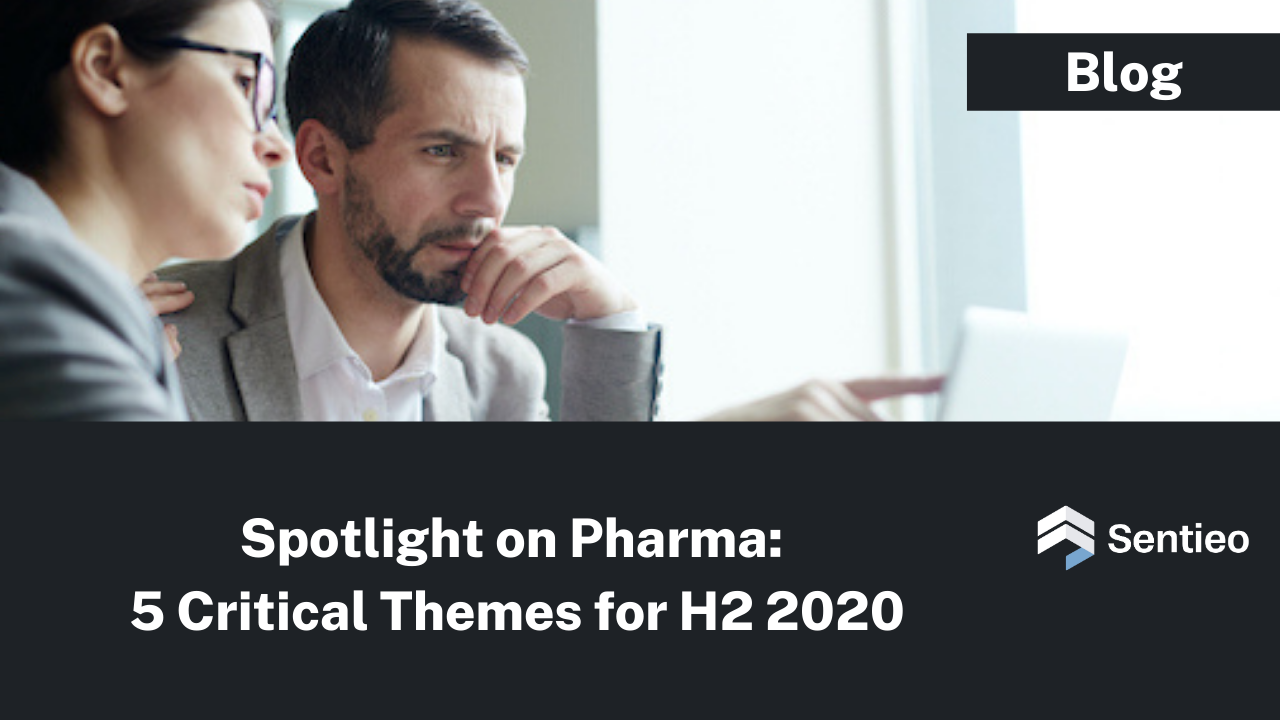 There is no doubt that the pandemic and its impact on the economy, business performance, and society has created new reporting challenges for companies in the Pharma sector. As we near the second earnings season in this pandemic our team has been tracking the trends and signals over the last several months and have identified five topics Pharma analysts should be tracking in the second half of the year. We detail each of these topics in our new market report: Top 5 Critical Themes for H2 2020 Pharma Analysts.

Today we're coving the first: Increasing odds of a Democratic "sweep" in November.

We have been closing tracking the "Democratic Sweep" (White House, Senate, and House wins) odds market on PredictIt since it launched. With the implied probability currently approaching 60% consistent with what we are observing in the CBOE Volatility futures market right now, where the October 2020 contract is currently trading above later months, creating an unusual "hump" we see indications for market expectations of higher volatility going into November.

What this means in practical terms is that certain markets are starting to price a Democratic win. But the winning party will be much further to "the left" than before.
One example is in NYC where we have seen "far left" incumbents (like Rep. Alexandra Ocasio-Cortez) and challengers (like Mr. Jamaal Bowman defeating long-tenured Rep. Charles Engel).

While pharmaceuticals are only 10% of US healthcare spending (CMS data) and the ROI on that spend might be great, we do not think that this is going to matter in a "post factual" world. So we looked at the "source documents": Democractic Candidate Joe Biden's healthcare platform.

The Biden team is pretty straightforward: the relevant section is titled "Stand up to abuse of power by prescription drug corporations." The major points are: an end to the Medicare drug pricing negotiation exemption; limiting launch prices; limiting all brand, biotech, and generic
drug price increases to inflation; allowing drug re-importation; removing pharma ad spend deduction; improving generic supplies (incl. sample access). Further, and more broadly applicable, Mr. Biden recently communicated a plan for a large rollback of the recent corporate tax reforms. Maybe tax inversions will come back in vogue.

Given the higher than usual likelihood for monumental changes coming out of the November elections, there is little doubt that companies will and should be communicating both estimated impacts, and action plans. We expect to see this as early as Q2 earnings in just a couple of weeks.

To read more of our findings for H2 2020, download the full report for Pharma analysts here. To read our take for investor relations check back here on Thursday. Can't wait that long? Download the full report "Market Report: Top 5 Critical Themes for H2 2020 Pharma IR"