As earnings season winds down, equity analysts start thinking about investment bank conferences and upcoming meetings with management. While the largest concentration of conferences happens in July and September, conference season happens year-round, so we thought now would be a good time to share our guide.
As conference season begins, you've got a lot on your mind. You and your team are getting ready to catch a flight, prepping for multiple days of back-to-back meetings. You want to be as prepared as possible, to ensure that you get the most out of your time away.
As former analysts, we've been in your shoes, so we put together a quick guide to help you out.

Get Mobile
When you're on the road, your mobile device is your best friend. Don't miss anything while you're gone; use a mobile cloud software that allows you to review documents and financials while traveling — anywhere, anytime.
Reference financial data and prior conference transcripts on your tablet and phone during meetings with management, so your questions are sharp and you get the most out of your meetings.
With mobile access, you won't fall behind if you're away from an onsite data terminal. (And try not to forget your phone charger at home).
Prep Your Questions
Prepare and store your questions for conference meetings within a system that you can access while you're in the meeting room, ideally from your mobile device. You'll need a mobile app that stores any notes made by you or your team.
As the meetings occur, keep organized and also take notes within your mobile app. Tag them by ticker, topic, or your own keywords for easy retrieval after the trip.
Use note templates to have your questions ready and make sure you capture all the necessary information. Check out this example in Sentieo:
Go to your Sentieo Notebook, and choose your pre-made note template.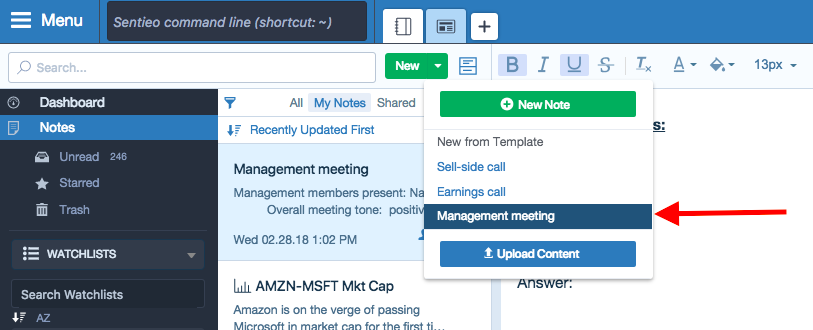 Add your notes for the meeting, and save with the appropriate tickers and tags, for easy retrieval when you get back to the office.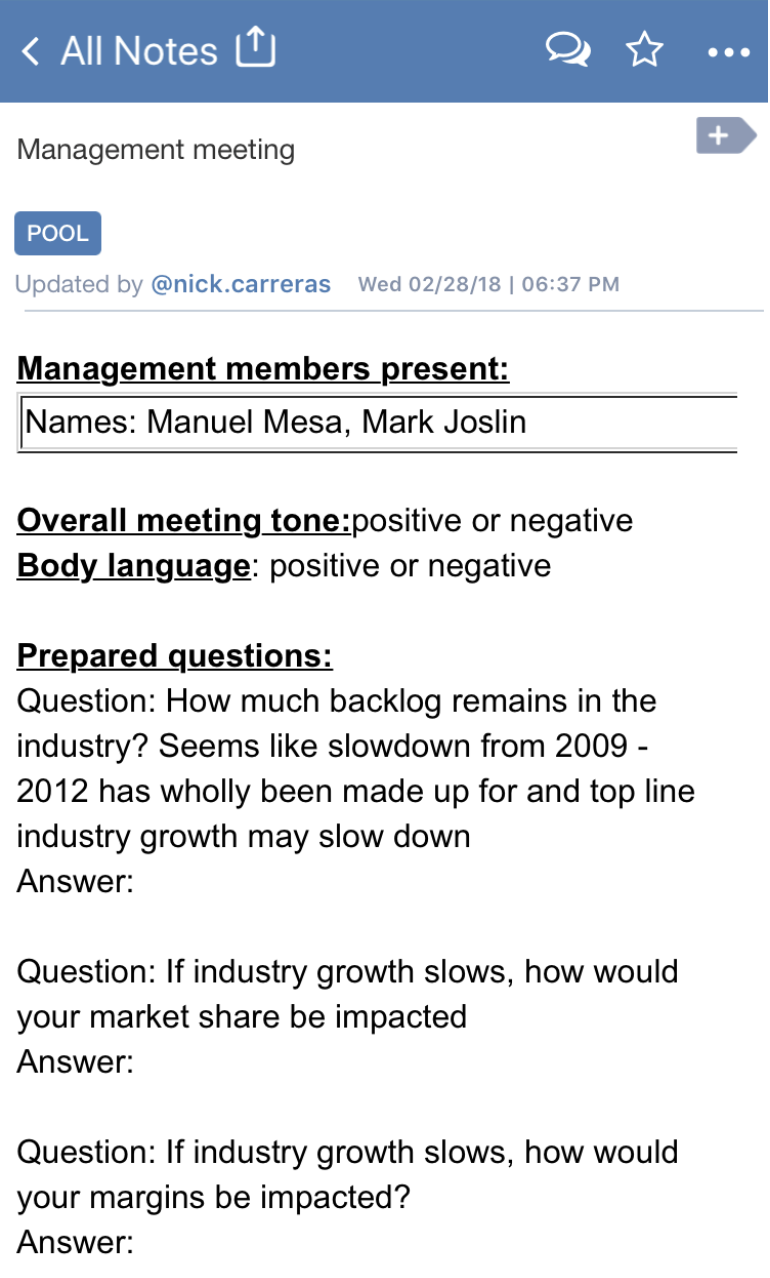 Here are some topics you may want to ask questions about:

Emerging competitors 

Competitive positioning

Organic growth

Key drivers of standard and one time costs

Capital allocation

Capex

M&A

Dividends

Buyback

Problem areas/weaknesses the company is facing

Plans for raising capital
Collaborate with your team in real-time, whether or not they are at the conference, to ensure that you maximize the value of your meetings.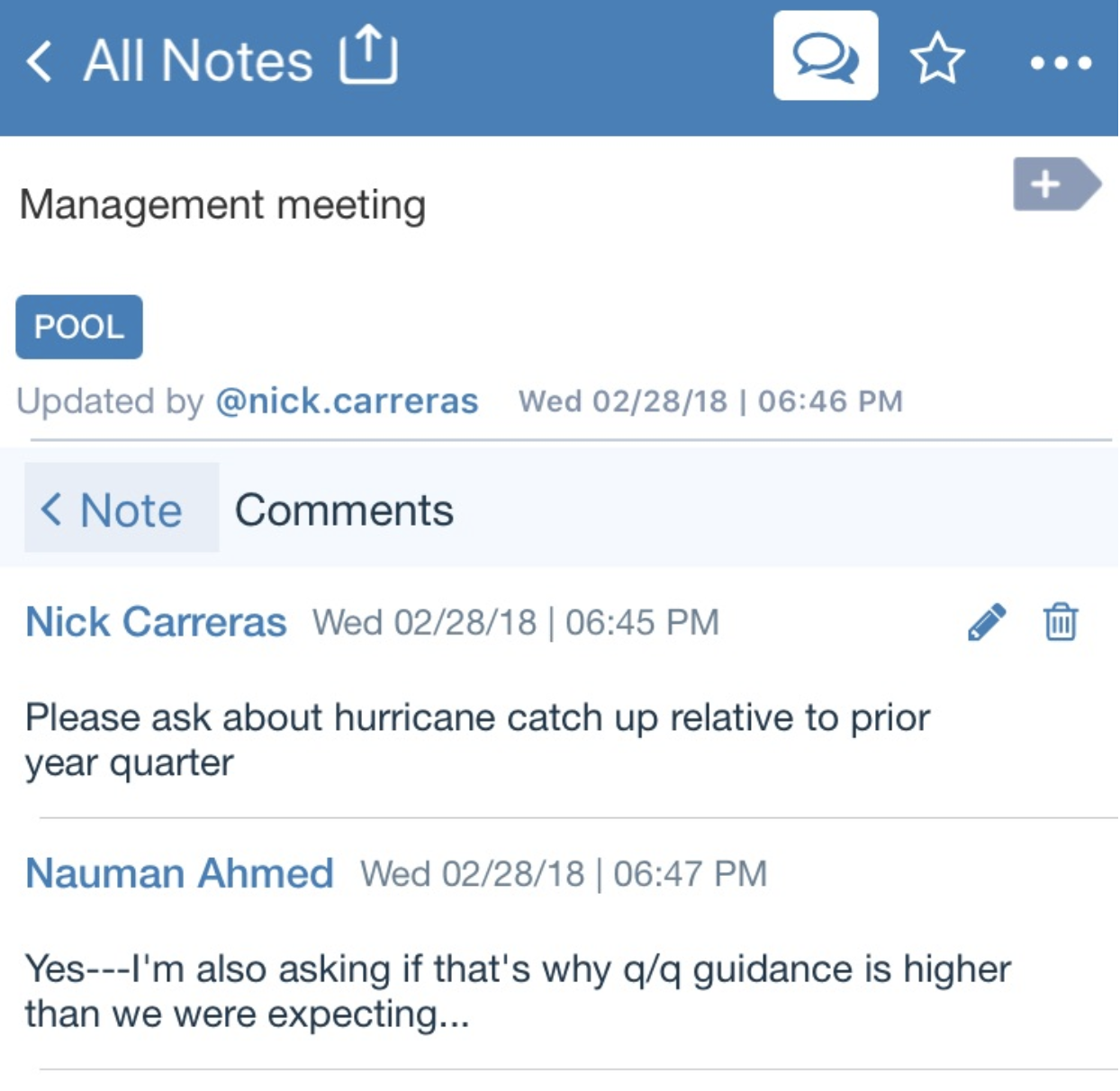 Add images from presentations that haven't yet been released publicly directly in your notes so you don't lose them.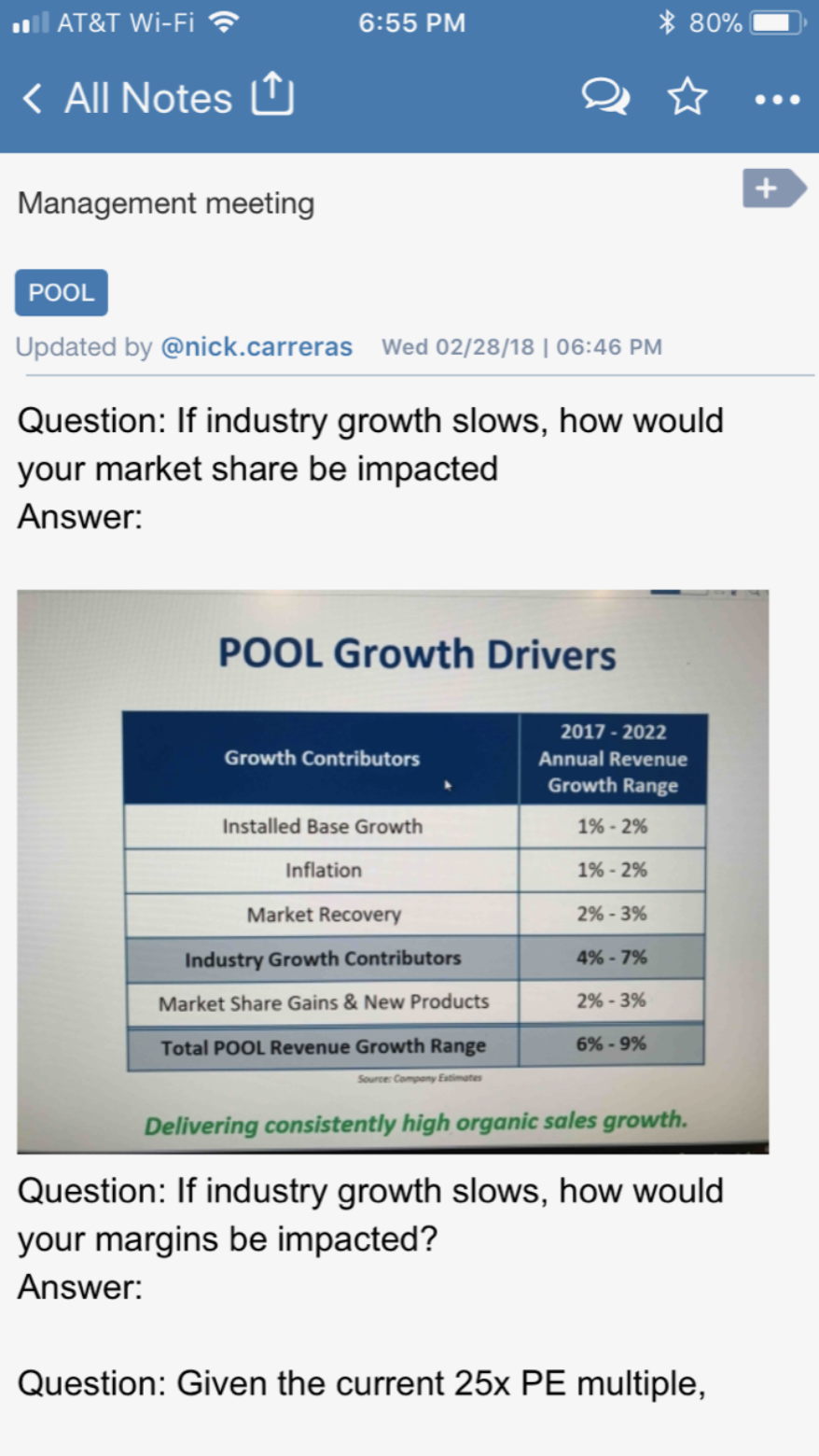 Listen Carefully and Read Management's Body Language
Management presentations will typically seem optimistic, but look for clues and ask tough questions to get to key nuggets of information. Try to scope out and take notes on indicators such as:
Management speaker confidence

Openness about risks (generally thought of as a sign of genuine enthusiasm)

Covering one's neck (i.e. subconsciously seeking to protect a vulnerable part of their body) is a sign of discomfort, as is adjusting a tie, loosening a collar, or rubbing the forehead.

Executives who are uncomfortable with what they are saying often use "distancing language," changing pronouns from "I" and "we" to "the company."
Some other things to look out for in management presentations:
Comments on liquidity: trends in cash flow (or lack there-of) on balance sheet

Use of credit lines (are they too dependent on these?)

Press activity (press releases, PR firm hiring, poaching talented executives, new product announcements, focus on research and development, or R&D)
Network
When there's downtime, talk to people from other teams and make friends. Your conversations could spark an idea, or you could make a valuable connection.
Investment Bank Conferences in 2018:
We compiled a list of webpages with the dates for investment bank conferences, below for your reference. There are a few large banks (Goldman Sachs, Morgan Stanley) and smaller firms that do not have lists, but this should help you make sure you don't miss any upcoming conferences.
Keep organized, and enjoy conference season!