Last week at The Players social club in Manhattan, Sentieo was presented with the 2018 Waters Rankings Award for Best Artificial Intelligence Technology Provider. Alap Shah, CEO of Sentieo, and Geoffrey Suen, Product Specialist at Sentieo, proudly accepted the award for the team.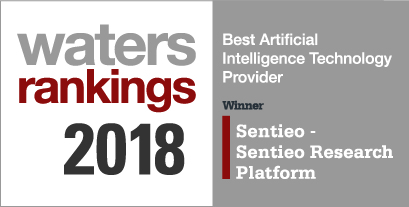 "This award means a lot to the Sentieo team because the Waters Rankings are voted on solely by software end-users," says Alap Shah, the CEO of Sentieo and a former equity investor himself. "We're happy that users are impressed with our AI-powered transcript sentiment analysis feature."
These end users, who represent a large swath of the capital markets, cast their votes over a six-week period to determine the award winners.
Shah continued: "We're honored to receive this award and are excited to continue delivering a comprehensive product for equity investors that includes easy sentiment analysis, document search, alternative data, collaboration, and many other cutting-edge features that they want and need —in order to be efficient and ultimately more successful."