When it comes to organizing your research in Sentieo, Tags are a popular and powerful way to keep track of notes, files, and documents. A tagging system is more flexible than rigid folder structures, as it allows you to classify an item in more than one way and create all sorts of hierarchies not possible with a simple nested approach.
A tag can be created on the fly via the tag bar of any note in your Notebook. Here is an example of creating the tag ARPU (a non-GAAP measure used primarily by consumer communications, digital media, and networking companies) on the fly.
The final set of tags used to classify the note in the example above include:
$SNAP: Company
#camera: Topic
#earnings: Event
#arpu: KPI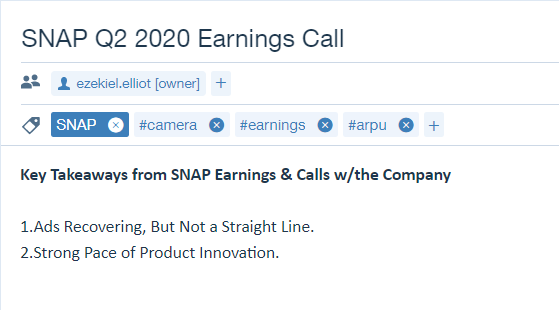 With the freedom of creating your own tags comes the challenge of keeping them organized. A good way of seeing all the tags available in your account is to head to a new feature available in the V4.4 release called Tag Manager.
Introducing Tag Manager
The tag manager allows you to view and manage all available tags in your account from a central interface. From here, you can also perform actions like renaming, merging, or deleting tags.

Some practical use cases include:
Standardizing a set of tags for you and your team to use
Identifying and delete tags that aren't being used
Consolidating tags that are redundant by merging them
Using Tag Groups to enhance your research classification
Tag Groups, a new feature in V4.4 of Sentieo, are another means of classification that are complementary to your tagging efforts. Previously, tags were a flat structure which did not support the use of taxonomies. Now, Tag Groups can be used to group tags that have a similar use case. You can think of Tag Groups as "nested" or "super" tags. Tag Groups help you create a useful taxonomy to keep your tags short and simple. The use of tag groups in Sentieo is optional.
As an example, a macro analyst might want to classify their research according to an asset class.
Classifying macro research with no Tag Group
Without the use of a Tag Group, the list of asset class tags below would belong to a general list of tags, without any sort of grouping or taxonomy. In this case, the prefix Asset Class has been added to group the related asset class tags within my general list of tags.

Tags:
Asset Class – Commodities
Asset Class – Currencies
Asset Class – Equity
Asset Class – Fixed Income
Asset Class – Real Estate

List of tags available as filters:
List of tags in a note:​​​

Classifying macro research with the use of a Tag Group
With the use of a Tag Group, all of the various asset class mixes can be nested as tags within the higher-level grouping Asset Class.
Tag Group:
Asset Class

Tags:
Commodities
Currencies
Equity
Fixed Income
Real Estate
List of tags:​

In a note:

In this example, the Tag Group Asset Class represents the high-level grouping of the available asset class classifications, whereas the more detailed asset class mixes are available as a tag within this group.
If you are an existing customer and need help classifying your data or any assistance getting started with tags, please get in touch with your customer success representative.
If you'd like to see how the Sentieo platform can help your team standardize workflows, improve collaboration, and streamline research organization, contact us to set up a free trial.
​​