Today we're revealing our very first  Quarterly Report— a summary of last quarter's top keyword searches, as well as a detailed sentiment analysis across all industries. We used Sentieo to analyze earnings call transcripts to discover what companies talked about most last quarter versus the same quarter in 2016.
We also compared the sentiment of management and analyst sections of transcripts, and graphed these data points so you can easily see trends or discrepancies between the two. We'll be publishing these reports every quarter, so you can stay updated on information that could impact your investment decisions this year.
Here are some interesting themes that came up in our research:
Keyword Trends:
Trump mentions have leveled off over the past few quarters as the buzz about his presidency has died down

Crypto mentions have doubled in the last quarter and are poised for another jump next quarter

Artificial Intelligence mentions have doubled in the last year as it has become a major buzzword in the tech sector
Consumer Sector
Philip Morris IQOS smoking system a market leader
Healthcare Sector
Puerto Rican healthcare crisis was a key focus
Real Estate Sector
While the San Francisco real estate market cooled off a bit, Amazon was mentioned by a lot of real estate companies with regard to "HQ2"
With Sentieo Document Search, and with this report, we are starting down the path of quantifying linguistic data. This report is actually a preview of some exciting features that are currently in development for the Sentieo platform. We'd love to get your feedback on what you liked and didn't like and what you want to see in the product.
You'll see our fully fleshed-out analysis in the downloadable report, which covers these industries and many more.
Check out this sample page of our report about the utilities sector: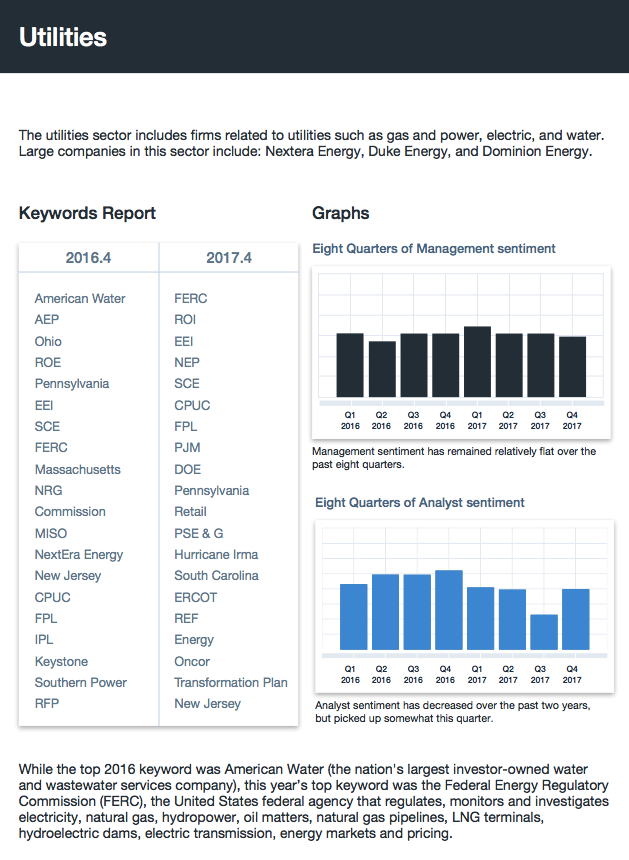 To read our full analysis of the utilities industry and other verticals, influential companies, and trending keywords/concepts, download the full, free report!