About Sentieo Document Search
Clients love Sentieo's industry-leading Document Search for its depth, precision, and workflow integration. Users save hours with the ability to search across all companies, watchlists, individual entities, or by excluding tickers from searches.
Easy document specification with our IN: function covers the most common document types. (For example, search just 10-Ks or just transcripts). Our in-section search lets you search within a specific document section (in:10k MD&A or in:transcript), or by speaker (statements by CFO, by analysts, etc). You can also search PPT presentations, or get very granular document-level controls like "8-K Credit Agreements." Filter down your search by industry classifications, geographies, market caps, and timeframes. 
Add another layer with our large library of Boolean operators, like "OR" for parallel searches and "BEFORE/NEAR/FAR" for proximity and order control. In the background, we have three levels of synonym control for the thousands of synonym/acronym groups. For example, sales and revenue will "pick up" each other, so you don't need to know the exact term that the company uses in order to find what you're looking for.
Machine learning-based Document Search will dynamically suggest synonyms based on your specific query, in addition to autofilling text in your query based on your document set. And if you do not have a query, Sentieo will suggest trending terms based on the searched ticker.
We have extensive Document Search statistics that let you see real trends, and you can drill down quickly with one or two clicks. Imagine seeing all companies that mention China within 25 words of Vietnam, clicking on Consumer Discretionary, and then seeing the top companies that mention your query most frequently. You can also do a "search within a search." 
On the workflow side, you can save all positive hits as a watchlist for future work (for example, all Industrial companies with a market cap over $1 bn that mention Mexico in their 19-K Risk Factors). You can even automate your workflow with saved searches. All of our searches can be saved and turned into email and/or desktop alerts at the frequencies of your choice.
Highlight and label text as you read, and these annotations will be all stored and automatically ticker-tagged in your Notebook. You can even call out your team members with comments: "are you ready to take a look at this note on [x]?" Take screenshots from presentations and use the web clipper to bookmark webpages. All of your internal documents including uploads, emails, notes, and built-out theses are searchable, too. 
So What's This New Category Search?
We've had in-table search functionality for years, enabling users to find numbers that are broken out in tables. For example, find mentions of EMEA Revenue only in tables, rather than everywhere in the doc. In our latest release, we've taken locating numbers to the next level. 
With the newly-released v3.9, users can search for specific types of numbers based on our very extensive categorization system. A Category is a set of keywords which are not synonyms but have similar meanings or constructs.
Category search allows you to search for an entire class using one search term. You can now look specifically for categorized numbers, such as currency, percentages, duration, length, area, temperature, volume, and a lot more. So now finding the "sales growth percentage" or "production volumes" takes a second. 
Moving forward, we will show a few examples of what is now possible in Sentieo's Document Search.
In this query below, we are searching transcripts for revenue growth within 10 words of a percentage. You can also see how "revenue" picked up "sales" as a part of the synonym search. 

Swapping out the percentage from the query above with the currency categorization, we can look for currency amounts, like dollars or euros.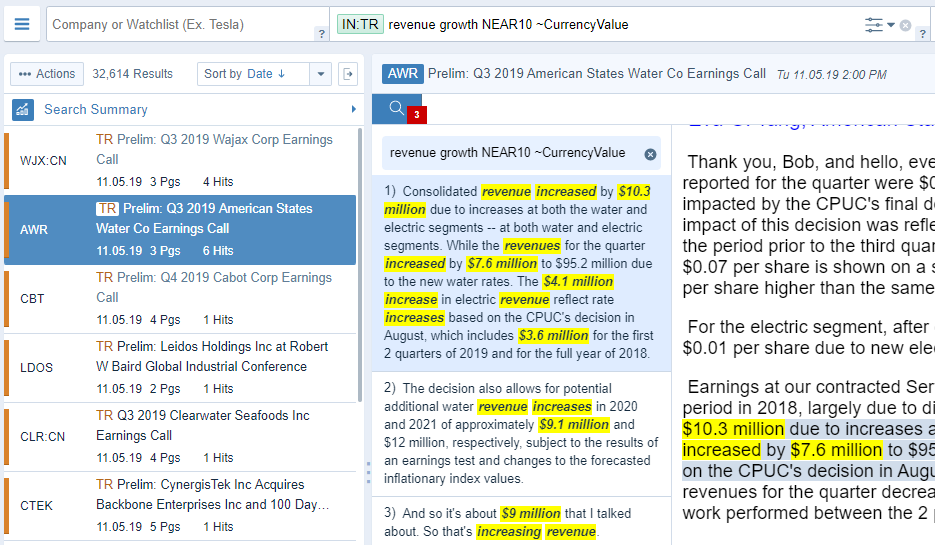 Staying on top of KPIs is also easy with our new numbers categories. You can search for specific information like oil/gas production volumes or leasable area in real estate.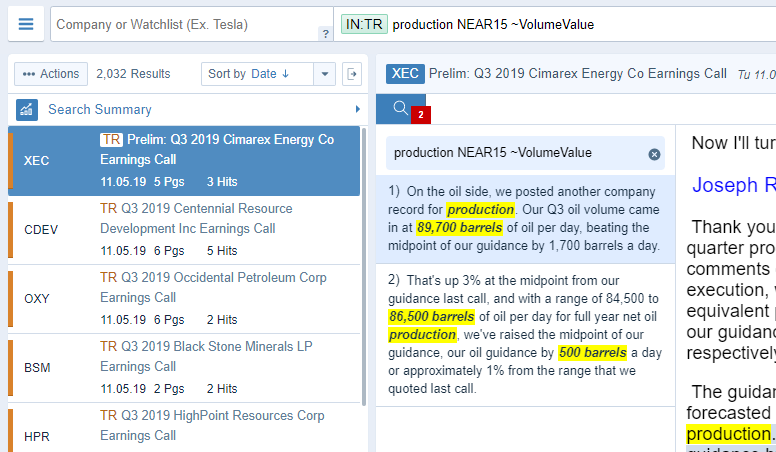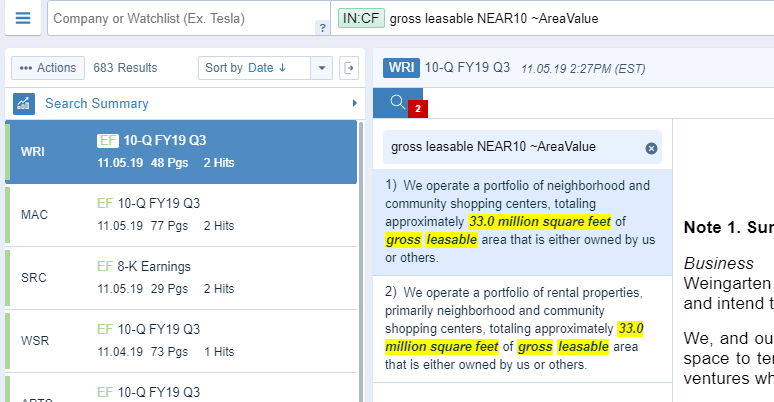 You can search 8-K Credit Agreements for leverage ratios using the Ratio classification: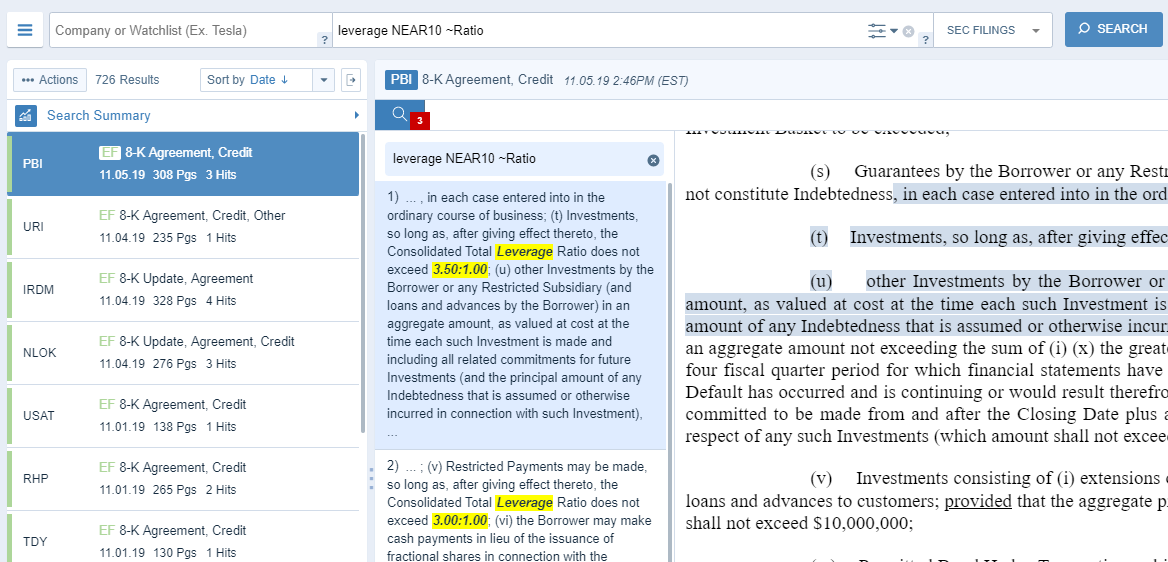 Need to call up a company? Search all filings (in:CF) for the headquarter phone number listed on the front page. 

The numbers we classified do not even need to be numeric. As a part of this update, we have fractions, time periods and more.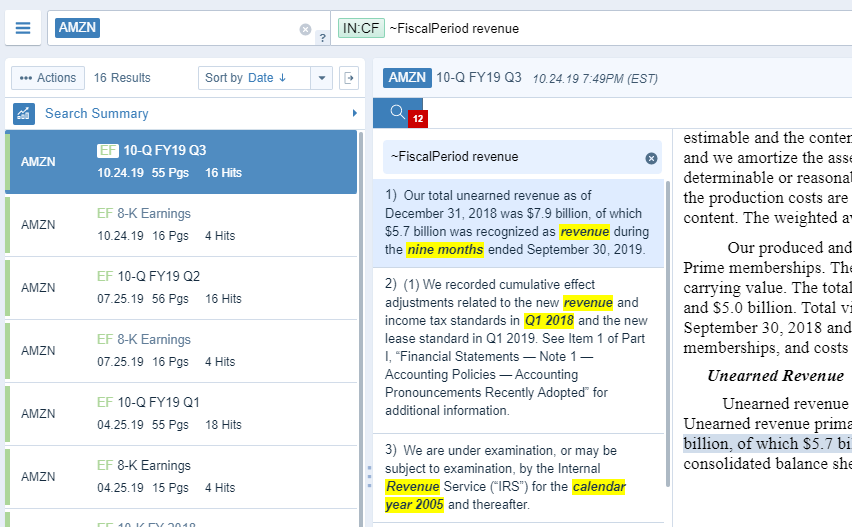 These are just a few of our new Document Search use cases. Sentieo offers many more categories that help you find exactly what you need, faster.
To find out more about our new Category Search, or any part of Sentieo's research workflow solution, please get in touch.