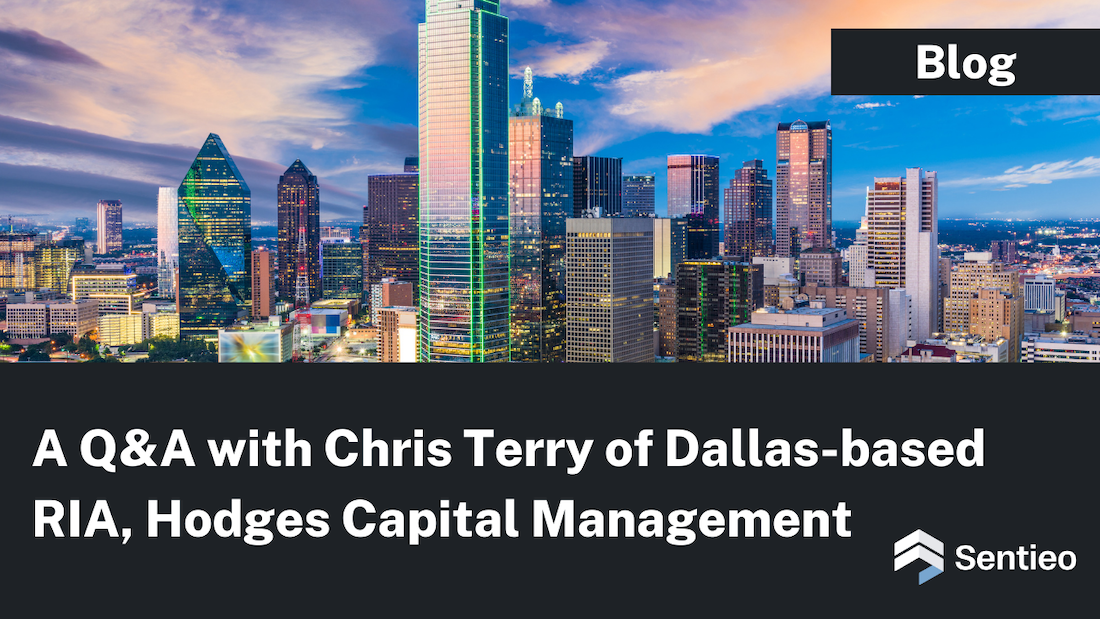 Today we are recapping highlights of a discussion between Chris Terry, Vice President, Portfolio Manager, and Senior Research Analyst at Dallas-based RIA, Hodges Capital Management, and Nick Mazing, Head of Research at Sentieo.
Nick:
Can you tell us about your background and the focus of Hodges Capital Management?

Chris:
I am a portfolio manager, analyst, and serve on our investment team here at Hodges Capital. I've been doing this for about 20 years.

Our firm has been around for over 30 years. We're an investment advisor, based in Dallas, Texas, serving endowments, high net worth individuals, family offices, and we also manage a family of mutual funds. We have approximately $800 million in assets under management, split evenly between the mutual funds and the separate accounts. We are primarily focused on small cap stocks and are fundamentally driven. We like earnings and cash flow, and try to find hidden gems, under-covered opportunities.
Nick:
Can you describe your investment process and tell us how the Sentieo platform fits into that process?

Chris:
Because we are fundamentally driven, we like to get in and really understand the company, business model, and talk to management teams. Our analysts, including myself, within the investment team gather, process, then distribute information, which we now do on the Sentieo platform.
Two or three years ago, we would have used four or five different types of technology to manage this process. For example, when I first started in the business, I was taking hand notes and would put those notes in a file cabinet and keep them there for several years. Then we transitioned over to using Microsoft Word and Excel, and keeping and distributing notes internally using Outlook. Over the years, we've tried other services and tools, like Evernote, to improve the research workflow.
Sentieo gives us everything we need in one platform and has become a focal point for our research efforts. And it's not just a workflow solution for managing due diligence. We also pull and aggregate data in the platform, for example using Sentieo's smart search to find information, grab financials and key ratios, and so much more.
Sentieo is literally the first thing that I log on to every morning to get an update on any news or press releases, brokerage research, transcripts, and filings.
Nick:
When we think about research management systems, we see people using things like Google Drive, consumer-grade applications, even control F for search, which seems stone-age now. The first thing I think about with an RMS is it has to be easy to use at every level. Easy to search and find things. Easy to monitor if you're at the PM or compliance level, and to keep everybody on the same page, anywhere, whether it's mobile, working from home or from the office. And, of course, you want to protect your intellectual property—theses, knowledge, research, and interviews, and other due diligence—and easily manage coverage hand-off.

So, prior to Sentieo, it sounds like analysts at Hodges were mostly using copy and paste, inserting links into Word documents or Evernote, is this that correct?

Chris:
Yes, we were using a couple of different providers. For drafting notes, we started with Microsoft Office and Word, then we tried Evernote for a little while, but obviously this tool had shortcomings on the financial side. We didn't have one cohesive place for all of our information. The real problem was if I wanted news from an analyst or wanted to see a research report, I would have to log on to our internal server to pull that data off of our network, or go search through thousands of emails to find that one note or piece of research, or I may have to go to Evernote or other sources.
It was a real issue finding the research that we had, all within our own building. And we've got a firm of 25 people and we're all in one location. It was really inefficient the way that we were distributing our research prior to Sentieo
Nick:
What happened to your old notes, the ones that were created prior to Sentieo?

Chris:
We were able to upload all of our old notes into Sentieo pretty seamlessly so we now have everything in one place.
Nick:
Did you start using templates in Sentieo for capturing notes from management meetings, earnings reports, expert network calls, or due diligence visits?

Chris:
It is challenging for us to create a template on a general note because each of our analysts have their own different writing style. I prefer to use bullet points while other analysts like to write out full sentences. While we don't have a template yet on notes, the information we capture is the same across the team, we just may present it differently.
Nick:
What about full blown thesis sheets? Are you using those in Sentieo?

Chris:
Yes, we are actually using the default thesis sheet template that comes with Sentieo, including the price target.
One of the not so obvious ways the thesis templates have really helped us out is in our role as a mutual fund manager. We have a custodian bank and are subject to annual audits. As part of that process, they always want to make sure that we're doing the appropriate due diligence for the stocks that we're investing in, and the thesis sheets are key to this process.
Prior to Sentieo, the auditor would come in and ask for our research on a list of companies, and we'd have to pull all the research from multiple different sources. In Sentieo, we can literally type in a ticker symbol and it shows all of our workflow, the due diligence, and most importantly, the thesis on why we bought or sold the stock. Sentieo has been tremendously beneficial from a compliance perspective.
Nick:
Do you currently use dashboards in Sentieo? Do you have multiple dashboards or do you have one dashboard where you have everything?

Chris:
I currently run three dashboards, one on my watch list, where I think I've got eight or nine widgets, mostly news flow, company news, press releases, transcripts, filings, broker research, my calendar, and notes. And then I've got a separate watch list for an individual ticker, where I've got historical margins, the thesis, and a couple other widgets. And then I've also got a valuation watch board as well, with a handful of widgets showing different multiples in chart form, spanning anywhere from 5 to 10 years so I can see what's going on with the devaluation across that timeframe.
Nick:
Do you have any closing remarks for us Chris?

Chris:
I really appreciate the opportunity to talk about Sentieo—it's such a robust system and I feel like we're really just scratching the surface on its capabilities. Sentieo has been a game changer for us in our process and for our research team. It's been great to hold each of our analysts accountable, which is yet another benefit of the Sentieo platform.
To learn more, listen to the full conversation which took place during our recent webinar, RMS Best Practices: Thriving in the Post-COVID Environment, and read our Hodges Capital Case Study.