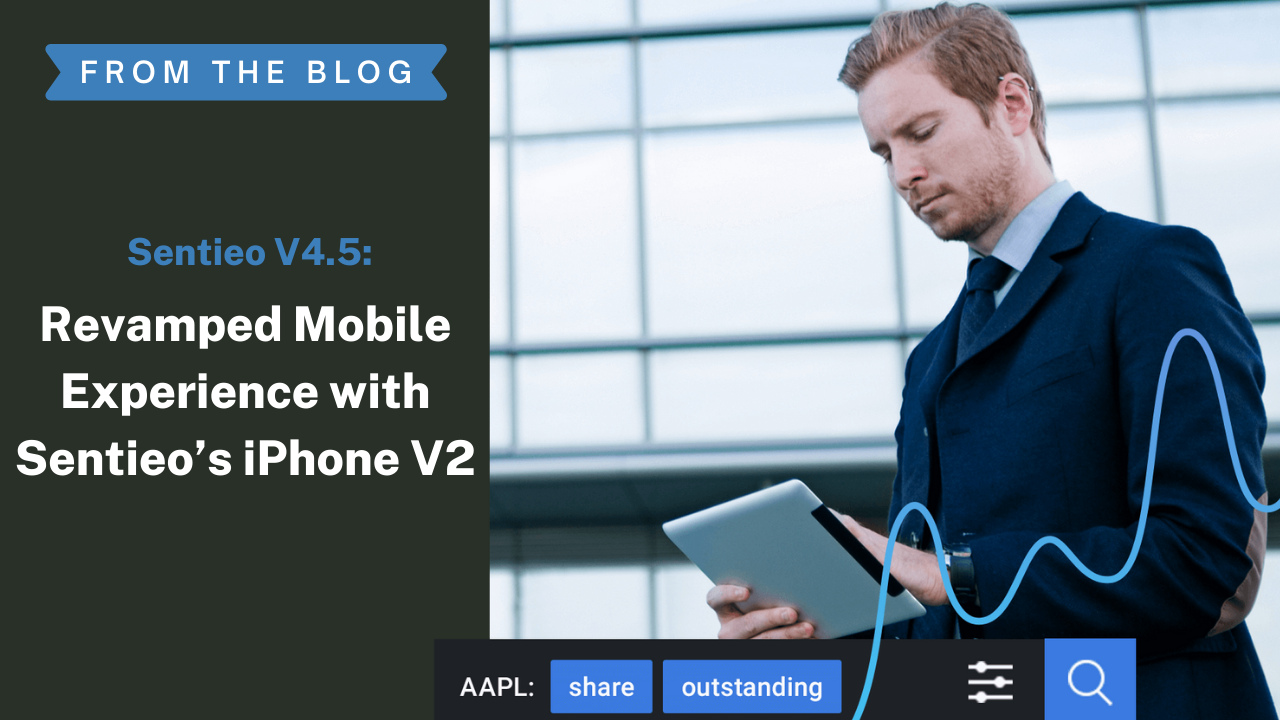 The team here at Sentieo is always working to improve our mobile applications to provide the best user experience. Our newly released version of Sentieo for iPhone app helps analysts and strategists supercharge their research workflow without skipping a beat regarding the news, documents, or price movements that occur in the markets on a daily basis.
In this new iPhone version, we've completely redesigned our interface, while also adding some new features in order to maintain parity with our web application. By doing so, users retain the same functionality utilized on the web, while on the go.
Customize Your Own Home Page
Our brand new Home Page allows you to create your own launch pad when starting up the app. The Home Page contains your favorite watchlists, markets, and news stream, so that you stay up to date with the companies and topics most important to you.
Additionally, we've designed it so that you can customize/modify your watchlists and markets in your preferred order. You can also rearrange the order of document types, manage tweet sensitivity, and toggle which document types appear in your News Stream.
Finally, for all of your watchlist tickers, our Upcoming Earnings section ensures that you won't miss any earnings calls or relevant updates during earnings season.
Complete Control of Your Watchlists
In our refreshed watchlist page, not only did we update the user experience, we also included new features that allow you to modify, create, or delete your watchlists directly from the iPhone application. You can select which watchlists to favorite, and those would subsequently appear on your Home Page.
By tapping on the pencil icon, you activate the Watchlist Manager. When in Watchlist Manager mode, you can delete watchlists, create a brand new watchlist from scratch, or modify any watchlists by adding or removing tickers from them.
Tap on a watchlist and you'll be taken to its Overview page, where you can view relevant documents, articles, tweets, etc. that are part of all the tickers that make up that watchlist.
Quickly Research Company Financials and Documents in the Company Overview
In our brand new Overview page, we've revamped the interface to allow you to search a company and immediately view high-level information about it. You will be able to instantly get a birds-eye view about any company that you search for.
From this page, you can instantly access quick historical and forward-looking financial information such as:
Market Cap
Day's Range
Open/Prev Close
Revenue
And more
You can tap on the "More Data" icon to expose the financial mini-model for the selected company to view the data above.
You can also track historical price data through the price chart that's displayed on the Overview page.
---
The new app can be downloaded from the App Store: Sentieo For iPhone.
We hope you enjoy the new experience from our iPhone V2! If you are a customer and want to read more about additional features and highlights, please visit our Support Center article, or reach out to our Customer Success team at support@sentieo.com.
If you'd like to see how the Sentieo platform can help your team standardize workflows, improve collaboration, and streamline research organization, contact us to set up a free trial.