The retail sector is going through a rough patch due to digital disruption, weak consumer sentiment (driven by election fears), and commodity deflation, leading to a series of bankruptcies and store closures. According to Sentieo's document search, retailers are facing the toughest of times – evidenced by drastically increased rates of store closures, and putting into question the very survival of these firms.
Bankruptcy and store closures trending higher vs. 2008 recession period
The American retail landscape has seen a host of bankruptcies (Aeropostale, Sports Authority, Sports Chalet) and store closures in the last couple years. Macy's recently announced the closure of 100 stores in FY17, followed by 40 closures in FY16.
We did a document search in Sentieo of all retailers for the term "Store closure." As seen in the graph below, the mention of "store closure" by retailers is trending higher vs. the 2008-09 recession and the 2012 election, highlighting the ongoing bloodbath in the retail space.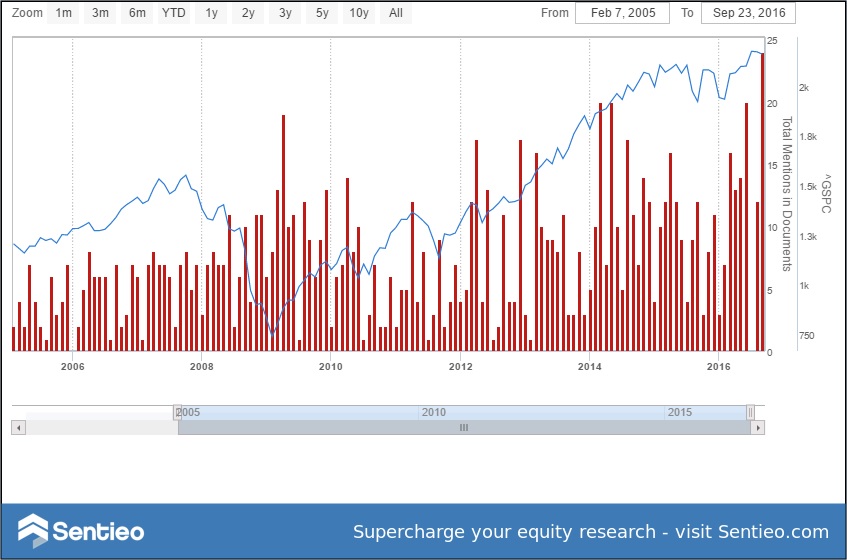 Macy's CFO Karen Hoguet said:

The key issue is that the U.S. is overstored on a per capita basis. With the rise of e-commerce, this has led many retailers to shut down unproductive retail space. Manny Chirico, CEO of PVH Corp. also noted the excess of stores:

We use Sentieo's plotter tool to track the number of stores closed over time. Sentieo makes it easier than ever before to track important metrics like number of stores and square footage. As we see in the graph below, store closures have accelerated recently owing to the difficulties faced by the retailers.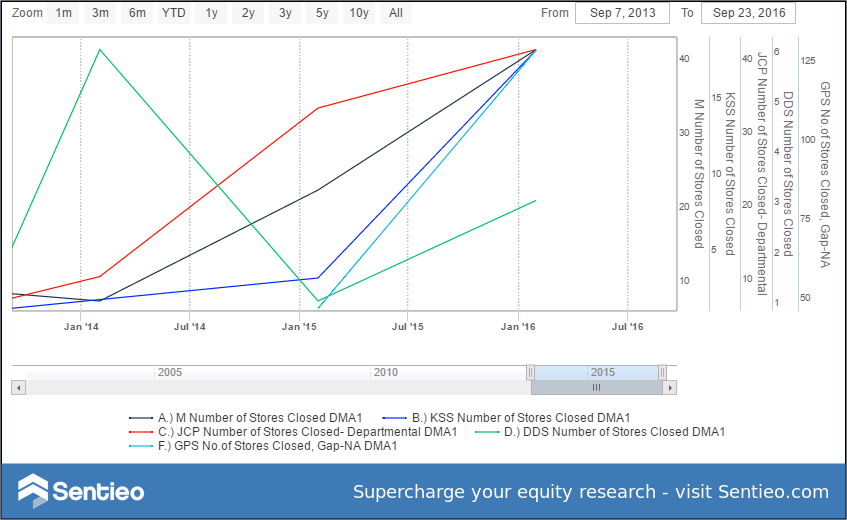 A weak Consumer Sentiment driven by election uncertainty:
We highlighted in our previous blog post that consumer sentiment has been weaker this election season, due to increased uncertainty in the absence of an incumbent. While macro data points towards improving employment and wages, retail companies were cautious on the consumer trends – suggesting that consumers are holding back on discretionary spending.
Marvin Ellison, CEO of J.C. Penney commented on the decline in spending:

Art Peck, CEO of Gap Inc noted:

However, it seems like the low-end consumer is impacted the most by the current macro environment – election uncertainty coupled with moderating gas prices. Dollar stores and discounters with maximum exposure to the low end consumer are facing severe top line compression, which is aggravated by commodity deflation.
We note Dollar Tree CEO, Bob Sasser:


Further, we note Dollar General's CEO, Todd Vasos talking on similar lines:

We use Sentieo's plotter tool to track the comp sales for the retailers exposed to the low end customer.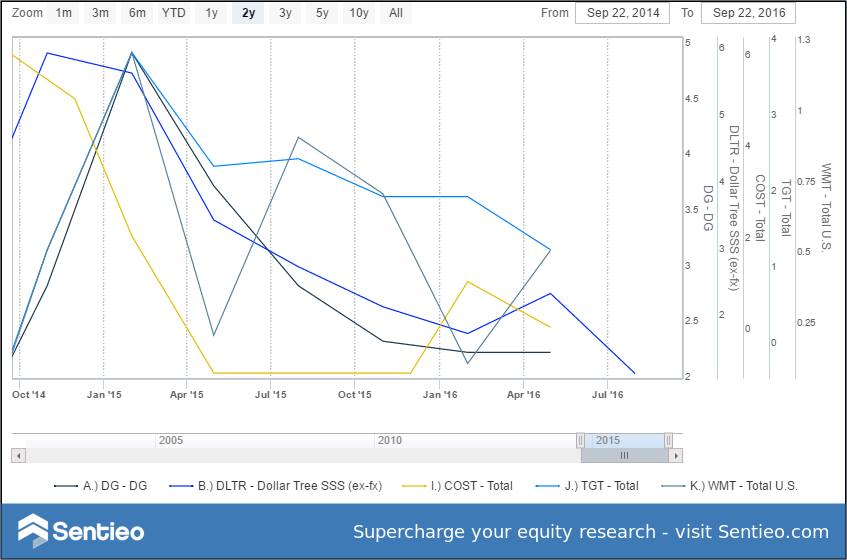 Digital Disruption:
While the massacre continues with brick and mortar retailers, e-commerce pure plays are thriving. According to U.S. Department of Commerce, e-commerce sales grew 15.8% in 2Q16, the fastest 2Q growth since 2011, and accounted for 8.1% of total retail sales, up from 7.1% in 2Q15.
Amazon benefits hugely from the channel shift, as evident in its quarterly results. Even though the traditional players are investing in online capabilities, they are growing less rapidly than Amazon. We use Sentieo's plotter tool to track Amazon's Americas sales growth over the period, along with desktop and mobile traffic. While most retailers are struggling, Amazon has shown a very strong growth rate and is continuing its market share gains.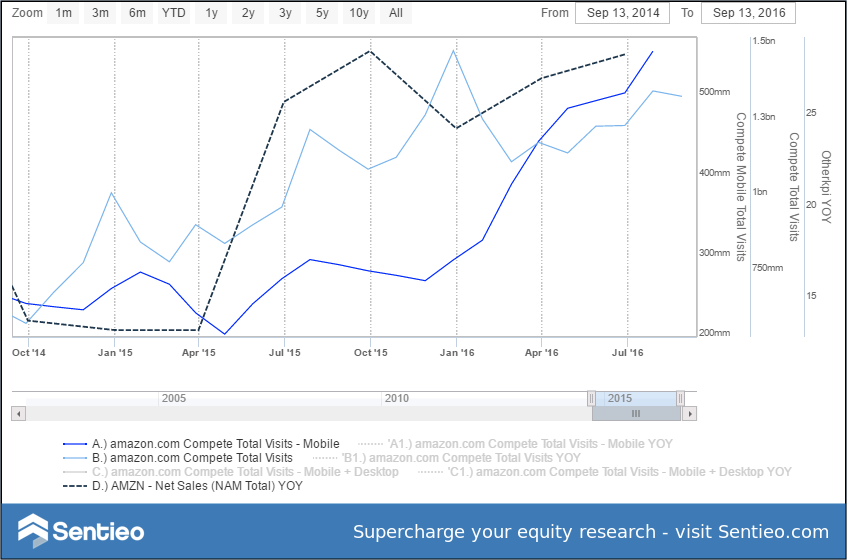 What do we conclude?
Store closures can be bad news for a long tail of retailers, as Macy's, Kohl's, Sear's are anchor tenants at a number of shopping malls. Their struggles could translate into less foot traffic for co-tenants. However, bad times for big retailers could also mean market share gain opportunities for their competitors – as is the case with the decline of Sports Authority. Dick's Sporting Goods stands to gain enormously from the closure of Sports Authority stores.
The consumer sentiment is expected to stay weak till the election uncertainty is over. Coupled with moderating gas prices, it seems like retailers will face a challenging environment for next few months. While e-commerce disruption remains a long term theme for the entire retail spectrum, it will be interesting to see how traditional retailers adapt to this change. We could possibly see more store closures and bankruptcies until a new normal in the retail landscape is reached.
To see how Sentieo can help you get up to speed on sector trends, simply go to Sentieo.com and sign up for a free trial. To download our apps, search "Sentieo" on your app store or click our links here on a mobile browser. Don't forget to subscribe to the Sentieo Blog so that we can notify you of new posts by e-mail.