Ascena Retail's stock was down 25% on Tuesday after reporting disastrous 4Q16 results. The comp store sales declined -5% in 4Q16 vs. consensus estimate of -2.3% and EPS came in at $0.08 vs. consensus estimate of $0.16. Further, the company guided for a -1% to -2% comp store sale growth for FY17, despite weak comps in FY16. We use Sentieo's plotter tool to track the revenue estimates and stock price for ASNA, and note a severe downward revision after yesterday's results.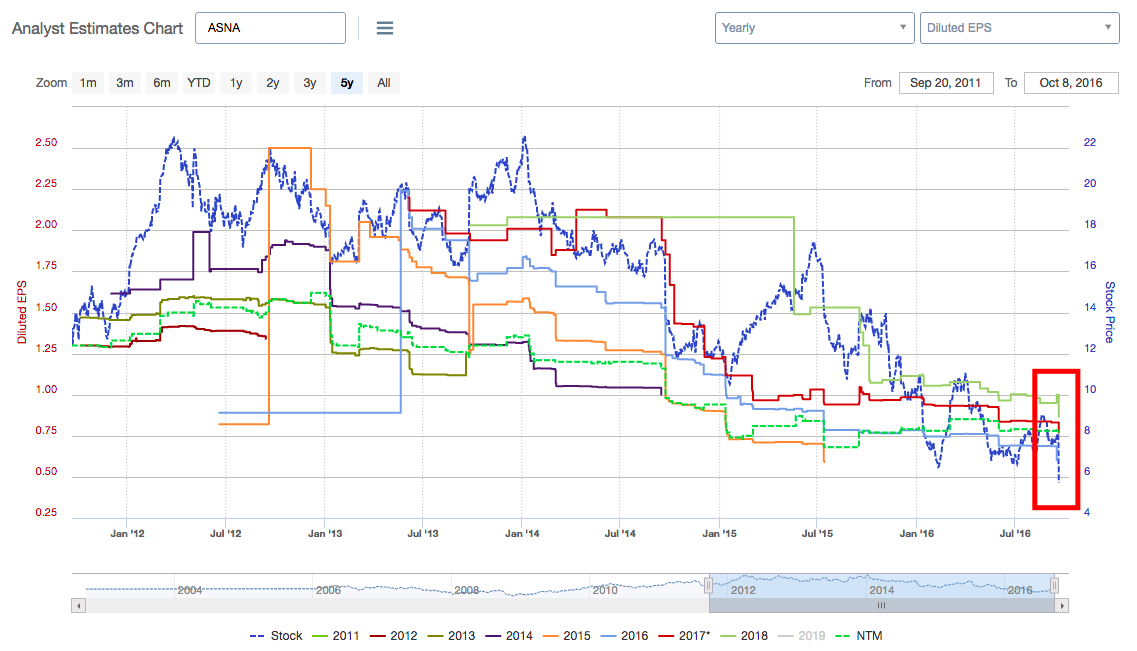 We highlighted in our previous blog post that the retail sector is going through a rough patch due to digital disruption, weak consumer sentiment (driven by election fears), and commodity deflation, leading to a series of bankruptcies and store closures.
Ascena is feeling the pain in retail. A weak consumer sentiment, along with digital disruption, has adversely impacted store traffic. We note David Jaffe, CEO of Ascena, highlighting restrained consumer spending and the secular changes impacting the industry:

Store closures to follow:
As we noted in our previous blog post, store closures in the retail sector are trending higher than they were during the 2008 recession period. We expect this decline to continue until a new normal is achieved.
ASNA confirmed during its conference call that it expects to see store closures in the coming year. We note David Jaffe, CEO saying:
As the channel shift to digital impacts the whole industry, we see ASNA taking initiatives to develop a more comprehensive omni channel strategy. We note David Jaffe, CEO and Robb Giammatteo, CFO saying:  

ASNA will host its Investor Day on October 26 and provide more details.
What do we conclude?
Ascena's results is just another evidence of the ongoing mayhem in the retail sector. E-Commerce disruption and weak consumer sentiment are posing a graver challenge than the 2008 recession period. We can expect more store closings to follow, until we reach a "new normal" in the retail sector.