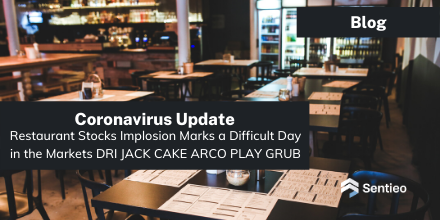 With the realization that countries across the globe need to move towards large-scale containment, including shutdowns and restrictions on gatherings and movement, we've seen massive weakness in restaurant stocks.
A number of these stocks were down in the double-digits only a day after we told the WSJ yesterday that the industry needed to take steps to "prevent shareholders from getting burned." Incidentally, we also covered stress testing restaurant sales declines by looking at 2008-2009 filings, and modeling scenarios for ARMK in our online model during the webinar we did on Monday.
We are seeing double-digit declines (vs. the 4-5% declines in US large caps and around 7% in US small caps), with names like DRI, JACK, TXRH, CBRL, BLMN CAKE, SHAK, EAT, DIN, DENN, BJRI, TAST, NDLS all down 10-20%, and PLAY, RRGB and ARCO (MCD franchisee) down more than 20%. We are also seeing yesterday's highlights, ARMK (dining services) and SYY (restaurant distributor), down in the double digits as well. Delivery play GRUB is also down in the double digits.
Why? We see three reasons:
First, restaurants, like the hard-hit travel industry, are consumer discretionary stocks. They compete with food at home, and the upcoming likely movement restrictions mean not reduced business, but zero business.
Second, restaurants are broadly low margin businesses so small drops in revenue hurt the bottom line disproportionately.
Finally, even if locations stay open, supply chain disruptions mean that the inventory will run out in a very short time, which means no sales.
---
Concerns over inventory
For example, below, we can see that CMG carries only two days worth of inventory.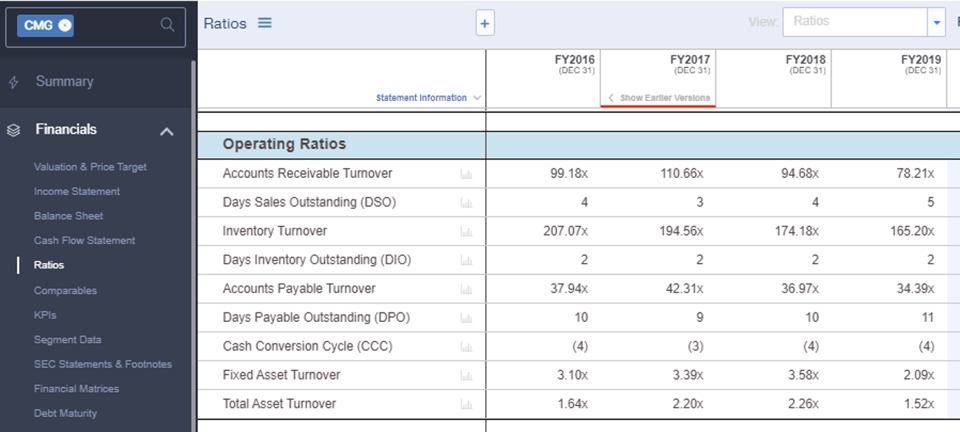 The market is also concerned about high-profile negative developments, such as BA pulling down a credit line (and the immediate CDS blowout) and Deutsche Bank "delaying" a payment on its CoCos.
---
Drug trials driving headlines
On the positive side, we are seeing more news around GILD's Remdesivir trials. We are staying on top of the topic with our Saved Search alerts. There are several other critical drug developments right now that can help the world recover.
---
Guidance withdrawals continue
We continue to see an uptick in 2020 guidance withdrawals from the travel/hospitality industry. The quotes in the press releases point to what we would call a sudden stop.
RLJ Lodging Trust (RLJ)
Xenia Hotels & Results, Inc. (XHR)
Hilton Worldwide Holdings, Inc. (HLT)