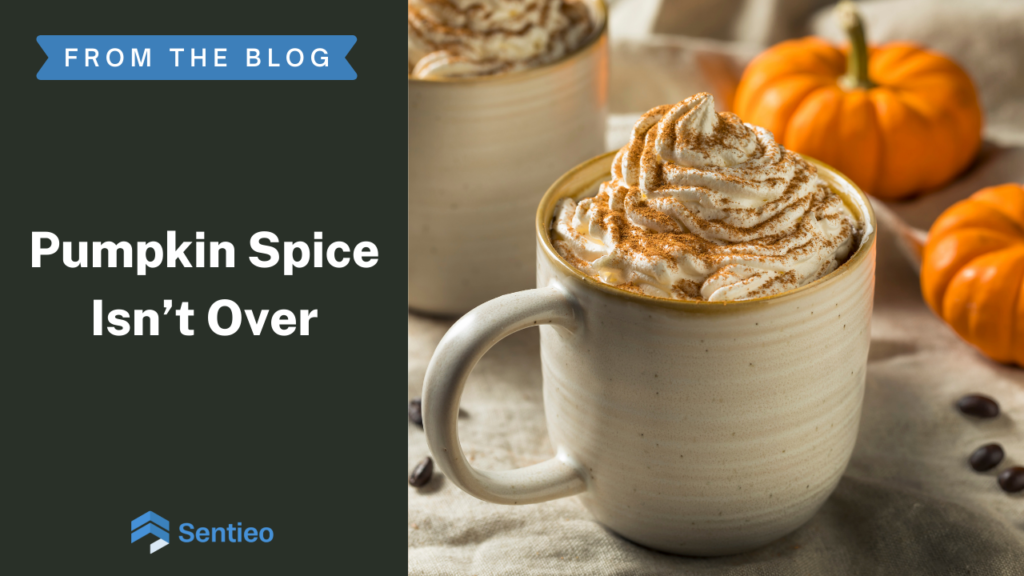 Our head of research Nick Mazing was wrong (yet again). In a 2019 blog post, he declared that Pumpkin Spice is over. The blog looked at the earlier start and lower peak of "stacked" searches for pumpkin spice, as well as new products like the pumpkin spice-flavored SPAM selling out in hours, and stated, verbatim, "we declare that pumpkin spice is over." 
Not so fast.
Two years later, we can see that "stacked" search trends for pumpkin spice are trending very much in line with the record recent years (for more strong consumer trends, download our white paper with 39 Post-Pandemic Consumer Trends). 
Notably, the recent pattern (August start) is a major shift, versus the historical (pre-2010) trends. We can see that (1) the search volumes are much bigger, and (2) the peak is much earlier (vs. Thanksgiving). We left the 2021 trend for contrast to the 2004-2009 trends: not only is it spiking much earlier but it is also higher year-round.
Using the Sentieo platform's Document Search feature, we queried press release titles for mentions of pumpkin spice to assess the pumpkin spice-related product releases this year. (And, yes, stop using Ctrl-F: watch our Basic and Advanced Document Search webinars.)
The first one out of the gate was a public company, Laird Superfood (NYSE American: LSF), a recent SPAC transaction: the company's core products are coffee creamers. We also spotted "the usual suspects": Dunkin' Brands with Pumpkin Cream Coldbrew, Keebler (Kellogg) with pumpkin spice fudge stripes, Peet's Coffee, recent IPO Krispy Kreme (Nasdaq:DNUT), and others. Two products that stood out this year were Pumpkin Spice Cup Noodles from Nissin (yes, really), and Honey Baked Ham Company's "early release" of Pumpkin Spice-glazed Turkey Breast.
Of course, the pumpkin spice "OG" Starbucks (Nasdaq:SBUX) is still going strong. We reviewed their transcripts going back to 2006 for comments. Below we have extracted a few illustrative quotes about the phenomenon.
February 2006:
Last year's seasonal and holiday favorites returned this year, beginning in the fall with the Pumpkin Spice platform. The continued success of Pumpkin Spice provided an excellent prelude to the November return of our great anticipated holiday offering Beverage Trio — peppermint, gingerbread and eggnog.
November 2006:
Beverages introduced during the fourth quarter included our new Frappuccino juice blends, offered in two popular flavors, pomegranate and tangerine, and the return of one of our highly anticipated seasonal flavors, pumpkin spice. The continued success of pumpkin spice provides an excellent prelude to the return of our popular holiday beverage trio, Peppermint Mocha, Gingerbread Latte, and Eggnog Latte.
November 2011:
Strong sales momentum coming into Q4 accelerated in September in response to our annual fall promotions featuring our Pumpkin Spice Latte and Salted Caramel Mocha, and Tazo Chai Tea beverage platforms, and our Anniversary Blend coffee. Pumpkin Spice Latte was a notable success, growing 44% over last year.
January 2013:
Also fueling our strong comp growth were our fall promotional beverages, headlined by pumpkin spice latte, combined with our always popular holiday beverage offerings.
October 2013: 10th year anniversary
Building on the strong summer sales in September, the Americas region kicked off for its fall promotional calendar, with what has become our most popular seasonal beverage ever, pumpkin spice latte. 2013 marks the 10th anniversary of PSL, with customers having purchased more than 200 million PSL beverages since launch. Despite the proliferation of knock-offs and copycats, sales of Starbucks PSL beverages are as strong as ever and once again exceeding expectations as customers continue to embrace the quality of the original Starbucks PSL.
November 2013:
We are continually, frankly, even amazed internally at its ability to keep driving its proposition, comping over itself every year, and, frankly, how it has become one of those iconic products that many of our customers measure the seasons by.
When Pumpkin Spice Latte hits it is fall, when the red cup comes into Starbucks stores it is time to think Christmas. We have actually become, in many of our cases, some of those iconic products that really signal things in people's lives as we have become more pronounced.
October 2014:
With regard to products, it's clear that over the last 10 years, we created a category that did not exist with Pumpkin Spice Latte. Having said that, PSL did very well for the season.
September 2020:
I think it just goes to show you that in the current environment, customers are looking for a taste of something familiar, something that helps them feel that they've returned to a sense of normalcy. And that's what Starbucks as a brand represents for many customers, and that's what a product like Pumpkin Spice represents for so many of our customers as well.
To learn more about how the Sentieo research platform can support your investment research workflow and outcomes, we invite you to request a demo.