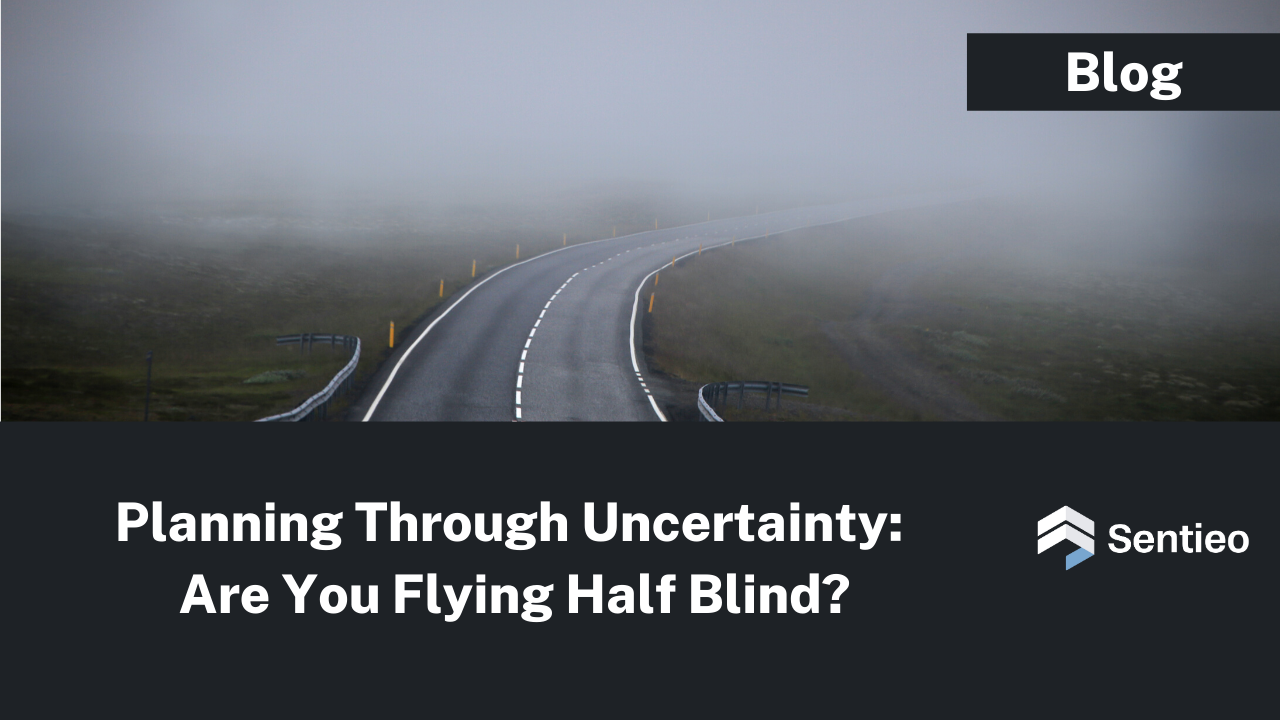 Jason Fake is Strategy & Business Development at ITT.
At a prior company, a recent acquisition resulted in the parent's entrance into a new industry. In the early months post-acquisition, processes and methodologies were being put into place to integrate with the parent's operating model and set of deliverables and reporting. The monthly goals forecast for the portfolio was built from a bottoms-up analysis of the pipeline (stage, propensity-to-close, etc.), and produced a figure of X-thousand units. After soundly beating the forecast, the company – naturally in high spirits – was presenting to senior leadership when they were asked the following question:
Was our performance good?
When I think about the topic of flying half blind, I am reminded of this moment; the Portfolio Management team had generated a forecast, which the operation crushed, but nobody in the room could confidently answer how the performance stacked up against industry benchmarks, much less against our peers. The company had absolutely spent its early months operating half blind.
BACKDROP
COVID-19 has impacted virtually all industries, some of which have been completely upended. The impact has varied in intensity and duration across geographies; certain end-markets are recovering more quickly than others, and there are areas that have been boosted as a result of the current pandemic. It is under these circumstances that we look at some of the harder hit areas: commercial aerospace, industrial manufacturing, and oil & gas.
AROUND THE WORLD IN 90 DAYS
It's roughly 90 days between earnings calls. These fairly structured windows into an organization's financial performance, thought processes, and go-forward actions contain a wealth of information.
In late January / early February, the biggest concern for Commercial Aerospace was the 737 MAX issue. Outside of those companies with operations in China, COVID-19 was mostly an afterthought; even then, the impact was usually treated as an isolated blip. Companies reported record quarters / years in categories ranging from revenue to OM to Adjusted EPS, and their FY2020 guidance – outside of commercial aerospace – was good news for their investors.
In late April / early May, the biggest concern across industries (and especially Commercial Aerospace) was COVID-19. This was no longer just a China problem – in fact China had mostly recovered – this had become a global pandemic. Companies withdrew their FY2020 guidance, provided an impacted financial performance along with the proclamation that the next quarter would be worse, and then spent the bulk of the call talking about three things: safety actions, liquidity (incl. CapEx freezes, credit revolvers, debt, burn rates, etc.), and preserving margins (restructuring actions, cost cuts, decremental targets, etc.).
Think about that change. The A&D peers went from bragging about record operating margins and cash flow to targeting decremental margins and maintaining liquidity. In 90 days.
THE NEED FOR STRATEGY AND COMPETITIVE INTELLIGENCE
Clearly, this didn't all happen on day 90, and it didn't all happen at once. There were many events (remember negative oil prices?), some quite impactful, that happened in the interim. Social distancing and travel restrictions were imposed in the U.S. in March, and unemployment quickly spiked. In addition, as the different geographies found themselves at different phases and trajectories, the actions of their governments and their businesses varied significantly. This sent shocks throughout the supply chain.
If there was ever a testament as to why it's essential to stay on top of your industry as well as the actions / performances of your peers, customers, and suppliers, it's the last 90 days. Don't fly half blind!
Some of the questions to consider, and examples of reactions:
What exposures do I have, and how diversified is my end market mix?

Industrial Conglomerates such as 3M and Honeywell pivoted toward their medical end markets and focused on PPE production

High-speed data, industrial automation, and warehousing are seeing some intensified focus

The recent restructuring actions by GE were most heavily borne by its Aviation division

What are the impacts to the supply chain? Who is open / taking deliveries, what are the OEMs doing?

In aerospace, both Boeing and Airbus have announced multiple production decreases

As businesses in different geographies have had to comply – or seek exception to – their government's mandates, the ability to manufacture / ship / receive goods along the supply chain has been affected, and companies have had to navigate around these impacts

What shape will the recovery take (V, U, L)? What are my plans for each of these circumstances?

As mentioned earlier, there is a heavy focus on liquidity. Companies are being very judicious with their CapEx, and have scaled back most of their discretionary spending

Some high-profile mergers, acquisitions, and JVs have been scrapped; M&A activity is down

As companies try to understand what the level of demand will look like throughout and post-recovery, they are making the strategic decisions to align capacity with that demand
EYES WIDE OPEN
Given the need for up-to-date competitive intelligence and an evolving strategy, the natural question is how to get started. Consider this a primer, and by no means an exhaustive list:
Transcripts, 10-Qs / Ks, presentations, and press releases (Credit to Stacy Turnof for the summary she provided during the "Earnings Calls Perfected" Webinar in June; I've expanded on it in a few areas, but her recommendations were really spot-on)

Create a list of peers, customers, and proxies for the pertinent industries / end markets, both direct and indirect

Key issues: What's company-specific, what's industry-wide, what are companies a-z doing, what are the consensus actions, and where are the disconnects

On the transcripts, don't restrict yourself to the earnings calls; there are transcripts of Investor Day presentations, Industry Conference presentations, and others that contain a lot of information

Industry Publications

There are likely already organizations keeping the pulse on your industry. These companies usually produce monthly newsletters / state of the industry reports, which you can have sent to your inbox. In addition, they often have an archive of relevant articles

Subscriptions

There are aggregating sites such as Sentieo (my preferred) and FactSet

There are industry-specific sites like Forecast International for A&D

There are function-specific sites like MergerMarket for M&A

Internet Search

Using Boolean searches to find news on companies / industries / end markets can help uncover a lot of good information. You can bookmark sites and opt-in to news feeds if you find a particularly useful site

Synthesize the Information

Most importantly, learn to aggregate all of this data in the context of – and in concert with – your core strengths, strategic fit, the market characteristics, and the future of the industry
FINAL THOUGHTS
While the theme has been, more or less, why strategy and competitive intelligence are essential right now, I hope that the above has illustrated the importance of the function in both good times and bad.
As we head into the next earnings season, it is absolutely key to understand the industry and macro events, how they've shaped the current environment (and how things tracked against expectations), and what kind of climate companies see going forward.
A well-informed strategy, developed in cooperation with / full support of Operations and other key stakeholders, can allow a company to take advantage of opportunities and capture market share… even during a pandemic.
Want to learn more? Join our webinar "Planning Through Uncertainty: Are You Flying Half Blind?" featuring Jason on Wednesday, August 12 at 12PM ET / 9AM PT. Register here.