The last time we reached out, we explored how the vast information available today created an efficiency loss for today's analysts.
This time around, we're exploring how technology is helping to manage this problem it helped create.
AI, machine learning, and natural language processing have led to the development of tools analysts can use to overcome research process efficiency challenges and supercharge the hunt for alpha. While none of these tools replace humans, they augment the decision-making process and ultimately help to build more robust investment cases.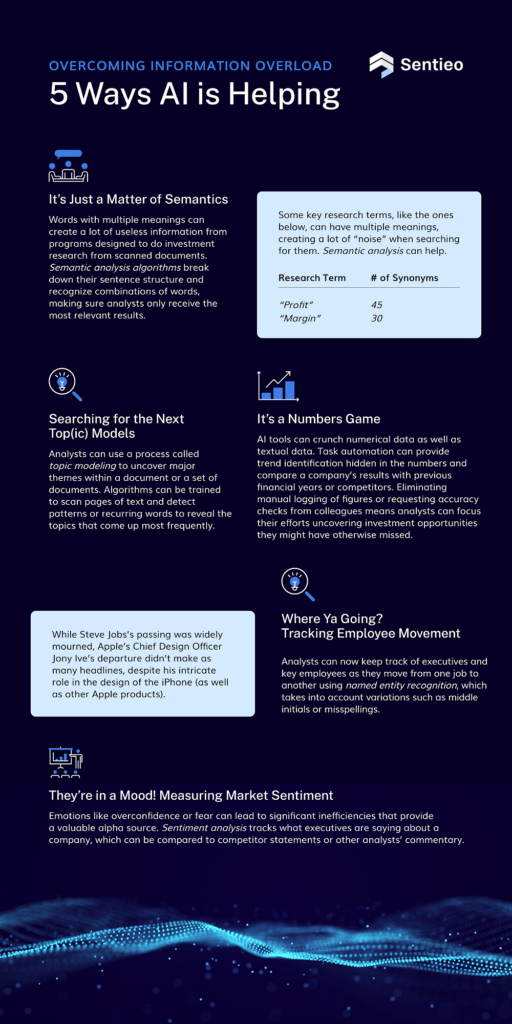 Emotions like overconfidence or fear can lead to significant inefficiencies that provide a valuable alpha source. Sentiment analysis tracks what executives are saying about a company, which can be compared to competitor statements or other analysts' commentary.
Sentieo partnered with the Harvard Business Review (HBR) to publish a briefing paper highlighting how inefficient research processes can hinder a firm's pursuit of alpha. It also explores the idea that while technology is part of the cause, intensifying the flow of information, it can also play a role in the solution.
If you liked what we covered today, feel free to check out the blog post with further insights on this topic or download the full briefing paper here.