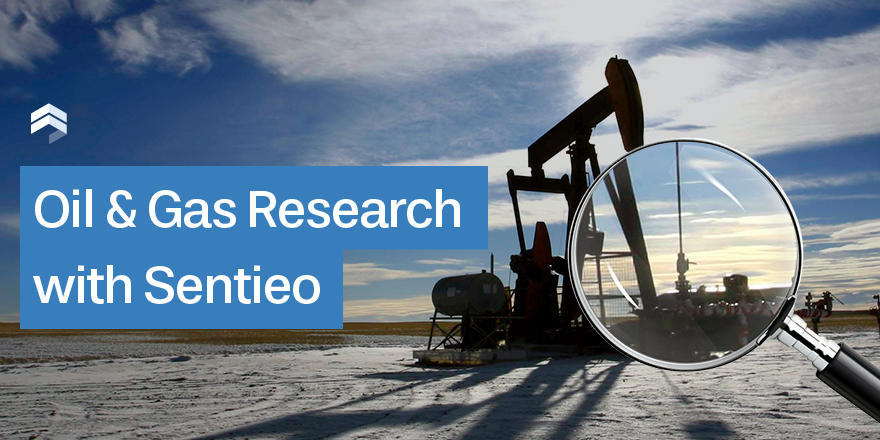 The O&G industry reports tons of data in both volume and detail—from drilling rig and pressure pumping data to well production info. Looking for and analyzing all of this information for your investment ideas is a very necessary but time consuming process. Designed by buysiders for buysiders, Sentieo is the best tool on the market for leveraging technology to rapidly compress your research cycle and give you more time to generate true alpha insights.
In this post, I'm going to show you a glimpse into the world of oil & gas research using Sentieo—so that you can spend more time analyzing your the findings and try to come up with answers to questions such as:
Which E&P companies might be at risk of defaulting on their loan obligations?

Has an E&P operator you are following announced those new well results yet?

What would this company specific data would look if I plotted it against other metrics?

What are some ways I can use Sentieo to research industry trends?

What are companies are saying about break-even oil prices and well-economics?

How many drilled but uncompleted wells are in a company's backlog?
Let's get started.
Digging deep through SEC filings: Missed interest payments
Let's assume you know nothing about the E&P space but want to take a look at companies that have missed interest payments. You can try running a simple search for 'interest payment' or 'missed interest payments', but this is likely to return too few or too many results. After doing a bit of reading I noticed that in most instances where a company mentions a missed interest payment, there will be some combination of the following words in the paragraph:
grace period
elect(ed)
interest payment
I ran a search asking Sentieo to return all results where these words were within 30 words of each other. These were the results:
I sifted through a couple of the documents and took a few highlights, labeling these highlights under the custom label Grace Period. These highlights were automatically tagged and stored in my Sentieo Notebook for easy recall. In this view, I am looking at three separate documents where I applied the Grace Period highlight.  You can use these names as a possible starting point on finding companies that might be running into liquidity issues or are at risk of default.

Tracking well results 
Energy investors that have an interest in the Anadarko Basin will probably be closely watching Newfield Exploration's ($NFX) STACK infill spacing pilot which, if successful, could add to their inventory and provide NAV upside. The first of two planned pilots, the Chlouber, is currently underway with a second pilot scheduled to be spud once the appropriate location is found. Both pilots should be online by the end of 2016.
You can easily keep tabs on the results of this pilot by setting up a Sentieo keyword alert.  Sentieo will send you an e-mail and/or in-app notification when there are new results for your search so that you don't have to keep running the same search time and time again.
Let's explore this by setting up a Sentieo alert for mentions of the Chlouber pilot:
Step 1) Pick your search term. You are allowed more than one word, though usually one word will do.

Step 2) Add any filters you would like to apply to your search such as a company specific ticker, sector filter, etc. In this case, I am including NFX as my ticker and Chlouber as my search query.

Step 3) Click on the floppy disk icon to the right of the query search bar

Step 4) Select your alert preferences.  Click Desktop and/or E-mail and then hit Save.
The next time Chlouber is mentioned in any press release, presentation, 8-k, 10-K, 10-Q, etc, I will immediately be notified by Sentieo.  This can be especially useful during earnings season when there are multiple press releases and earnings calls at the same time.

Creating charts using data extracted from filings
Let's say you are looking at a 10-K or 10-Q and come across some interesting data inside of a table you would like to further explore. Thanks to our table extraction technology, you can quickly send any data from a table directly to our data visualization tool (Plotter) and layer in additional data-sets (such as your own .csv file) or traditional financial metrics.
Given the state of the current commodity price environment, the health and quality of a company's balance sheet has become more of an important factor when looking at E&P companies, maybe even more so than production growth and asset quality (this was more of a factor in 2015).
Pick a handful of the top-performing E&P's in 2015 and you'll likely notice that a lot of the top performers had low net debt/EBITDA multiples vs their under-performing peers.
In this example below, we have a couple of different data sets being displayed all at once.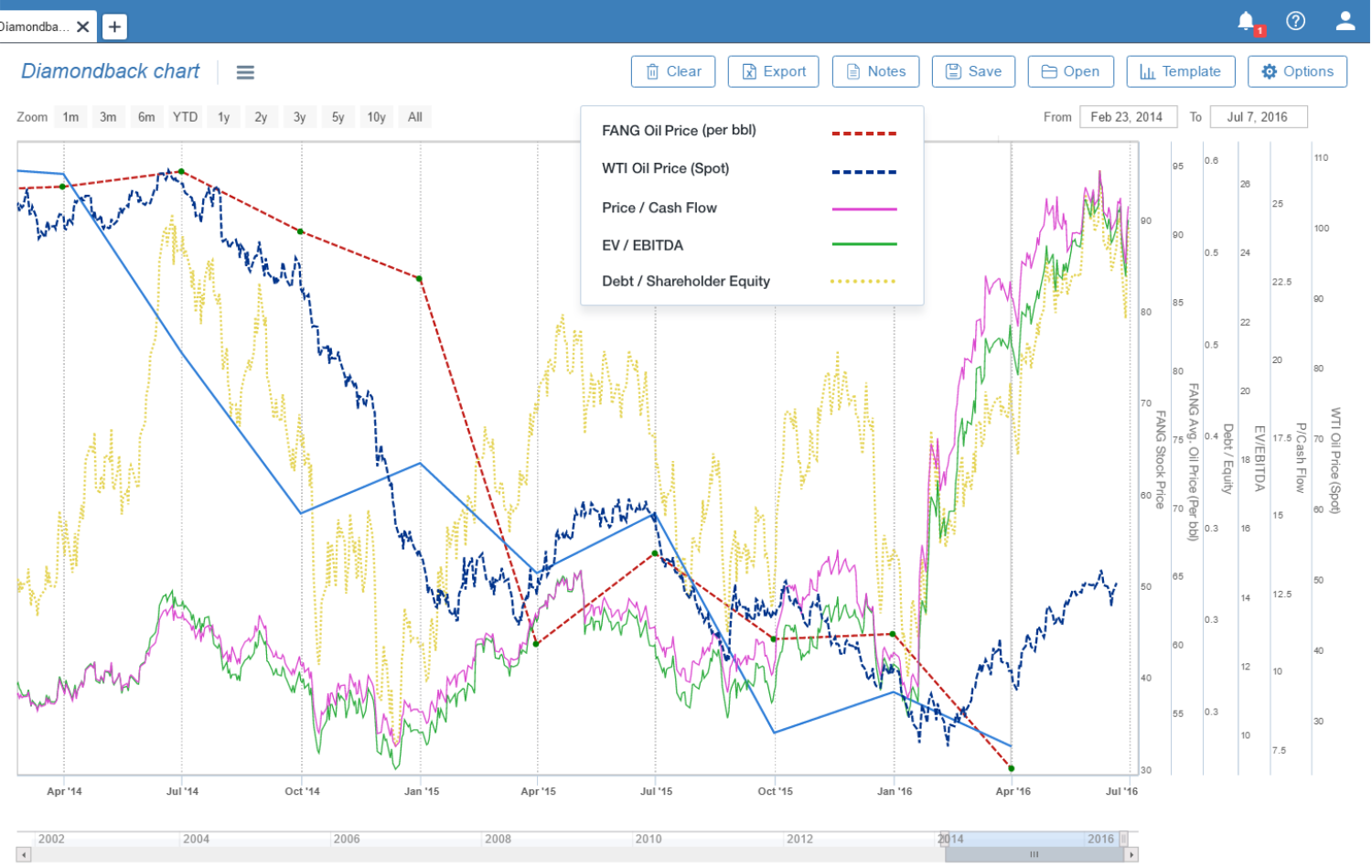 I used the Time Series function to crawl though all of Diamondback's previous filings and create a composite table of their historical average price of oil per barrel (dashed red line) versus WTI crude oil prices (dashed blue line). I then added Price/Cashflow (pink line) and EV/EBITDA multiples (green line). Finally, I threw in stock price (yellow dotted line) and created my own hybrid series, Debt/Shareholder Equity (solid blue line), by dividing Debt over Shareholder Equity.
In this one chart, we can visualize the following:
Average selling price of oil trending down with the price of WTI

Leverage trending down over time

Stock price, Price/Cash Flow, and EV/EBITDA shooting up
The best part about this is that you can save any chart as a template which will allow you recreate this graph for other companies by simply entering the ticker. The sky is the limit on the number and different types of data sets you overlay with Plotter.
Researching industry trends
Document search is another great way to find out what companies and analysts are talking about in the E&P space. By performing an open ended search (not specifying a ticker), you can find out what all companies in the space are saying about your particular search term. I've included some relevant searches an E&P analyst might be interested in running below:
Theme: Companies continuing to reveal improving capital efficiency and the ability to do more with less (production beats, lower than expected operating costs, improving well performance, declining q/q capital spending).
Keywords: Further efficiency gains, cost savings, more with less, what inning, operational gains

Theme: Companies delivering strong performance on costs which helps contribute to EPS beats and help drive stronger capital efficiency. There are many factors contributing to the substantial improvement in LOE costs (reduced water handling costs, lower fuel and electricity costs, better uptime well performance, improved base production decline management, and reduced workover activity)
Keywords: LOE, reduced costs, cost savings

Theme: Future E&P revenues are a function of the selling price of the various hydrocarbon streams based on market pricing (before taking the effect of hedging into account). Everyone from analysts to banks to E&P's have different assumptions of where commodity prices will be in the future, so it is important to understand what prices management is assuming when they talk about any forward outlook.
Keywords: Price deck 2017, strip pricing

Theme: Looking at the unhedged outspend for 2017 on strip pricing can give an estimate of the sustainability of the investment program in a lower for longer environment. Operators that are far outspending unhedged cash flow could be more inclined to revisit capital programs and investment levels. Companies with substantial hedge books to lean on are in a position of strength (relative), allowing for a more aggressive approach to operating and planning in this current lower environment.
Keywords: Hedge book

Theme: Duration of the current lower oil price environment continues to be the million-dollar question, not how low oil prices will fall or whether they'll recover to a level required to grow supply again.
Keywords: non-OPEC supply growth, OPEC production, demand growth, supply growth, rebalance market

Theme: Many believe the longer this lower for longer oil price environment lasts, the more pressure there will be for companies to consolidate.
Keywords: M&A, consolidate, bid ask spread, acquisition, divestiture, non-core

Theme: Big gas oversupply situation
Keywords: Marcellus curtailment, Utica curtailment, natural gas storage, winter weather, Utica potential

Theme: Natural gas and NGL beats being a positive data point to many analysts, MAYBE suggesting that gas to oil ratios (GORs) are moving higher which could be a positive sign for the oil macro.
Keywords: GOR, gas oil ratio, gas beat, NGL beat
Break-even costs well costs and economics

The cost of producing a barrel of oil varies greatly across the country, creating a bifurcation between economic and uneconomic basins. Besides production and well performance, key inputs that impact a producer's expected rate of return and analysis on whether or not drilling the well makes sense include factors such as drilling cost, completion costs, transportation cost, royalty fees, etc.
In this example, Continental Resources ($CLR) uses well break-even data provided by Evercore ISI. CLR's top tier plays break even and generate an after-tax IRR at oil prices as low as $35.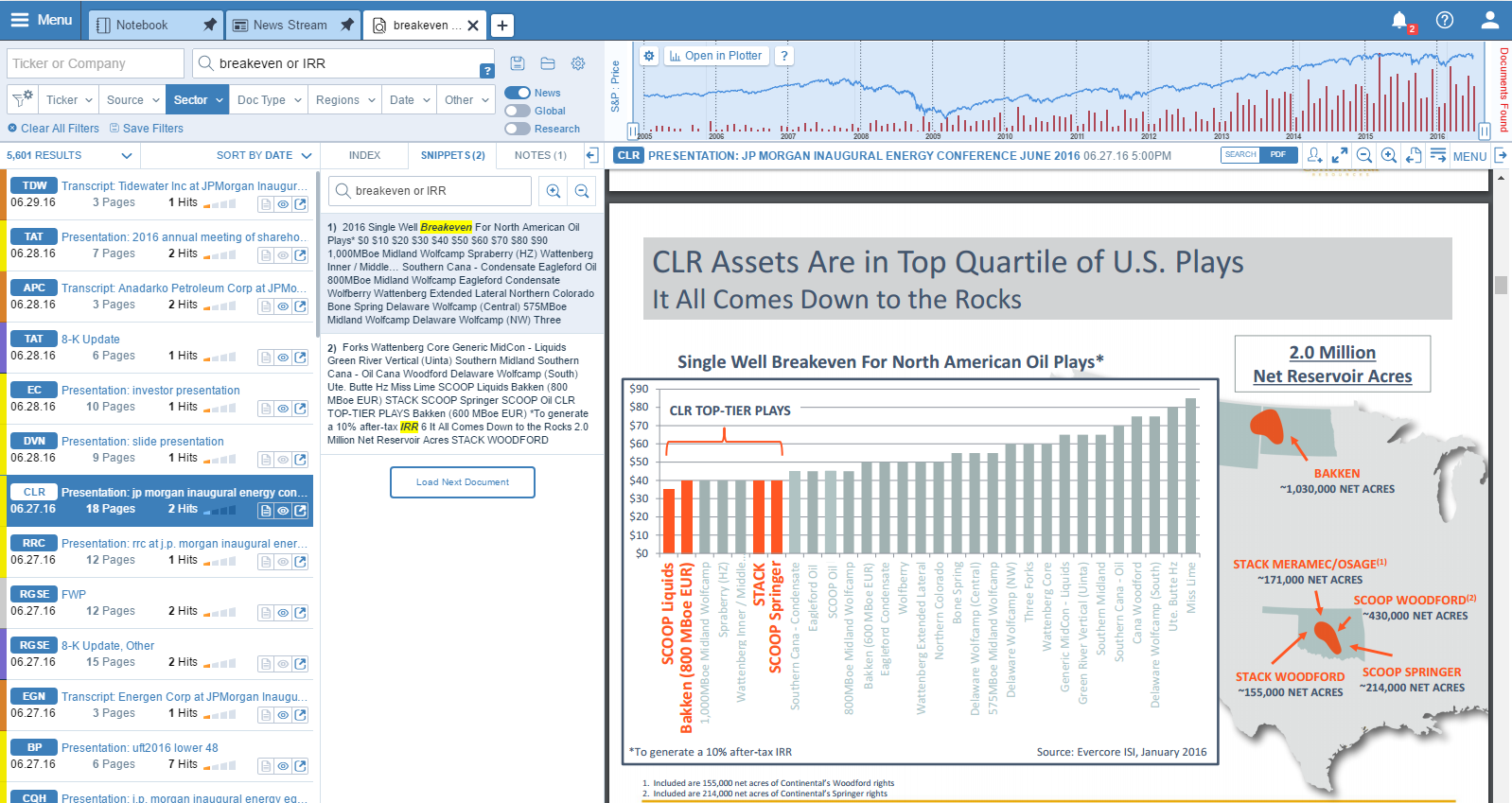 Anadarko Petroleum ($APC), an independent explorer, recently commented that the current level of break-even oil prices is around recent oil prices (~$45) for a U.S. onshore project.: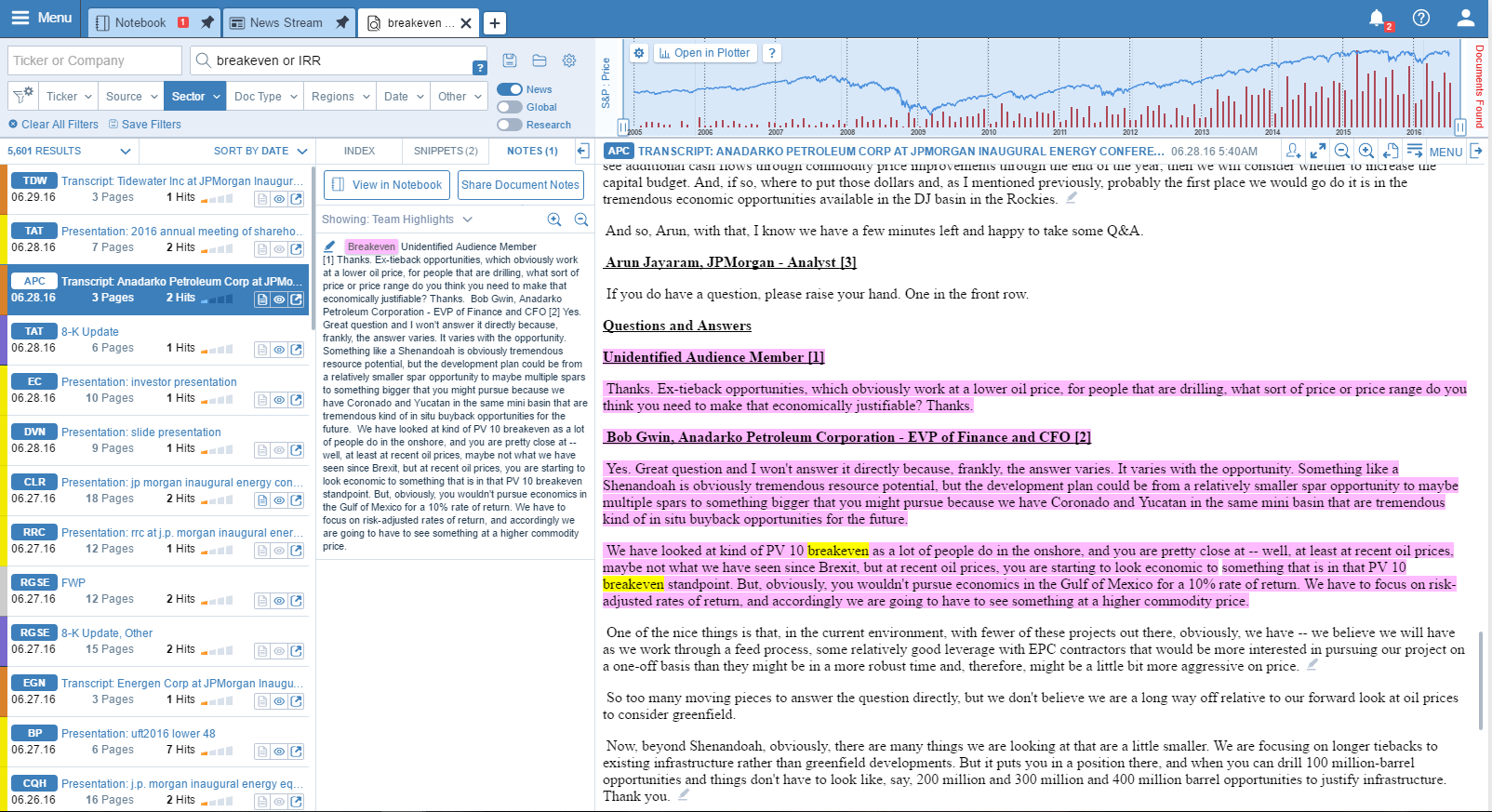 You can also use document search to help collect relevant economic input data for your models such as production information, well costs, and other relevant items. In this example, I ran a search for well economics or well costs:

What is a company is saying about their drilled but uncompleted well (DUC) backlog?
Let's take a look at Continental Resources ($CLR) and see what they have said about their drilled but uncompleted backlog. A very simplified explanation of how oil and gas is pumped out of the ground can be explained in two steps:
1)Drill a hole into the Earth with a drilling rig

2)Blast a bunch of water and sand into said hole (fracking) to create pore space through which hydrocarbons can flow through at a faster rate.
The steep fall of oil prices has caused many cash-strapped operators to post-pone step 2 described above because they are not incentivized to spend lots of money on completing these wells and bring online new production into a low commodity price environment. As a result, we have a buildup of these uncompleted wells known as DUC (drilled but uncompleted well). A rebound in oil prices could mean the possibility that a large number of DUCs are all brought online at once, causing a potential uptick in supply that could create a ceiling on oil prices.
Below, I have run a search for the words drilled but uncompleted or DUC. You can exclude the ticker if you want to see what all players in the industry are saying about these DUCs, but in this case I have gone ahead and limited the search to only CLR. These first 5 documents contained information which I thought was relevant, so I went ahead and highlighted excerpts from each document and tagged these passages with a DUCS label.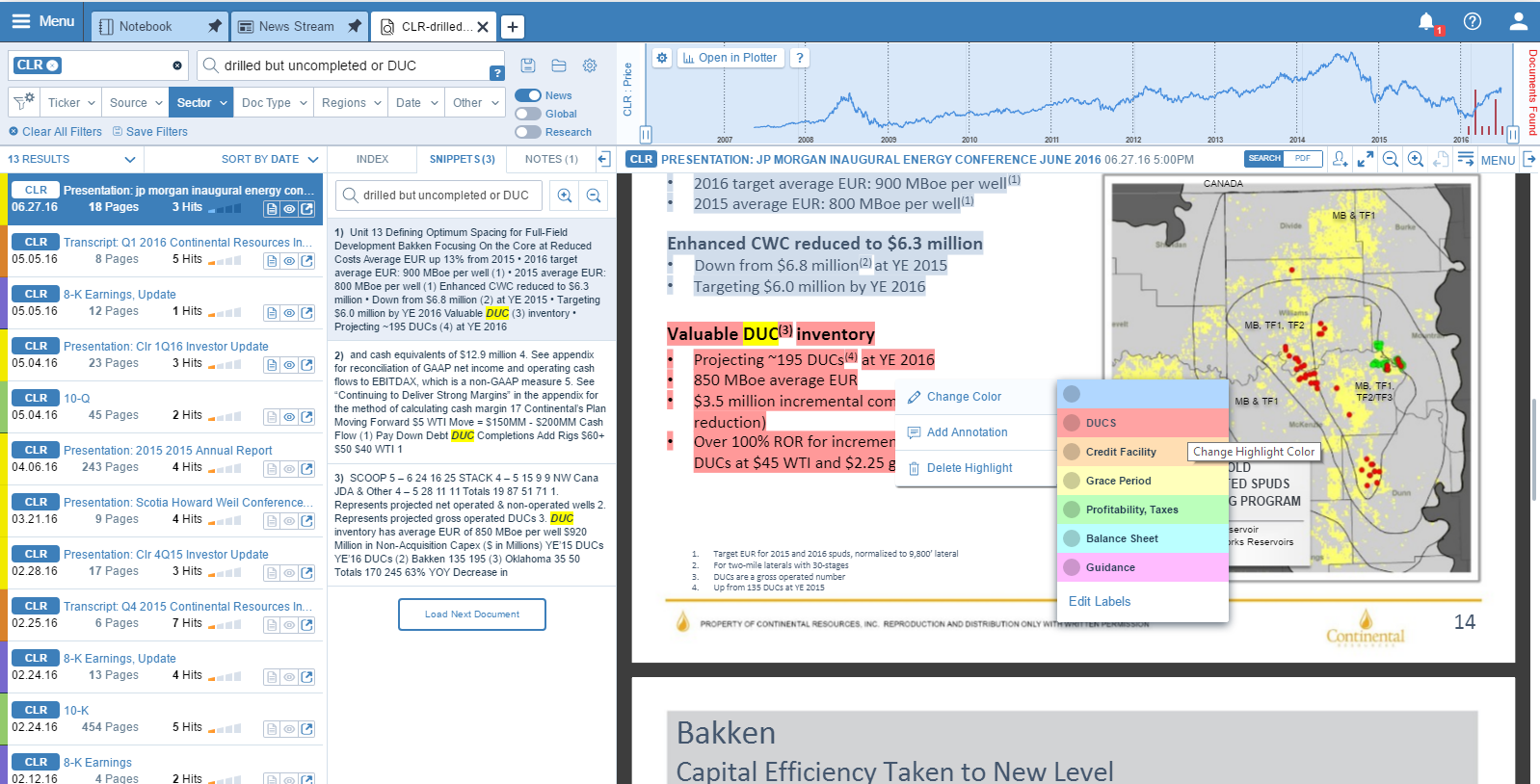 All of these highlights are then sent to your Sentieo Notebook, where they are automatically tagged and labeled appropriately. Here, I have applied a filter so that I can look at all of my CLR notes that reference DUCs
Hopefully some of these tips help you speed up your existing day-to-day research process, or have given you some ideas on new ways to use Sentieo for your E&P research. If you would like to speak with any of our Product Managers about anything you've read in this post, please send an e-mail to success@sentieo.com
To see how Sentieo can help with your earnings prep, simply go to Sentieo.com and sign up for a free trial. If you would like to continually receive content related to topics of interest in the markets, don't forget to subscribe to the Sentieo Blog so that we can notify you of new posts by e-mail.