Berkshire's investment in Kraft Heinz has not gone smoothly. After taking Heinz private together with private equity investor 3G in 2013, Berkshire invested additional funds in the takeover of Kraft Foods in 2015, and was ready to finance a quickly-withdrawn $143 billion offer for Unilever.
Things have gone south for KHC recently. The company's stock price and valuation have shrunk considerably over the last two years versus that of its peers. We can see KHC's EV/NTM EBITDA multiple (in thick red below) starting at the top of its peer group two years ago, but recently declining to very the bottom compared with other US food companies (interactive chart link). We do expect the multiple to move up somewhat over the next few days as analysts adjust their estimates after the call.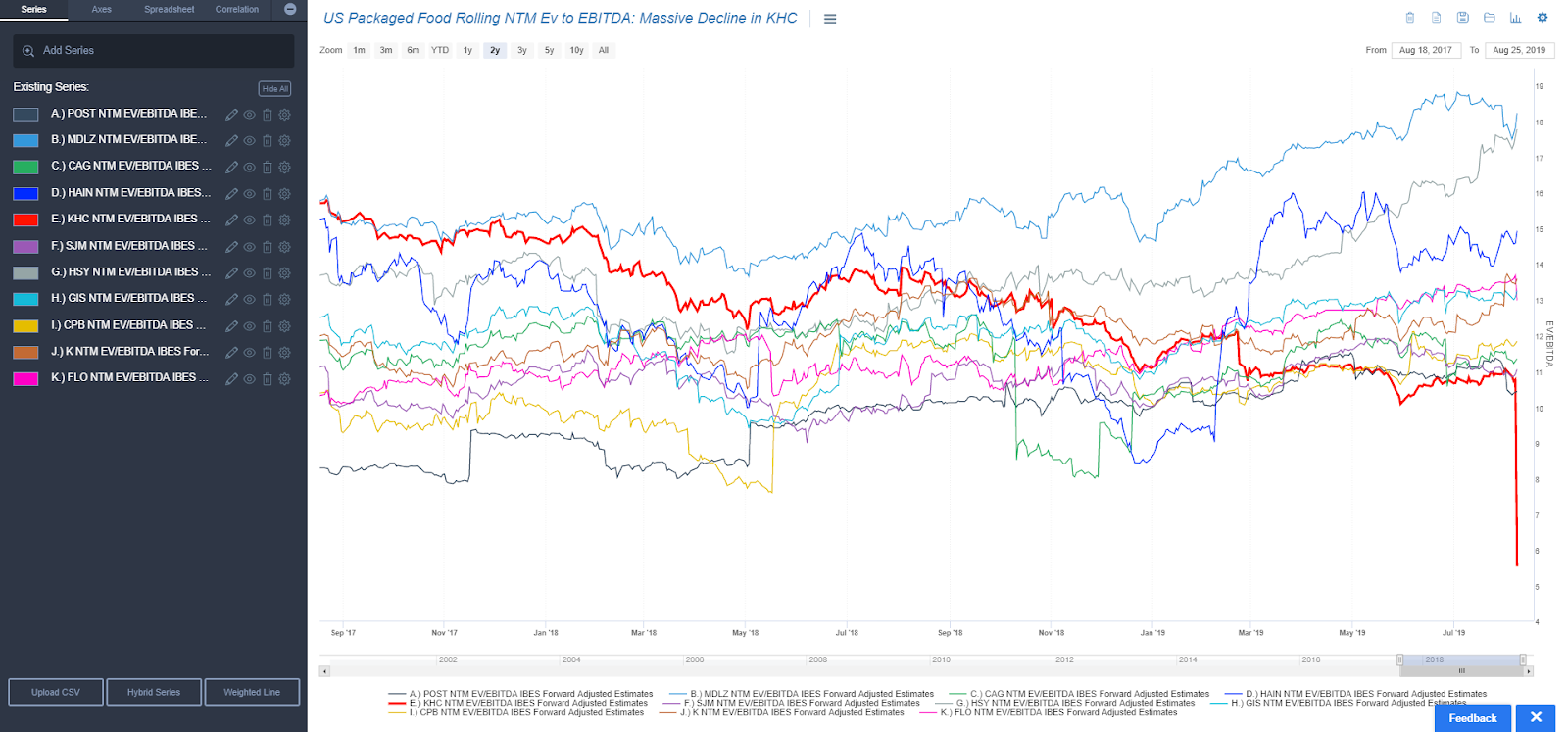 KHC also had to delay its financial reporting this year due to certain actions by former employeesthat led to small restatements, and more notably, the company took a $15 billion write-down of brand values and cut its dividend in February of this year. In the most recent call on August 8, 2019, the company, now with a new CEO from AB In-Bev, did not provide guidance, took additional impairments, and warned of future impairments.
The travails at KHC are a topic of increasing concern to Berkshire Hathaway investors. The number of mentions of Kraft on the most recent shareholder meeting more than tripled versus last year to 27, up from just 8 in 2018.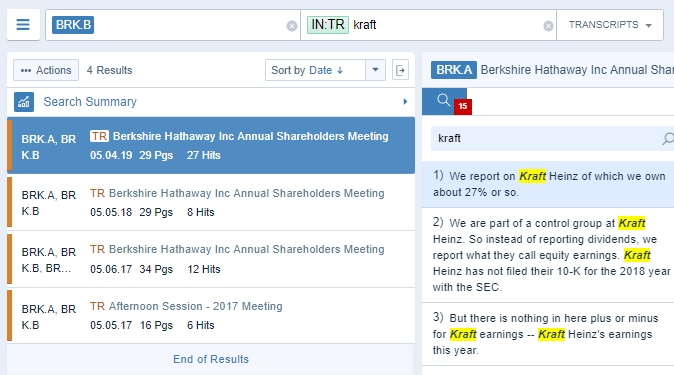 Buffett himself did admit that Berkshire overpaid for Kraft but still thinks KHC is a "wonderful business."


While getting color from the transcripts is nice, we were also interested in what is actually in the Berkshire filings, so we redlined the second quarter 10-Q filed with the SEC on August 5, 2019 against the Q1 version of the document. We saw a lot of new language around KHC.
What we're seeing is a lower fair value of the investment (easily observable, since KHC is publicly traded). The carrying value was reduced because of the KHC financials' restatement. We also see some puts and takes around the KHC YTD filings.
Most interesting to us was the inserted paragraph at the bottom; Berkshire reviewed KHC for impairments, and as of June 30, 2019, decided against it.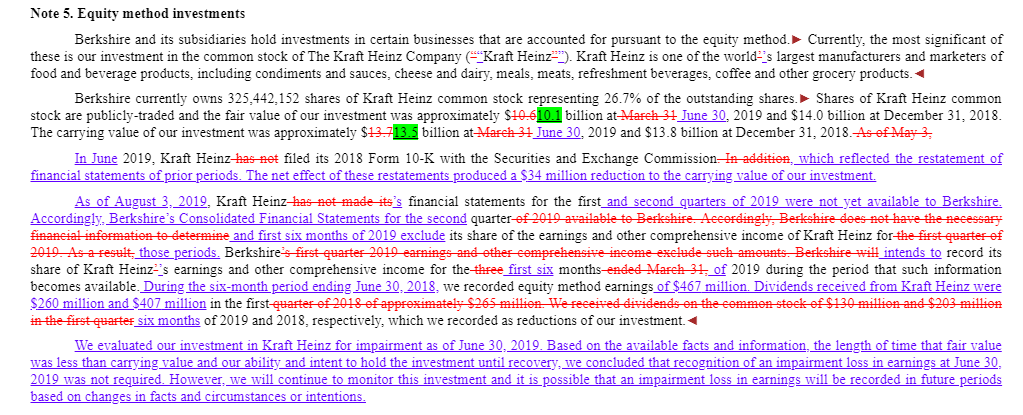 But Why?
The answer comes in a more obscure SEC filing, called CORRESP for Correspondence. CORRESP and UPLOAD are two forms of formal communication between the Commission and the filers. When a letter is directed from the SEC, it appears in filings as UPLOAD, and when the filer responds to the regulator, it is a CORRESP. 
Berkshire filed two UPLOAD and two CORRESP forms on July 24, 2019, though the exchange between the company and the regulator had taken place in May and June. 
The SEC was interested in how Berkshire was accounting for Kraft Heinz in the Q1 2019 10-Q filing.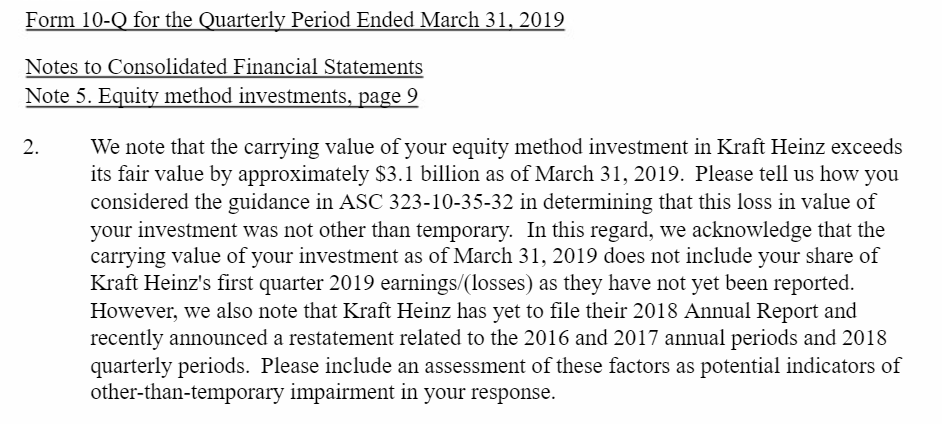 And here is how Berkshire responded in great detail to the SEC: KHC's stock price decline and the length of this decline was not substantial enough. Also, the operating results, while currently poor, will be better (divestitures, brand power, reduced but not eliminated dividend)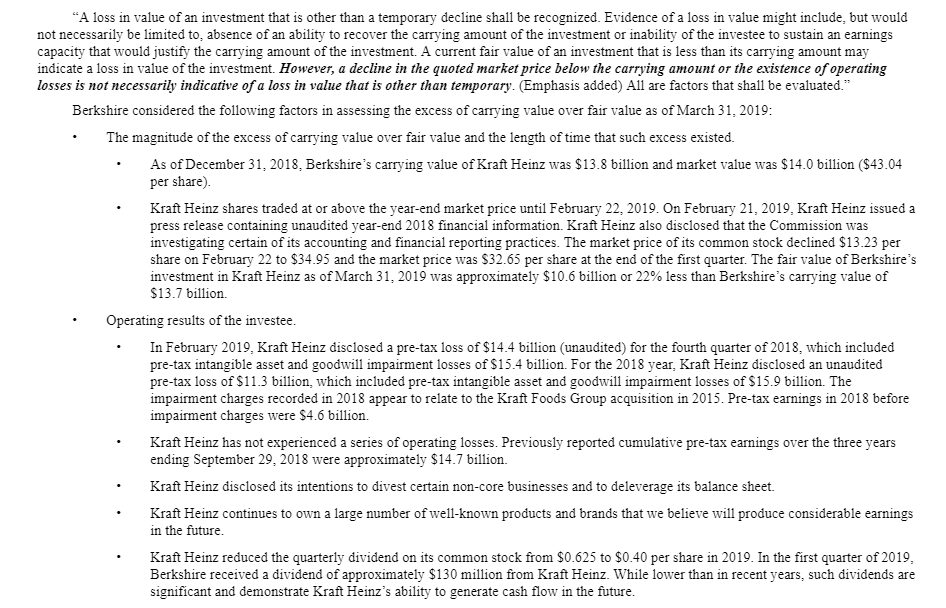 On the following page, we see more information related to how Berkshire thinks about KHC: there are no plans to sell the stock at any time, and the KHC restatements are immaterial.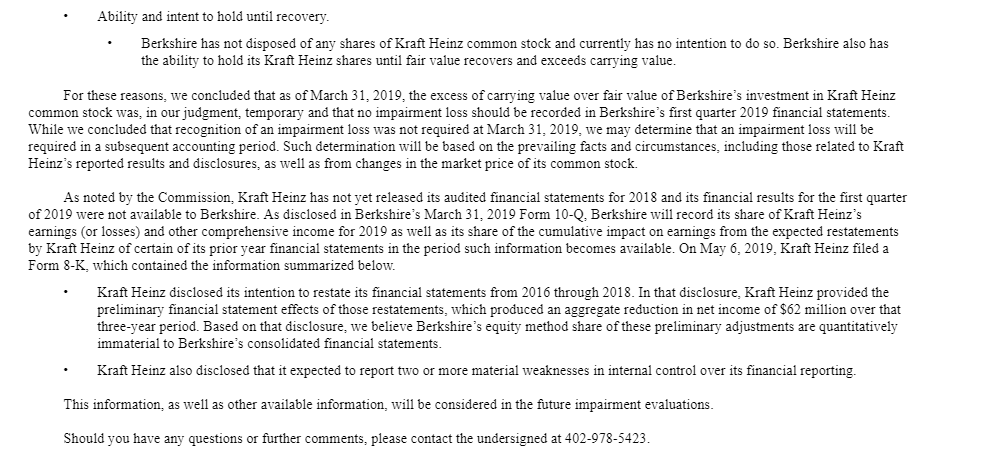 Given Berkshire's long involvement with Heinz, and then with Kraft Heinz, including Board of Directors representation, and its continuous investments in the space, we view these disclosures as material: Warren Buffett still thinks KHC is a long-term holding position that will recover.