Ted Sarandos, (Netflix's Chief Content Officer), had his annual chat at the UBS Global Media and Communications Conference last Tuesday, touching on a number of items, including: the recent success of the Netflix original show "Stranger Things," Netflix's continued international expansion, and the impact of licensed content partnerships. We used Sentieo to analyze the transcript and chart Netflix's viewership trends.
We ran a sentiment analysis of Sarandos' transcripts at this conference over the past few years (see below). The analysis indicates continued optimism this year, at a similar level to that of last year.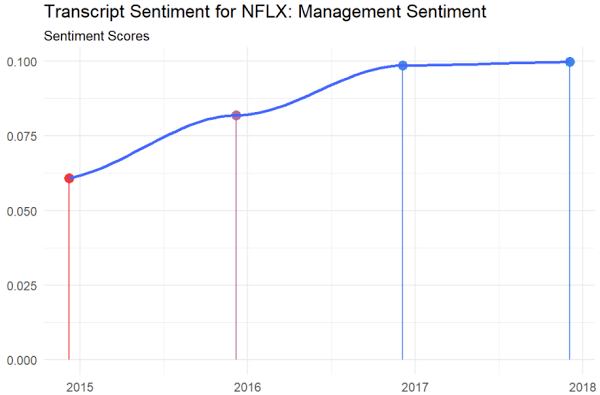 We then cross-checked management sentiment with Sentieo Mosaic data to see how Q4 is progressing for Netflix. In the chart below, see that YoY data for Netflix's Google Trends (green), Alexa Website Visits (red), and Twitter Mentions (light blue) have led to major inflections in Global Subscriber Growth (purple). Analysts expect Q4 subscription growth of 22.6%, a significant deceleration from Q3's 25.9% level. The data here looks bullish: notice that Google, Alexa, and Twitter data are suggesting a continuation of current growth rates while consensus expects a big deceleration for subscriber growth.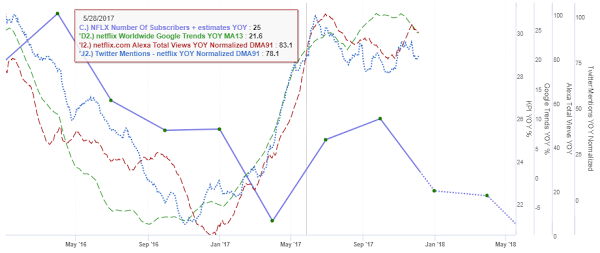 So what's driving this? For starters, "Mindhunter" and "Stranger Things 2" were both released in early Q4. The chart below shows that Season 2 of "Stranger Things" was a breakaway success, with its Twitter Mentions handily eclipsing those of Season 1 as well as all historical releases of other popular shows "House of Cards," "Orange is the New Black," and "Narcos."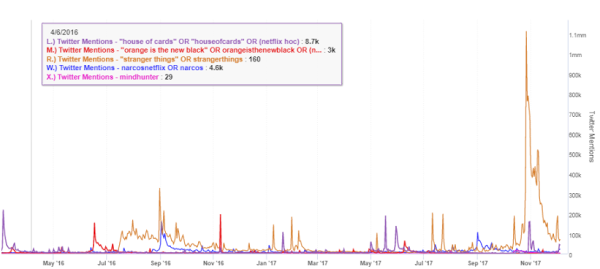 Sarandos confirmed this success in his comments at the UBS conference, where he highlighted the show's popularity as "one of the biggest entertainment phenomena on the planet."

Notice Sarnados' emphasis on the global nature of Netflix's original content hits. When overlaying the "Stranger Things" Twitter data (orange) against Netflix Google Trends data in the United States (blue) and Google Trends international (green,) you see that the impact to the US was significantly larger and that the needle barely moved for international.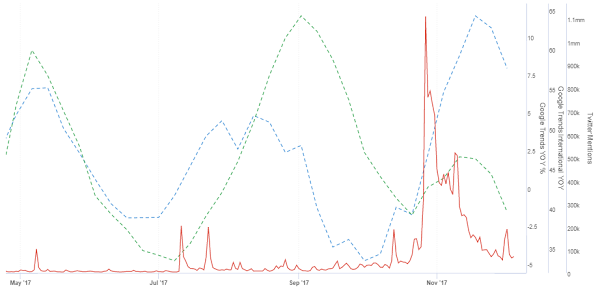 This goes to show that localized, original language content is the key to continued international penetration. Sarandos mentioned Spanish-speaking countries nine times during the call and was particularly excited about the show "Ingobernable."
The data corroborates the "Ingobernale" Season 1 release, which yielded a significant jump in Google Trends data in Mexico, Brazil, Argentina and others. Previous releases of "Narcos" have had a similar effect.
Most of Sarandos' commentary was around original content, and he even set a 2019 target of a 50-50 mix between original and licensed. There has also been plenty of discussion on Disney's termination of their Netflix partnership agreement and planned launch of their own streaming service — especially with this week's purchase of FOX assets. However, one of Sarandos' quotes stood out on his distinction between some of that older television and movie content as not necessarily being a decisive draw to or away from Netflix:
Sarandos is clearly pre-empting the risk of DIS+FOX, indicating that the most frequently viewed series are what really drive performance.
Netflix is looking towards a future of more original content, based off its wild success of "Stranger Things" and other original shows. The service is also expanding its horizons beyond the U.S. with a focus on localized, multiple language shows. While Sarandos seemed to shrug off any concern about the merger and the potential lack of older content that it currently receives from its partnership with Disney (DIS), we think the greatest concern is that the company's next slate of original content doesn't match up to the last batch. If Sarandos fails to continually "reinforce the excitement of it", Netflix could cede its massive gains over the past few years. It remains to be seen whether Disney's acquisition of Fox poses a real threat with a new streaming service competitor to Netflix.