$NFLX bulls are in for a bumpy ride. With slowing domestic membership growth and rising content costs, the bull thesis is hinged on success abroad. Management's language is already reflecting this — just look at the latest red-lined 10-K (image below) in which the words "domestic streaming" were removed from a discussion on growth drivers:


Global expansion is challenging; it involves dealing with new languages/cultures, regulations, and immense competition. All of this means more costs and resources, not to mention the volatility of FX-impacts (also mentioned in image above). Also if Netflix fails to offer compelling content and pleasant user experiences tailored to each geography, topline growth will slow. We are seeing the early signs of this in web and social data, which can be visualized through Sentieo's Mosaic offering.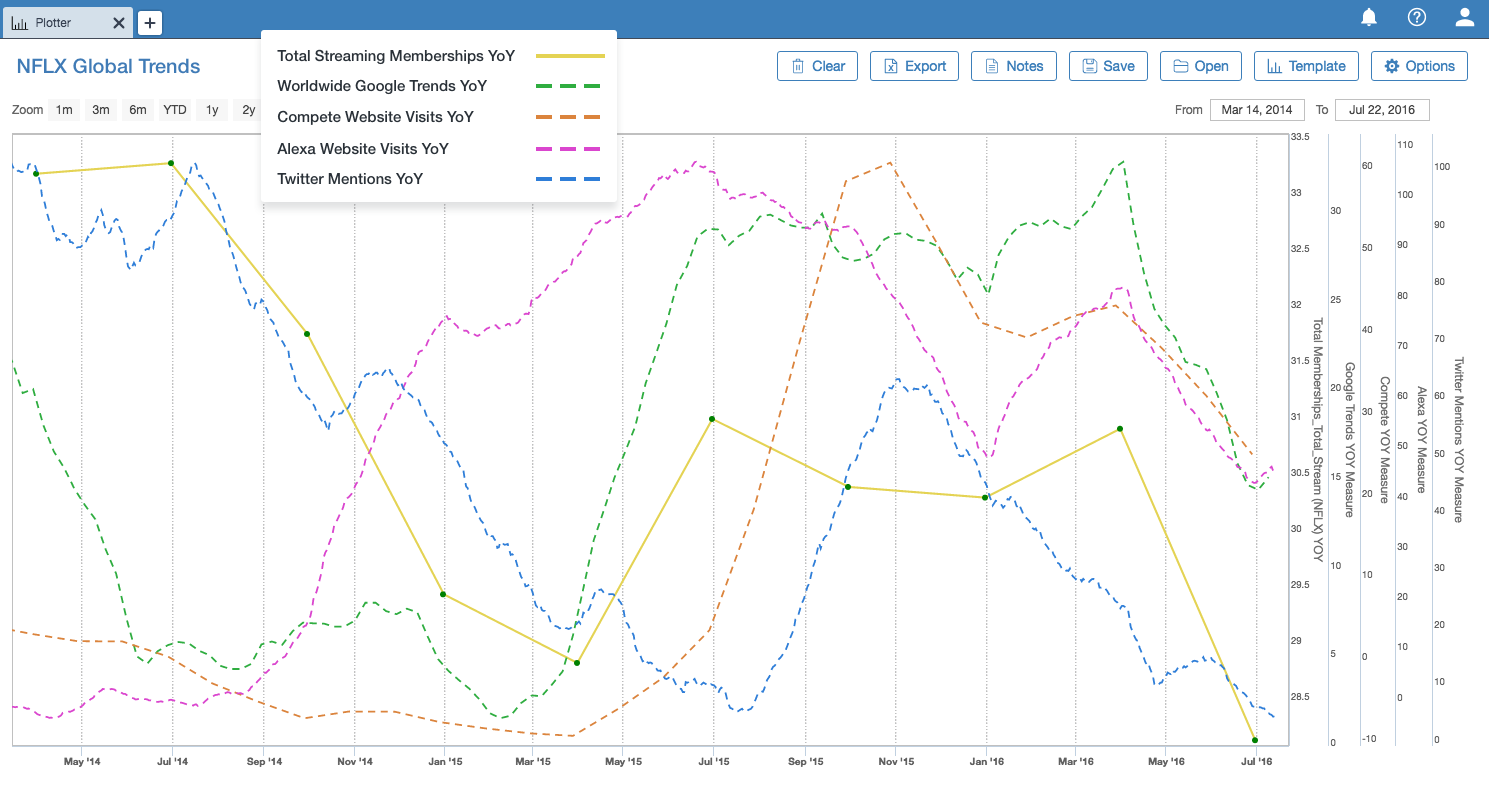 In the chart above we've plotted $NFLX Total Membership historical growth + Q2 guidance against YoY changes in Worldwide Google Trends, Twitter mentions, Compete website traffic, and Alexa website traffic. The graph shows that Membership growth has a high correlation to Twitter mentions and that all four datasets have decelerated significantly over the past 3 months, indicating that the business is slowing. This generally agrees with management's own guidance, illustrated on the yellow line where a large membership deceleration is baked in for the quarter ending on June 30th (reports on Monday).
Now let's take a closer look at domestic vs. international trends: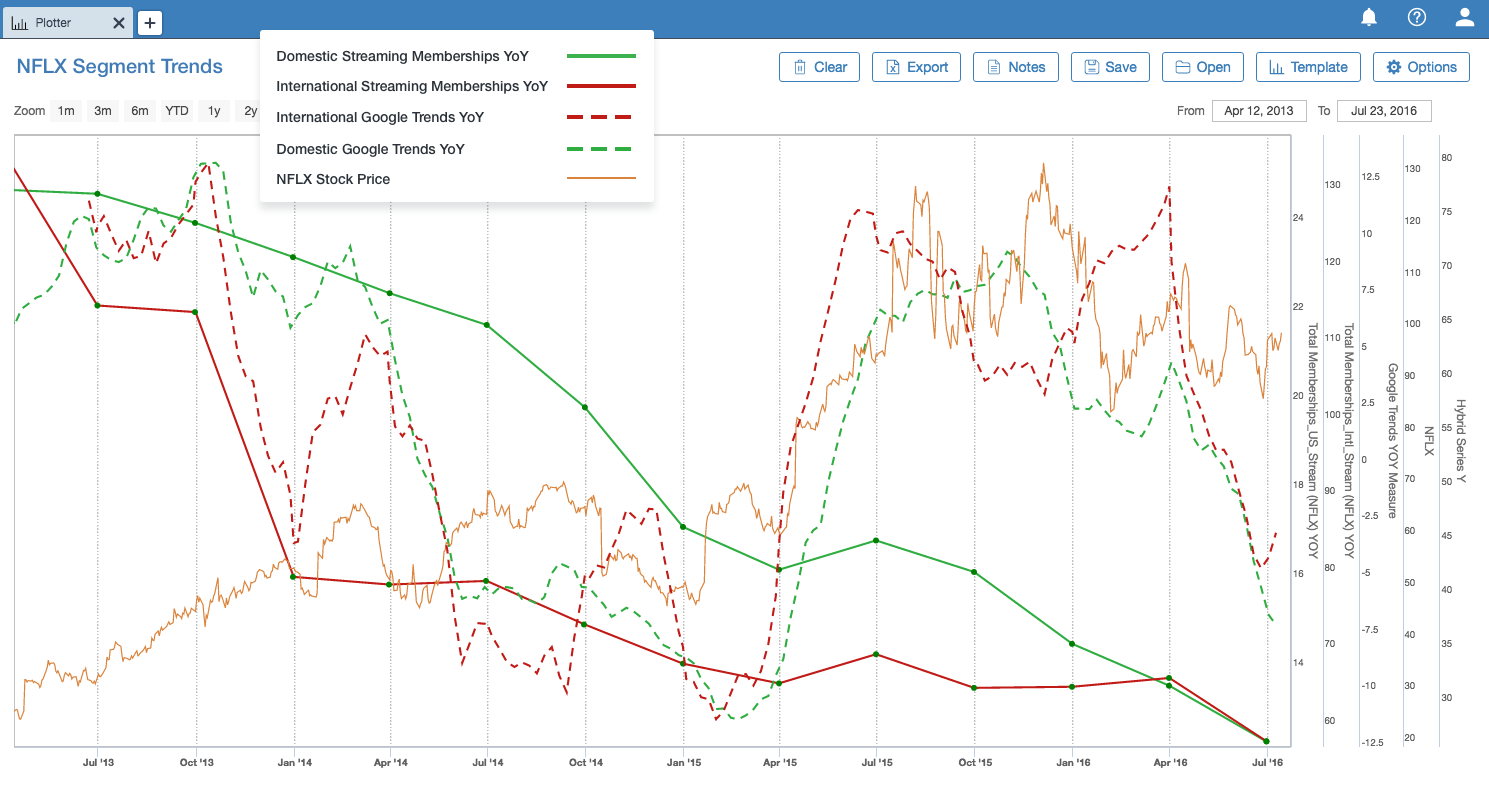 In the chart above we have $NFLX YoY membership growth for both the domestic (solid green) and international (solid red) segments plotted against YoY search interest trends also broken out by domestic (dashed green) and international (dashed red).
The acceleration of search trends into the end of 1H2015 coincided with temporary bumps in membership growth rates as well as a soaring stock price (orange). Now one year later we can observe a significant deceleration in search trends which aligns with management's guidance for membership growth deceleration as evidenced by the last points on the red and green lines. With search trends corroborating management's outlook for Q2, the focus now turns to Q3 guidance, specifically on how international will perform. Let's drill down further into regional search trends: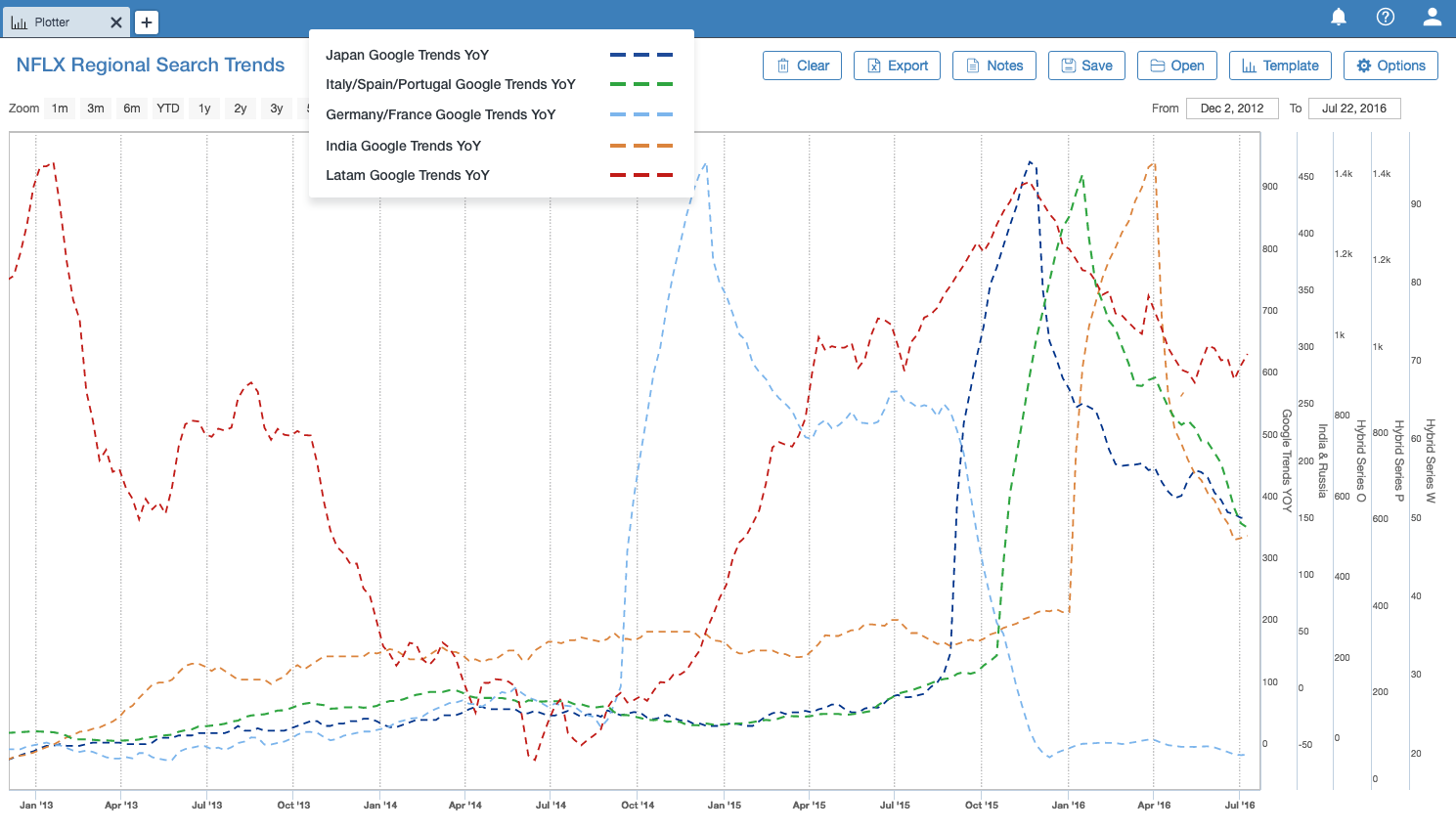 Regional search interest tells a similar story across recently entered markets like Japan, Europe, and India — difficulty sustaining initial growth around launches. The challenge here is explained by a couple of key factors:
Language/Culture:

it takes time to create suitable content for a new audience and initial content offerings can be disappointing (e.g.

Russia

).
Regulation:

initiatives like the recent

EU video proposal

, which could require anywhere from 10-60% of content to be locally produced, may be a concern. Although Netflix (and Amazon) are

preparing for it

to an extent.
Competition:

Netflix will have to compete with global players as well as local. India, for example, is a market where Amazon has been very aggressive in e-commerce and we expect that to be the case in video too.
$NFLX will continue to face challenges in achieving sustainable growth internationally, but not all hope is lost — just check out the red line in the chart above. After a couple of years post-launch, search trends in Latin America accelerated significantly through the end of 2015 and have held up much stronger than they have in other markets over the past few months. By focusing resources on obtaining Spanish-language content across the region, including the hit dual language series Narcos, $NFLX has built enough suitable content to push subscriber growth. It is now on management to replicate that success in Latin America to new markets which are more fragmented in terms of language and culture. Faced with increasing costs, regulation, and competition the path for this high-multiple stock will not be a clear one.
To see how Sentieo can help with your investment analysis, simply go to Sentieo.com and sign up for a free trial. If you would like to continually receive content related to topics of interest in the markets, don't forget to subscribe to the Sentieo Blog so that we can notify you of new posts by e-mail.