Fitbit (FIT) surged over +7% earlier this week after the Fitbit app jumped to the #2 spot on iTunes on Christmas Day. Although short interest was 30% of float, there was a desire in the market not to be offside if the company's wearable bands were once again a popular gift for the holiday season. 
It was not long before some analysts and news outlets pointed out that Fitbit was not highlighted as a top overall best seller by amazon.com this year (Link: http://blogs.barrons.com/techtraderdaily/2016/12/27/fitbit-wasnt-a-winner-in-amazons-holiday-press-release-notes-cfra/). Momentum reversed and the stock fell back to previous levels in a few days.
In this post we show how subscribers used Mosaic to track Fitbit in realtime.
---
Sentieo users did benefit from further insight. Sentieo's Mosaic tool in partnership with Apptopia offers accurate quantitative data on mobile apps, such as daily downloads, revenue, and user engagement. It was immediately clear to Sentieo users that the surge in downloads of the Fitbit app on Christmas Day was actually underwhelming in absolute terms, not even reaching the peak from last year. Apptopia estimates US iTunes users downloaded the Fitbit app 49.6K times on Christmas Day. This was -1.2% less than the 50.2K who did a year ago.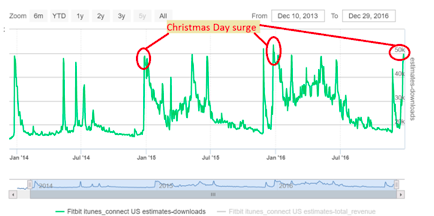 Is guidance maybe a bit optimistic?
Fitbit already warned that 4Q16 was going to be difficult due primarily to softer demand. It nevertheless guided revenue to be in a range of $725 to 750m, which is up +1.9% to +5.5% y/y respectively. Sell-side consensus settled for an estimate of $742m, up +4% y/y as shown in Sentieo's Equity Data Terminal.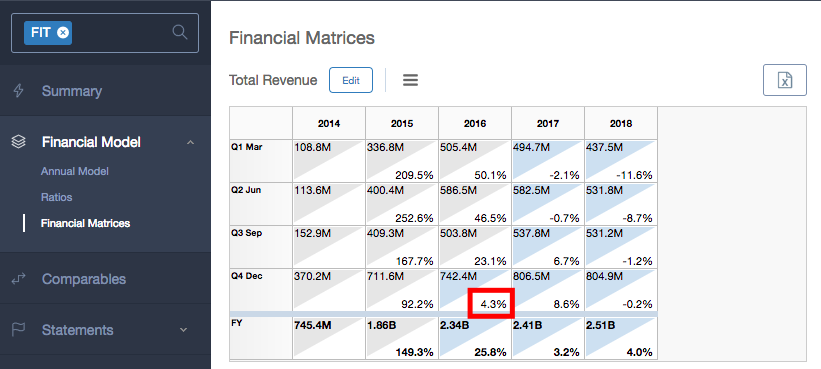 If the declining daily downloads on Christmas Day over last year is an indication of the broad sales trends for Fitbit, then the quarter may end up even worse than guidance and what is currently expected by the market…
As always, we welcome all feedback on these thoughts. As always, Sentieo Mosaic subscribers can request access to Apptopia data in their charts.
DAU – iOS:
28 Dec 2016: 72,946
26 Dec 2016: 61,032
23 Dec 2016: 49,184
31 Dec 2015: 38,490
28 Dec 2015: 67,755
26 Dec 2015: 46,596
21 Dec 2015: 40,313