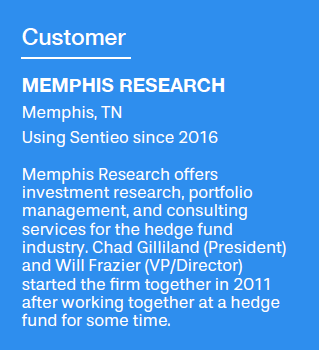 About The Customer:
Memphis Research in Memphis, TN
Using Sentieo Since 2016
Memphis Research offers investment research, portfolio management, and consulting services for the hedge fund industry. Chad Gilliland (President) and Will Frazier (VP/Director) started the firm together in 2011 after working together at a hedge fund for some time.
The Challenge
Before Sentieo, the Memphis Research team had tried many financial research platforms, including Capital IQ and Bloomberg. All had fallen short of their expectations in a number of ways. They had un-intuitive user interfaces, limited mobile access, and were overpriced — to name a few shortcomings.
The Solution and Results
The team came across Sentieo and started a free trial. They immediately saw their fundamental research process improve:
"We feel like the Sentieo team understands what we do better than other platforms do. You are analysts and you think the way that we do. You know how to design the interface, and what you put into the product is not just random. You've included the pertinent details that an investment analyst wants to see. It makes a huge difference that the platform is truly built for analysts, by analysts."
Document Search, Redlining, Watchlist Alerts, and News Stream
The Memphis team likes to run very specific keyword searches using Sentieo's Document Search. They are able to narrow their searches down by document type, down to the document section (ie. "Risk Factors"). One popular use case for them is searching for disingenuous language and other signifiers within call transcripts.
The team also uses the Document Search redlining tool, which allows them to hone in on new document language or accounting numbers that have changed across quarters or over years.
Will and Chad also "follow" tickers in Sentieo by creating Watchlists of the companies they want to track. This allows them to receive immediate updates to their email inbox whenever new filings or financial statements come out for those companies. This is especially helpful to them during earnings season, when time is of the essence.
The team also keeps up with companies using the Sentieo News Stream, which is a feed of the latest social media tweets and articles about the companies they track.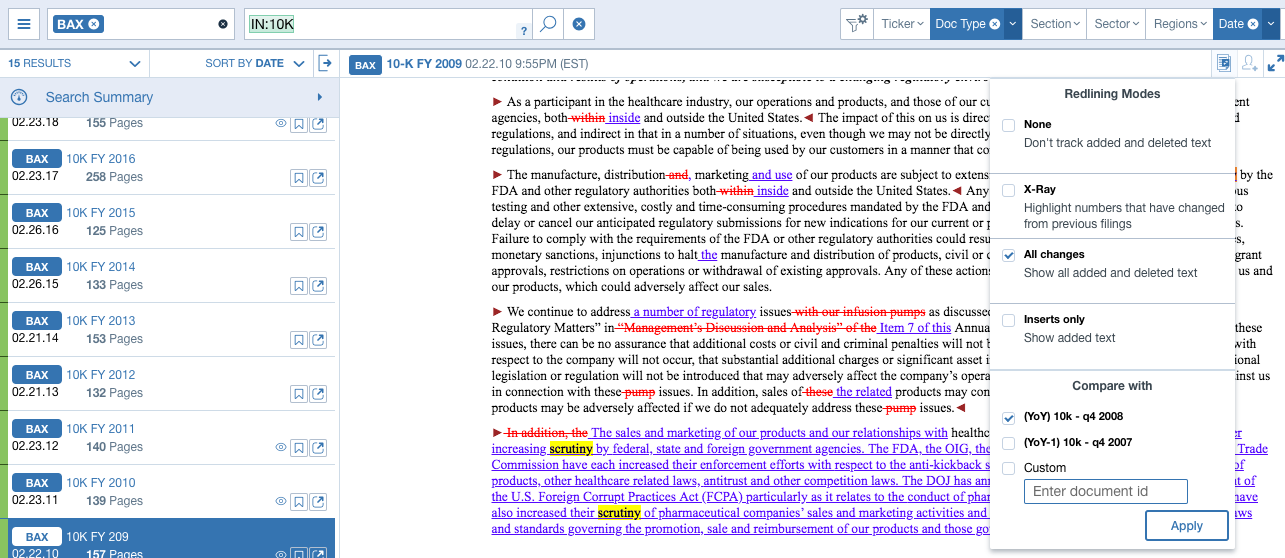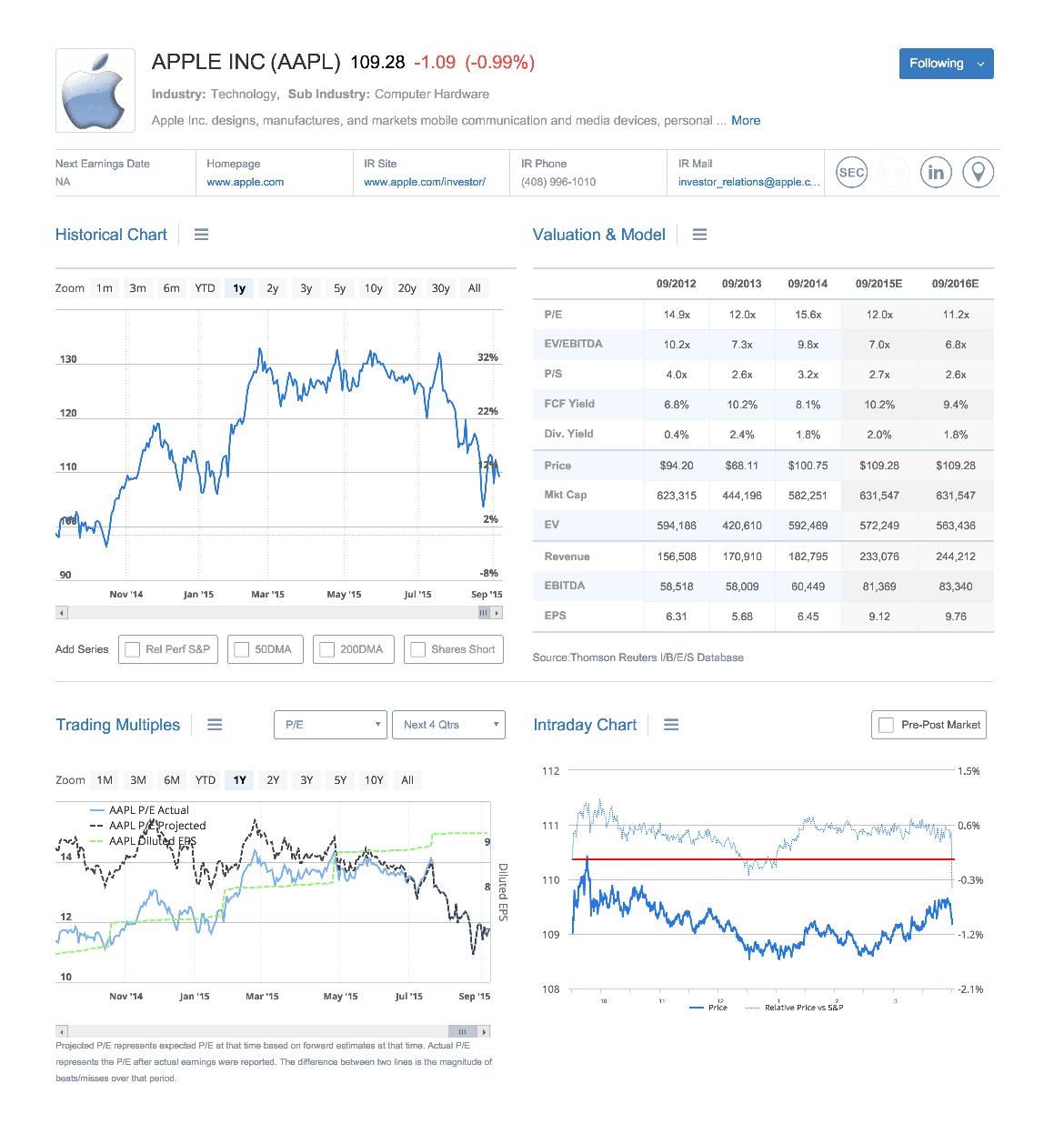 An Equity Data Terminal They Can Trust
Will spends most of his time in the Sentieo Equity Data Terminal. He really loves the EDT's company summary page, which lists a company's consensus estimates, valuation and price target, major holders, and much more:
"In the EDT, I can quickly understand the nuts and bolts of a company. I have more confidence doing my research in Sentieo because I trust the data more than I trust the numbers in other systems."
Will also extracts tables from documents into Excel, and compares them over time using Sentieo's TableX suite of tools.
Staying Organized With The Notebook
Chad uses the Notebook (Sentieo's research management system) to store his own notes and annotations by ticker, and to search through them as needed.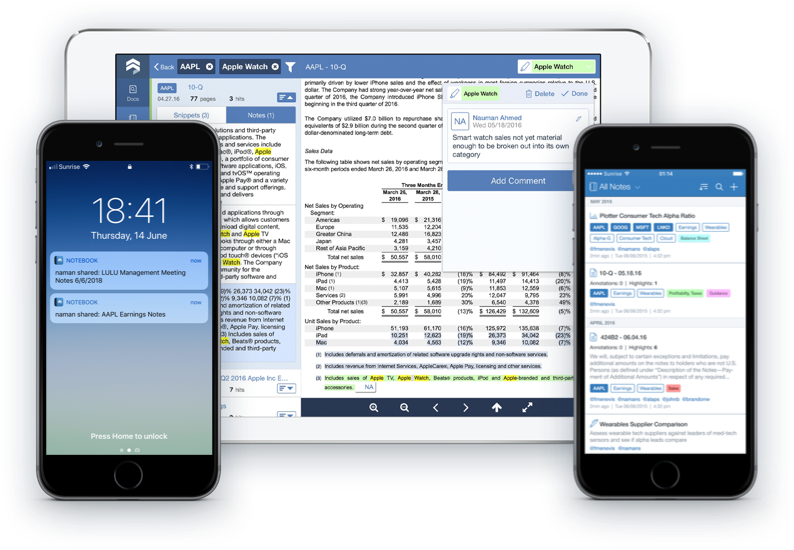 Mobile App For Access Anywhere, Anytime
Chad and Will frequently travel to trade shows, and they use the Sentieo mobile and tablet apps to keep working on-the-go. With Sentieo, they are able to quickly pull up financials and estimates at their fingertips, instead of printing and taking physical 10Ks and 10Qs with them. When listening to management calls, they are able to quickly pull up the expectations for a ticker on their mobile, and compare them to what's being discussed on the spot. Chad also heavily uses the Sentieo app for the iPad tablet.
Conclusion
Will and Chad explained that Sentieo has revolutionized their fundamental research flow and saved them all the time and frustration they felt when using previous tools:
"We definitely positively endorse Sentieo. It's an intuitive platform for built for the fundamental equity analyst, and helps us filter out the noise and get down to the fundamentals."