What CEOs say — or don't say — on a transcript can mean a lot. A recent study by the University of Chicago Booth School of Business revealed the following about CEO activity on calls:
[Research] indicates that the chief executives who spoke more — presumably because they were more knowledgeable — also tended to earn more relative to the rest of the executive team. What's more, firms that had mismatched compensation strategies (i.e., chief executives who talked more but got paid less) had lower firm value than those where talk time and compensation were aligned….In the study, the researchers used how much and how often the chief executive spoke in contrast to other firm employees as an indicator of how knowledge is dispersed throughout the firm.  (Booth School)
Thus, investors can learn a lot from CEO activity on calls, which seems to be correlated with firm financials. Sentieo can aid with this research by helping you search and highlight CEO language on calls.
We ran a search in Sentieo Doc Search across the S&P 500, using IN:TR to narrow down our searched documents to only transcripts. From there, we filtered down our search to CEO speech only.

We took a look at the results, which include a summary of the companies that have the most instances of their CEO talking on transcripts:
From the summary above, we see that General Electric has had its CEO talking the most frequently on its calls. We can click into these highlighted instances to specifically look at the language used by the CEO.

Management calls will typically seem optimistic, but you can look for clue words to get a better picture of the underlying meaning. For example, the Booth School article notes the following:
When a chief executive tells analysts that "lumpiness," "headwinds," or a "wait-and-see" period is on the way, it may be time for an adjustment in your portfolio. Euphemisms such as these can obscure the details of bad news, and research suggests that greater use of them is associated with lower stock prices in the quarter ahead, even after taking into account the already disclosed financial results.
We narrowed down our search to see if the GE CEO mentioned "headwinds," and if so, how many times.

Here is a closer look at  the most recent mention:

We then exported mention results to see exactly how many times the GE CEO mentioned "headwinds" (34 times since July 2016), and also within which contexts.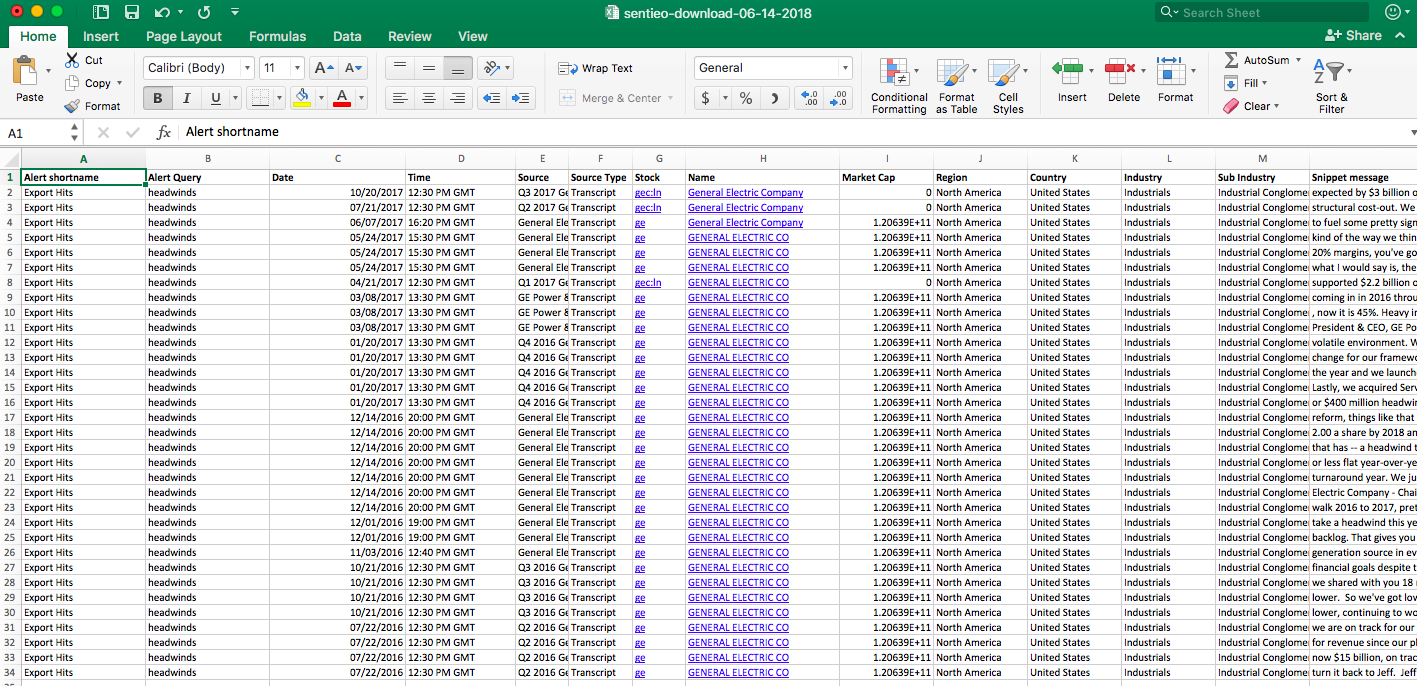 Euphemisms aren't the only phrases that analysts should track. Other linguistic indicators to watch for include:
Executives who are uncomfortable with what they are saying and who often use "distancing language," changing pronouns from "I" and "we" to "the company."

Openness about risks (generally thought of as a sign of genuine enthusiasm)

Comments on liquidity: trends in cash flow (or lack there-of) on balance sheet

Use of credit lines (are they too dependent on these?)

New product announcements, focus on research and development, or R&D
In the same vein, Harvard's Ian D. Gow, Chicago Booth's Steve Kaplan and Anastasia A. Zakolyukina, and David F. Larcker of Stanford researched how CEO personalities (as seen through call language) were correlated with firm performance:
[The] companies of CEOs who have extroverted personalities, as observed in the words used in the transcripts, were more likely to have lower cash flows and lower returns on assets. Top executives deemed to be more conscientious tended to run slower-growth companies, while those whose dominant personality trait was openness had companies with a greater focus on R&D.
Lastly, we used Sentieo's sentiment analysis engine on the GE transcript to better understand the management and analyst sentiment, and any discrepancies in between them. This report the reveals the following output from past quarters' conference calls: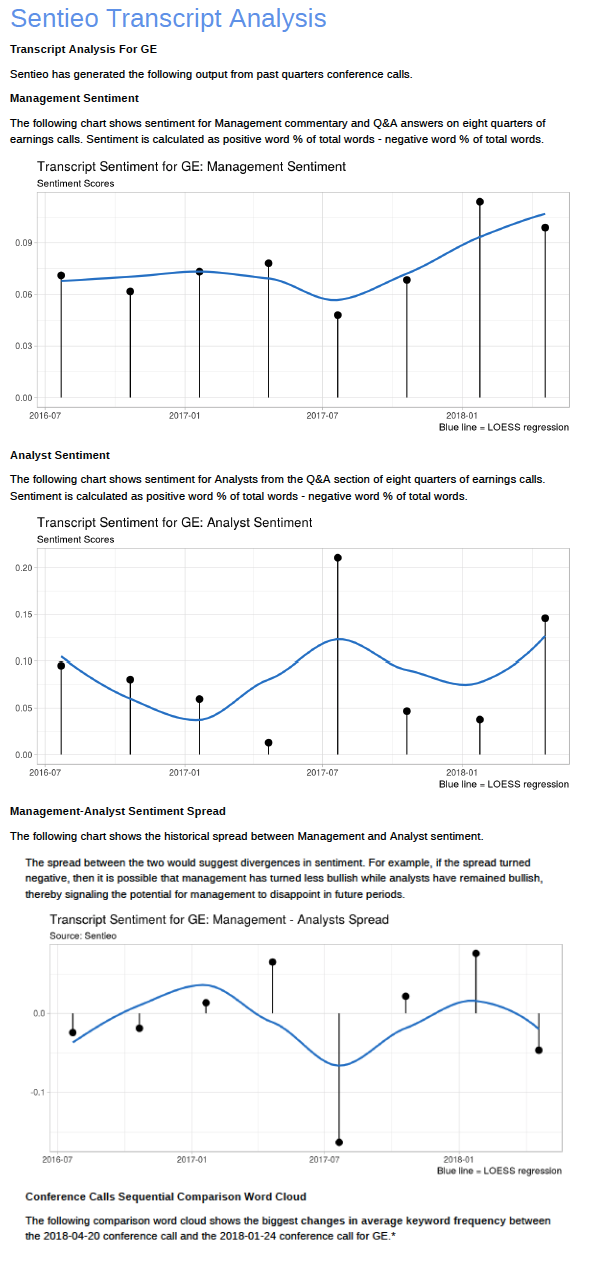 The Booth School report and our sentiment analysis engine show that the language of CEOs should not be discounted. Words allow investment professionals to quickly gain insight into firm's future performance, and make decisions based off this knowledge.