Consumers are dropping their cable TV subscriptions at higher rates as they spend more time online and switch to smaller packages like Netflix, Amazon and Hulu.  In this quick post, we will show you how to use Sentieo to analyze this trend and see who is most exposed.
Doing a basic search on "cord cutting" in our Document Search the first key takeaway is how much more companies are mentioning "cord cutting" in their filings and transcripts.  You can see below with the red bar chart, how the number of mentions has grown over the last year.

Then clicking on the Ticker filter you will see how many mentions of this topic occurred within our document database of SEC filings, conference call transcripts, investor presentations and equity research.  As you see in the table below, AMC (ticker AMCX), the producer of The Walking Dead, has had this mentioned the most with 95 mentions in our database.  You will also see other large content producers like Fox (FOXA), CBS and Disney (DIS) heavily exposed, in addition to the standard cable providers like Comcast (CMCSA) and Charter (CHTR).

Let's focus our search specifically on AMC and see what they have been saying.  The first hit in our results when we focus on AMC gets us to our answer almost immediately – here we have an equity research report with a bar chart of year-over-year growth in US Pay TV subscribers.  As you can see in the table below cord cutting has been discussed and debated for years now, but is finally a reality.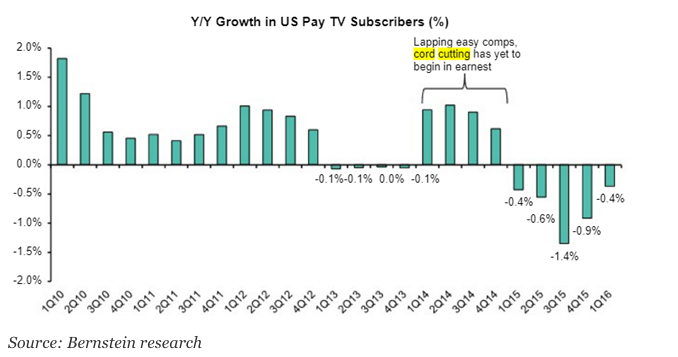 The declines appear to have gotten better recently, but part of that is seasonality – consumers tend to cancel cable more in the summer months.  Let's continue our analysis.  From our Document Search, you can export all these tickers into our Screener tool and further your analysis on cord cutting to see what companies you want to focus on by running a screen for high multiple media companies with slowing growth.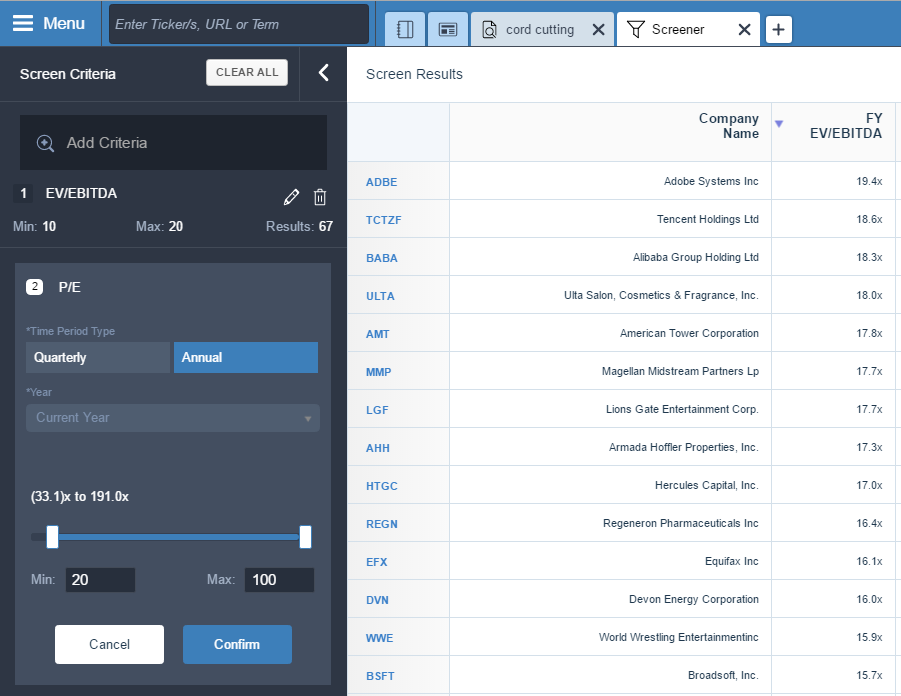 Given that this is an election year, media companies are getting a bump in ad revenue, so their 2016E growth rates may be inflated so we will also screen for 2017E growth rates.  Sifting through the results it looks like local broadcasters are all trading at a 2017E EV/EBITDA north of 8x and aren't growing their top line revenue. Some of these companies include Sinclair (SBGI), Tribune Media (TRCO), Nexstar (NXST) and Gray Television (GTN).  Tribune, for example, trades at 12x 2017E EV/EBITDA with a P/E of 20x.  Investors may confuse this as a newspaper business, but they spun off those assets in 2014, and what remains is essentially a local broadcaster partnered with Fox and CW.  The risk of shorting some these companies is that they own spectrum rights that wireless carriers are currently bidding on in an FCC auction.
To stay abreast of latest developments, I'm going to add these tickers to my Watchlist to receive the latest alerts.  I will also save a search on the term "spectrum auction" to receive notifications when anyone mentions this term or something similar.