About a year ago, we wrote a popular blog post on pumpkin spice season. Based on Twitter data and search trends, we could see that pumpkin spice season had started earlier than ever, and was bigger than ever. 
Today, we declare that pumpkin spice is over, using the same data sets. 
Looking at the stacked search trends below, we can see that pumpkin spice was off to an ever-earlier and stronger season in August, running well above prior years (see light blue line). However, the trend peaked below last year's peak (momentum investors know this sign), and has been tracking below recent years since then. 

We tracked down a couple of notable pumpkin spice season "kick-off" events this year.
Convenience store chain 7-11 announced that their pumpkin spice lattes were back on August 14, 2019.

Dunkin' Brands (parent of ice cream chain Baskin Robbins) did not highlight the flavor until August 26, 2019.

Things really picked up in early September with releases from Hostess Brands (Nasdaq: TWNK), Restaurant Brands' Tim Horton's division (NYSE: QSR), Krispy Kreme, and others.  
Perhaps the biggest success story this pumpkin spice season came from Hormel (NYSE: HRL), which released a limited edition version of their legendary Spam: "[the] limited edition flavor features a blend of seasonal spices including cinnamon, clove, allspice and nutmeg to give it a subtle sweetness." The September 23rd release was followed by another press release a few hours later mentioning that the $8.98/2-pack item was sold out from both Walmart's e-commerce site and spam.com in under seven hours. 
For the final word on pumpkin spice, we used our Twitter data integration to see the trends around Starbucks (Nasdaq: SBUX), and their high-profile pumpkin spice beverages. Based on Twitter mentions, we note that, very much like the search trends, YoY mentions are down, and with a shorter "tail" versus prior years. Pumpkin spice just isn't that big of a deal any more. (Interactive chart link)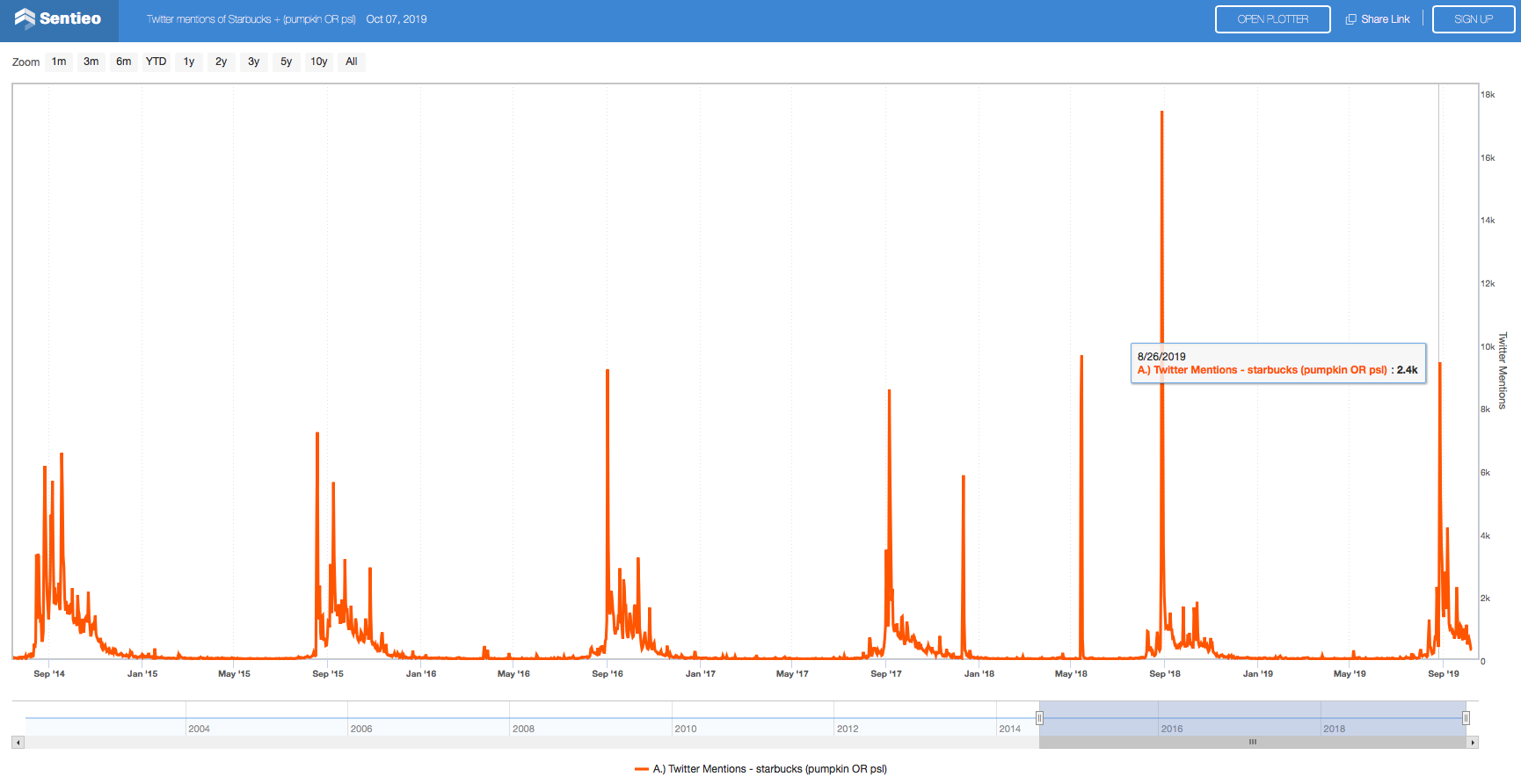 To find out how Sentieo's full workflow solution can help you harness multiple data sets, track promotional intensity, create visualizations, and more, please get in touch.