In our last release, we introduced Smart Summary™ — a whole new way to read transcripts. 
Our latest release builds on our transcript sentiment tool with Smart Summary™ enhancements to help you save time and get more insights, especially during earnings season.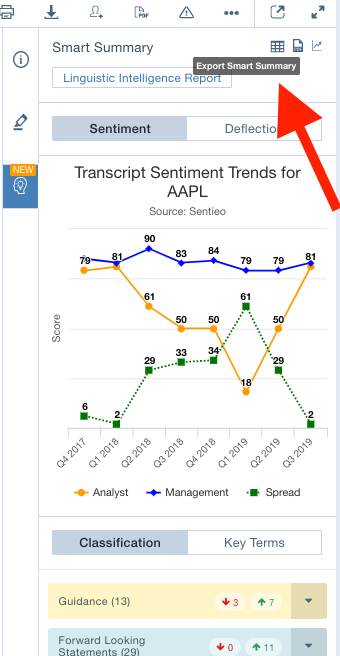 Download a PDF Report 
To get a Smart Summary™ PDF report as you're researching in Sentieo, click on the PDF icon in the top right-hand corner of the Smart Summary™ panel to immediately download a PDF of the report.
Check Out Your Report
Your PDF report will include language classifications like Guidance, KPIs, Deflection, and much more.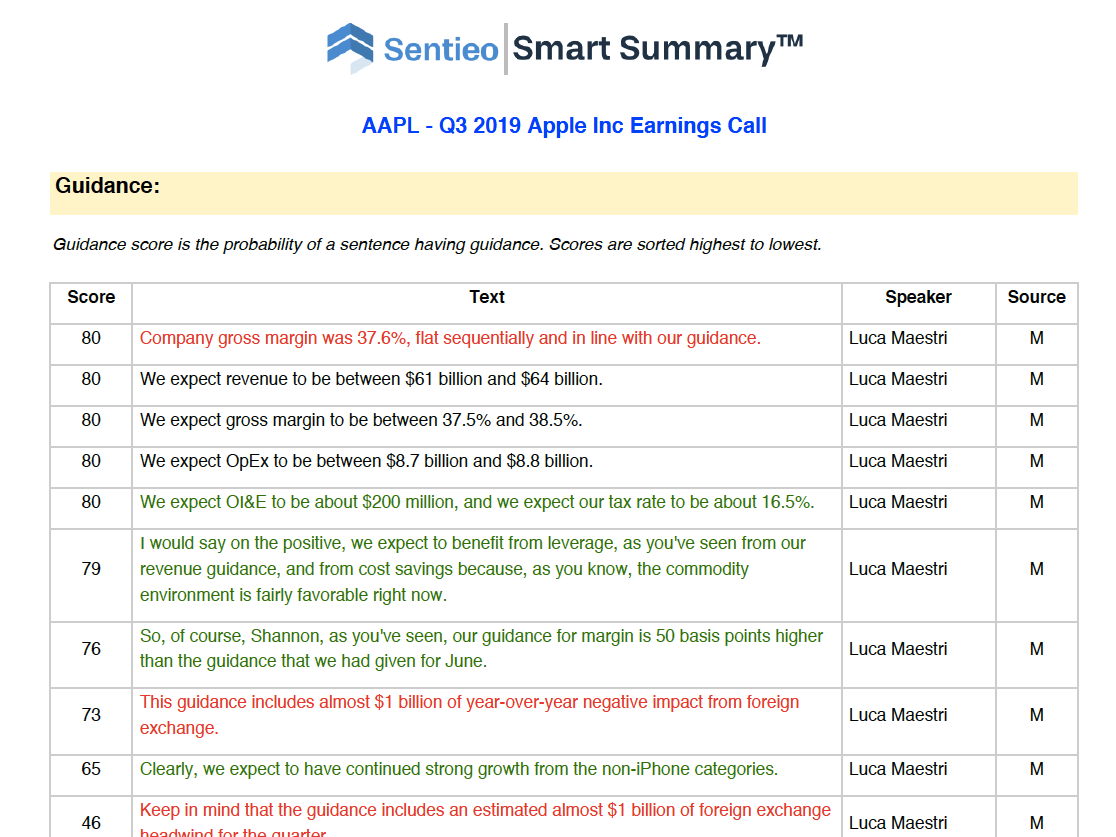 Get Smart Summary
™
Reports Sent Straight to Your Inbox
Now you can automatically receive a Smart Summary™ PDF report in your email inbox when you schedule alerts for a single company or a group of companies in a saved watchlist. Don't miss a beat during earnings season!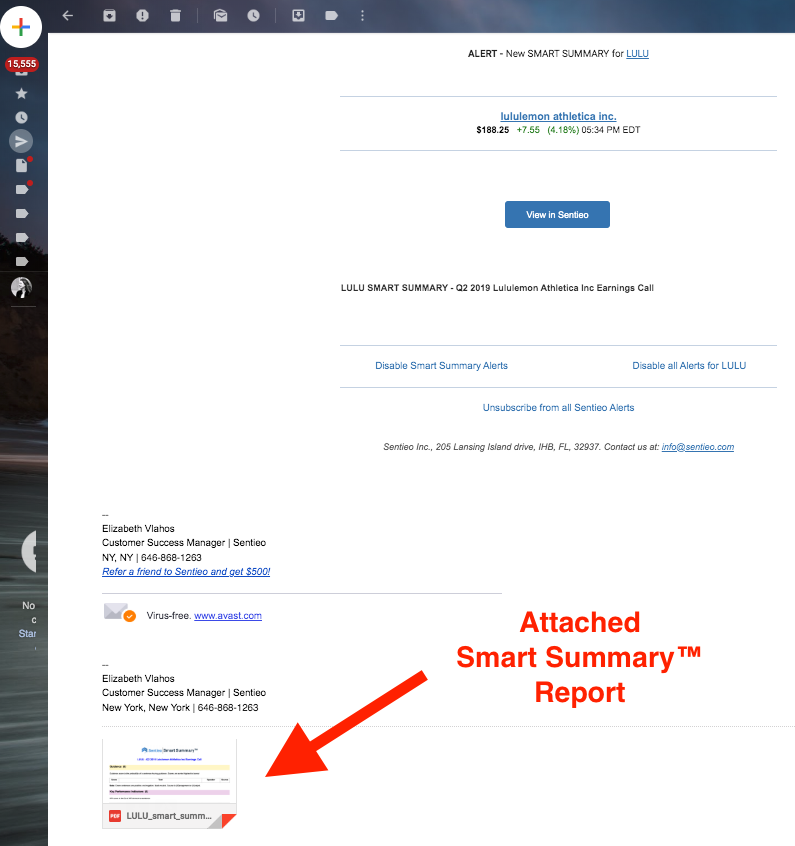 Sentiment & Deflection Charts
We also added two new, at-a-glance charts to the Smart Summary™ panel.
One visualizes the trends of Management Sentiment, Analyst Sentiment, and the "spread" between them. (See left screenshot below).
The second chart shows the company's Deflection score going back 2 years. (See screenshot on right).
Use these visual cues to get quick insights into the companies that you cover.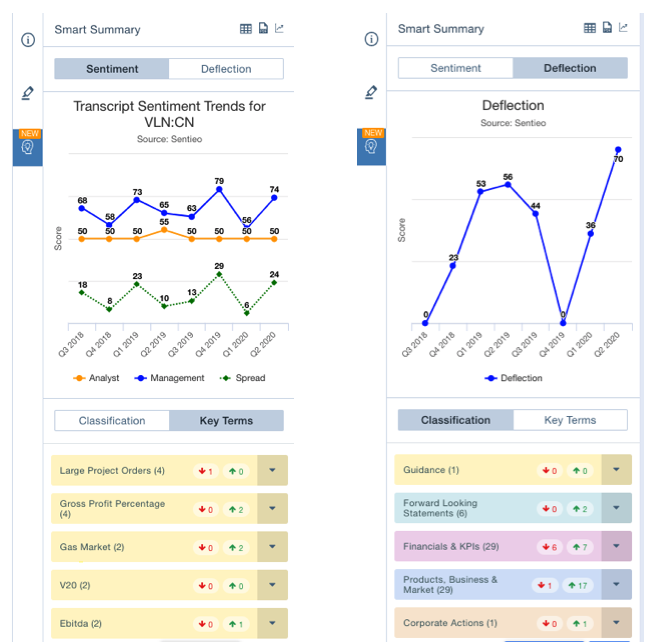 Highlight and Tag Transcript Content
Now you can highlight and add tags to transcript content while in Smart Summary™. Highlighted text is automatically tagged to the company ticker for easy surfacing in the future.
You'll never lose track of your highlights, annotations, and notes, which are all centralized in your Sentieo Notebook.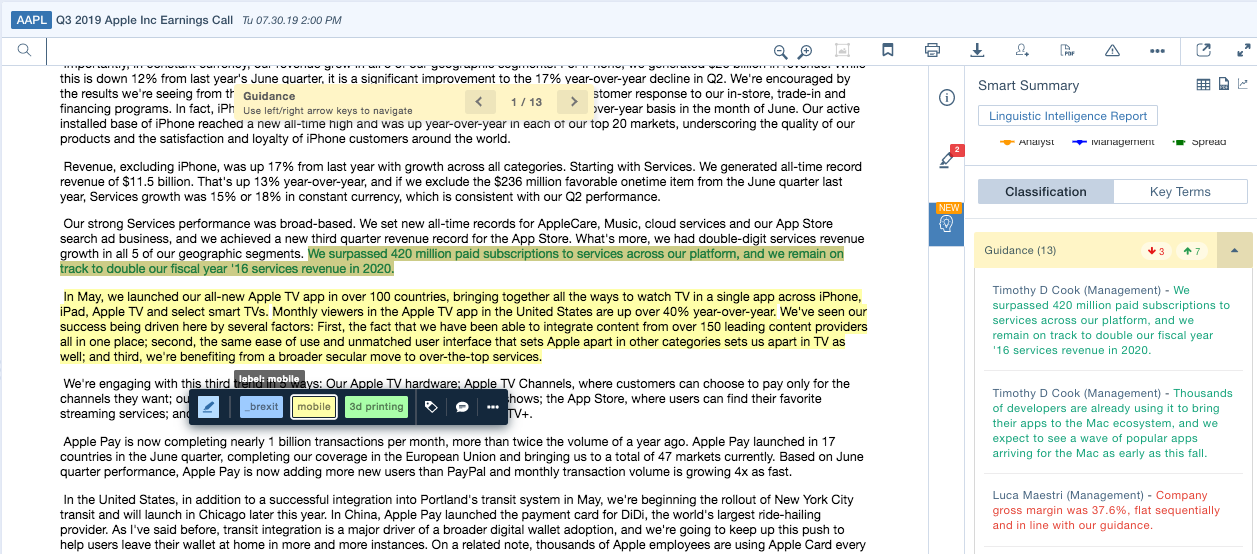 Video Walkthrough
Our Head of Research runs through how to get the most insights out of Smart Summary:
Start saving time and finding new insights today with a free trial of Sentieo!