Sentieo's Table Explorer, or TableX for short, uses Machine Learning (ML) to identify and chain tables in SEC documents going back years and to stitch every line item carefully. TableX has grown to be a favorite for equity analysts looking to save hours collecting source document data with its easy auditability and visualizations.
If you are new to TableX, please watch the short videos on our blog. We go over the basic TableX functions (chaining various "standard" tables, chaining KPI tables, merging rows, and adjusting for "roll forward" tables). These short examples on the blog culminate into a full workflow, where we show how to chain a table, convert to a common size, export to our data visualization tool Plotter, add additional financial and valuation metrics, and save the chart for future use. This workflow video is available below.
This leads to the all-new TableX Manager! Sentieo users can load up the TableX Manager just like any of our other platform modules.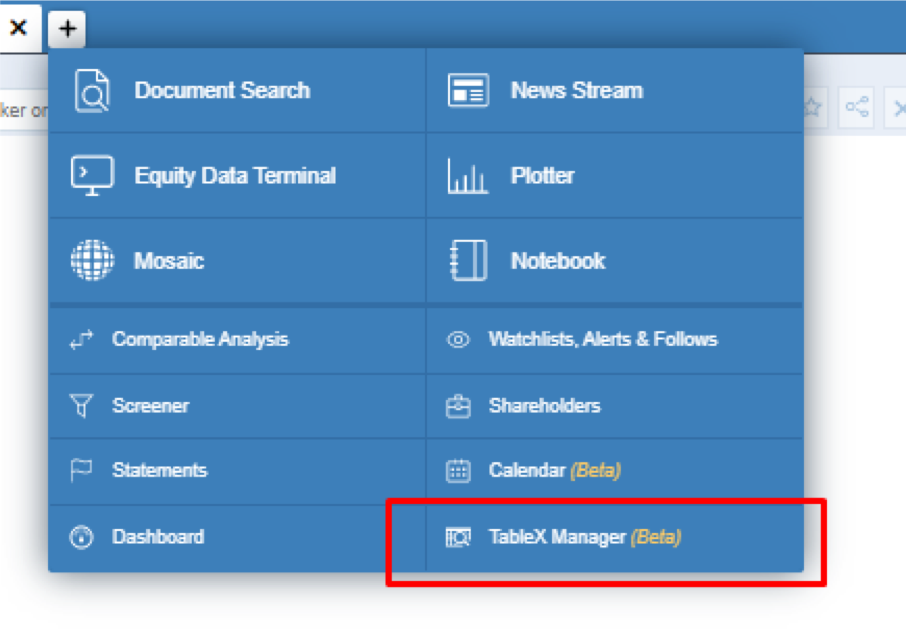 While TableX "Classic" works with individual tables in SEC documents, and chains these tables to their prior versions, TableX Manager does this with ALL tables in a filing, and a lot more. This means that users can now start their work without opening the individual documents and chaining tables individually: all tables from the 8-Ks or the 10-Qs/10-Ks are already chained and available on a single page. From there, users can open the individual tables, chain them like they do in TableX "Classic", but can also save and share tables, and save individual series for future use. The addition of TableX Manager as a separate module means better efficiency and better collaboration for your team.
In this brief overview video, we go over the chaining of tables from 10-Qs/10-Ks and 8-Ks, along with the basic new functionalities in TableX Manager.
In the second video, we show how to chain, modify, save, and recall entire table chains inside the new TableX Manager. This feature lets you not just save and share whole table chains that you like but it also lets you save any adjustments you have done in these extracted tables, such as "quarterizing" the cash flow statement, or converting the table to a common size.
In this specific example, we chained Chipotle's Cash Flow Statement, added a fourth quarter, then we quarterized the entire chain (ensuring that the line items are calculated for the specific quarter, rather than on a cumulative 6-9-12 month basis). We then saved our work for future use.
In the third video, we show how to chain, save, recall, and visualize individual data series from tables using the new TableX Manager. If you need just one or a few line items from a table, then you can save just these individual data series for future use, such as doing more complex visualizations or to share with your team.
In this example, we extract Chipotle's same store sales from the 8-K, save the series in TableX Manager for future use, send the series to a teammate, and use the series to build a more complex visualization where we take what we extracted, add Adjusted EBIT margin, Sentieo's alternative data index, as well as our transcript sentiment trend from our integrated transcript NLP (Natural Language Processing) module.
To learn more about how Sentieo's workflow platform can help your team be more productive, please get in touch.